ok, here's the pics of the $50 ebay seatcover set from covers4seats
http://cgi.ebay.com/ebaymotors/2000-...QQcmdZViewItem
i am not trying to show off how great they are or what a cool mod they are. in another thread (that i didn't really want to hijack with all these pics) fleawannabe was interested in knowing more about these specific covers and so here they are. they're seat covers, not upholstry, and no seat cover will ever look like it came installed on the car. however they will protect your seats so that they will look new for years to come should you ever decide to sell your car. they also help cover up an already trashed set of seats very nicely and affordably. (main reason i've bought covers in the past - decided to avoid that if possible with the focus). i like these for my purposes. i don't need to hear about my tastes if others don't.
so i hope you can see these pics flea. if you have any troubles, pm me and i'll just email you the set.
first, the front seats. the sides and back are the stretch lycra material. they are close enough in color that they don't jump out at you that they aren't the same vinyl on the actual seat portion. each of the seats is a one piece cover with a seperate headrest cover. there are straps that help hold the bottom section tight that go between the seat sections. i've never seen a set of covers with this feature and it really helps the looks.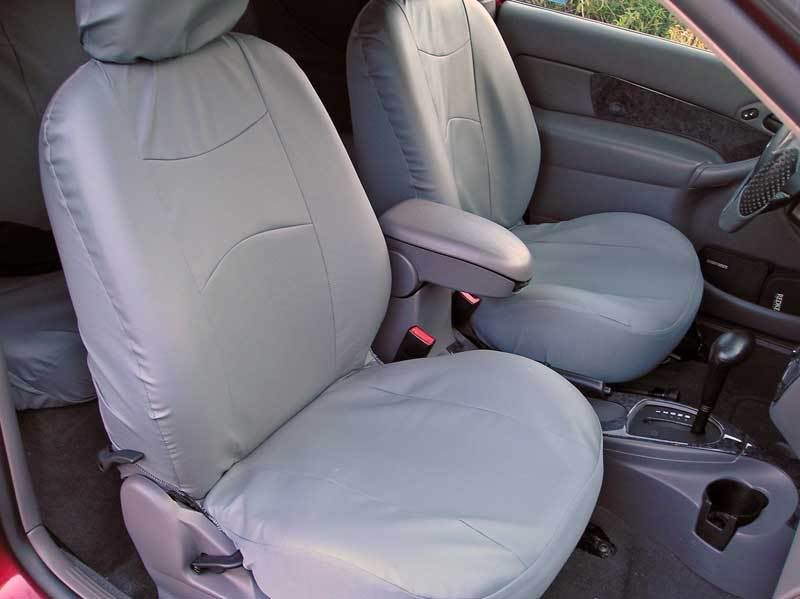 next, the back seat. the top back is all vinyl and is also the hardest to install. i could easily remove any other covers for washing if needed but i wouldn't take that piece off except to replace it unless i absolutely had to. no one has ever been in my backseat so the covers aren't really settling in as they would normally.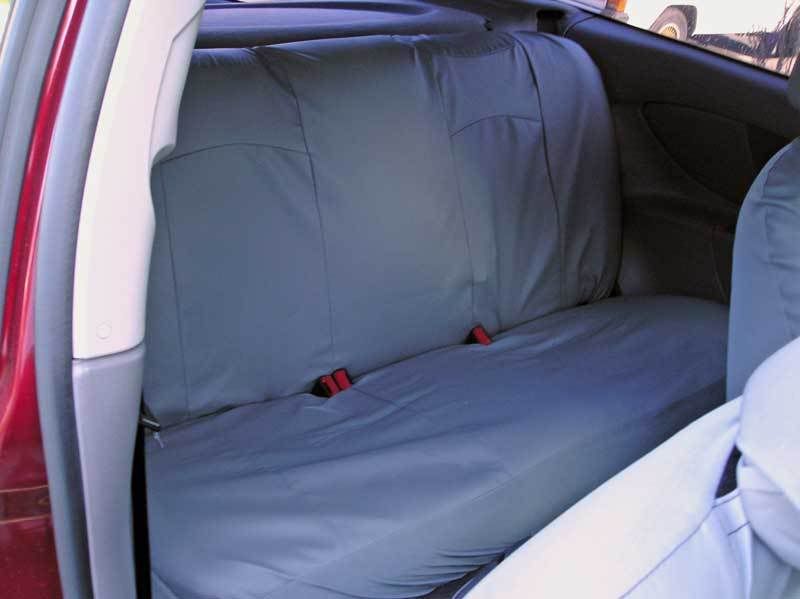 here's a close up of the driver's seat - the only seat that has been sat in since these were installed.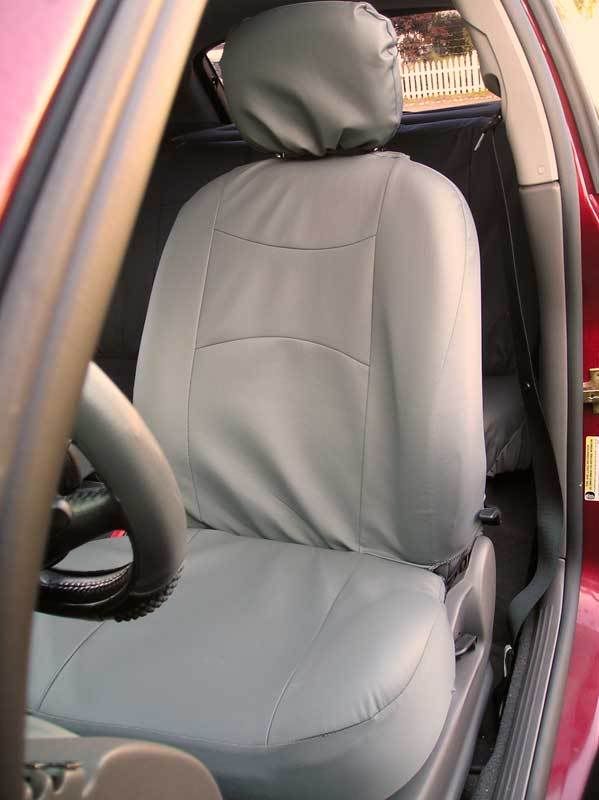 and now the view from the back - the real downside to seat covers vs. real upholstry. backseat passengers will never have any illusion about whether these are seatcovers or not. the big black thumb sticking up on the passenger side seat is my trash can from target. it would look much nicer if it was pulled all the way over the seat pocket but i simply use the trash too much to forgo that convience.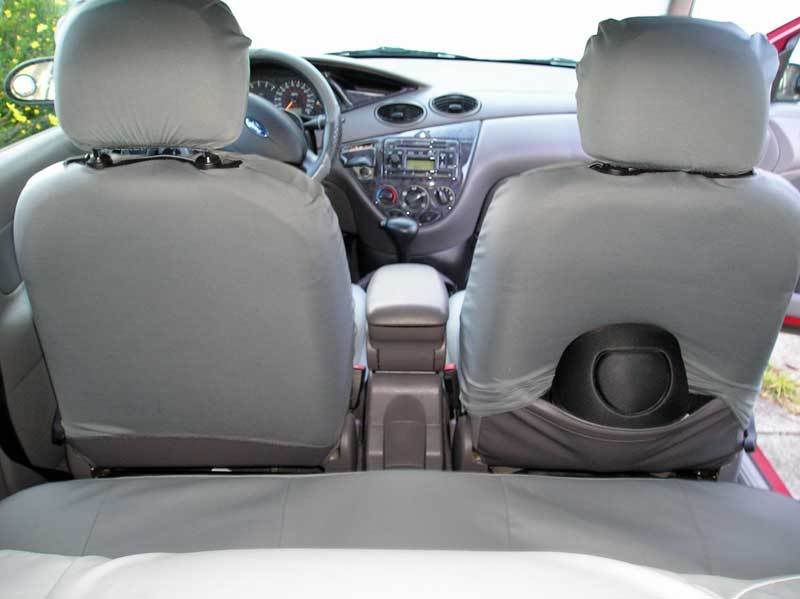 lastly, the backseat as seen from the hatch area. definitly the ugliest part of the deal but then again how many people are going to be evaluating your trunk space (audiophiles excepted obviously)? i may eventually velcro something over the top of all the straps just so i don't have to look at it.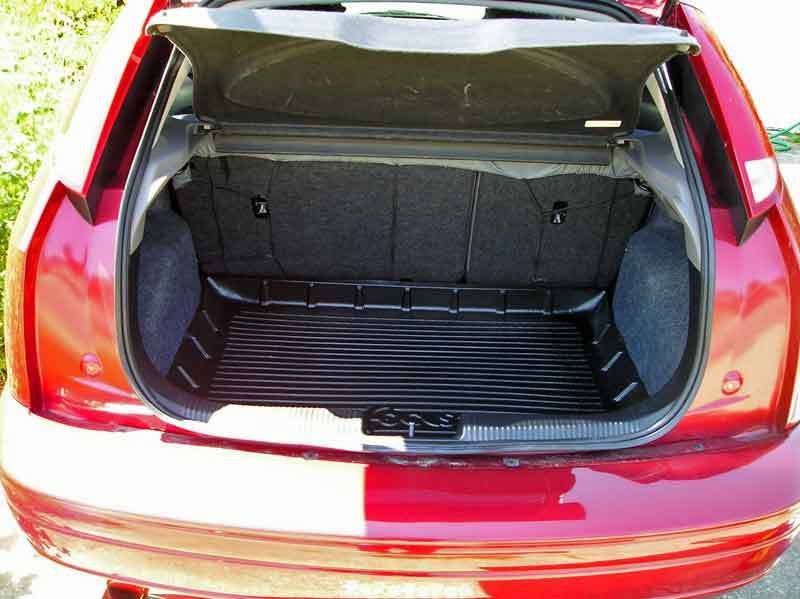 i hope this helps a bit more flea (and anybody else who has seen these and considered buying them). i'm definitly not trying to promote this item, but i will say that i'm happy enough for what they cost. Diane, the woman who sells them, is very nice and answered my emailed questions quickly and thouroughly before i bought them. i knew pretty much what i was getting and now anyone who sees this should know even more than i did and be able to make an informed decision as to whether they would be right for their focus.