For any Wagoneers out there who want to get rid of that unsightly noisemaker that Ford put on the roof, check
A-1 Autoracks (accessories)
scroll down and you'll find permanent mount roof rack end tracks for $35 that will accept expensive heavy duty Thule or Yakima pedestals. I think fitting a different design factory rack like I did is harder, and maybe doesn't look as good. The ends on the tracks don't exactly fit perfectly flush- even after I tried my best to conform the track to the roof. If anyone has any ideas about how to trim up the edges- I'd appreciate the ideas
The issue is visible in the close up pic of the new rack.
Ok, since the day I picked my car up, I hated the factory roof rack. Not only does the 05+ model NOT come with cross bars, but the darn thing makes noise in cross winds. I finally went down to the Ford only junkyard here in town and picked up a Windstar rack because I'd seen the same tracks as the Focus uses on Windstars, so I figured it might come close to being the same- wrong! Only one hole per rack lined up- and I was thankful for that. I had to drill the new racks, and find new screws because the head design of the screws on my old rack wouldn't allow the cross bars to be moved on the new rack. I had to figure out how to seal the darn thing up too unless I wanted water to get in through the roof rack fasteners. Ford uses a foam rubber sealant.
I removed the old rack, eyeballed the new racks, and then waxed the edge crud from the old rack off the roof. To line up the holes on the new rack with the fasteners in the roof I used masking tape and marked the center of the holes I needed to drill. Then I transferred the masking tape to the new rack, lined up the one hole that worked, and drilled the other holes. I discovered that the head of the screw would fit nearly flush if I cut a 5/16 hole.
To prepare the new roof rack tracks, I had to wet sand, paint, bow & twist to fit the roof, and apply grease to the old plastic parts after drilling the holes. For those who want to use old junkyard parts on new cars and don't like grey plastic: a
tiny
dab of grease rubbed in with a rag makes most greyed plastic look new again. I used rubber washers to go around the factory roof fasteners, rubber washers between the fastener and the new rack around the screw, and grommets in the old screw holes I didn't use. I figured water was going to get under the rack anyway, so why not let it breathe in the middle.
Here's the pics, and later tonight I'll be cutting down the cross bars to fit the new roof size, and I'll take pics of that process as well as the finished product if anyone is interested.
Old roof rack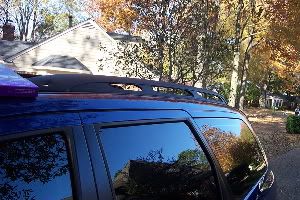 Roof rack track factory fasteners in roof
Marking tape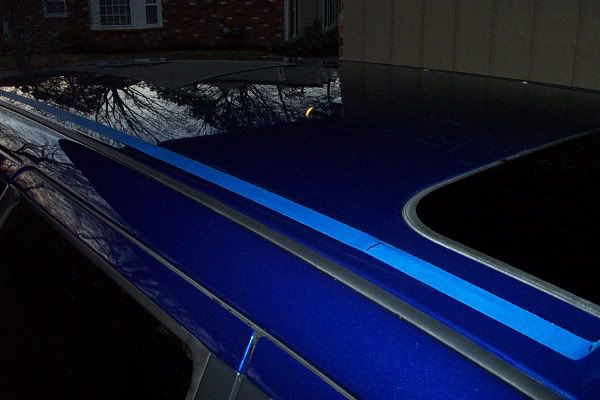 New Rack
New Rack close-up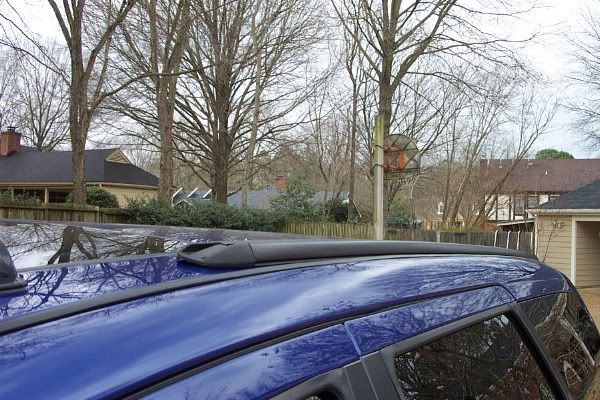 I have half a mind to pull these back off, wet sand more, then use Tru-Chrome and chrome trim tape to make them chrome except the plastic ends, but I'll have to check the fashion police first. I seem to have no idea what looks cool..