So you've gotten yourself a pair of Shiny-new Euro lights for your Focus and they're burning a hole in the shipping box waiting to be installed. Here's...one way to do it. I'm calling this a half-arse installation because while it does trim a few corners, it also has some
very
good info that will satisfy 90% of the "good enough" crowd. I will be making
a lot
of assumptions here and, like any good cow, you yourself have to decide what hay to eat and what sticks to spit out.
Assumption #1
- Your cheap, broke, spent most of your money actually buying Euro lights, or don't want to dump a lot of money into something that will work just as well as spending a lot more.
Assumption #2
- Your cool with the "fast blink" (otherwise known as "ricer blink" of your signals.
Note
: This can be fixed with an aftermarket resistor installed in-line. I plan on installing one, but for the time being, this is good 'nuff.
Assumption #3
- Your cool with having your brake lights and signals shared (as they are on the US Focus) and don't mind having
amber
reverse lights. Perhaps you don't have a Euro rear bumper to route the reverse lights to yet, or have another "jury rigged" location for them.
Assumption #4
- You either couldn't find or afford proper Euro bulb holders.
Parts list for this mod
:
- Two (2) Euro Focus hatchback taillights.
- Two (2) Dorman-model bulb holders, part # 85819 for stop/signals.
- Two (2) Dorman-model bulb holders, part # 85802 for reverse.
- Four (4) standard #1157 tail bulbs
- Wire crimps, wire nuts, common hand tools
- One (1) friend to help test wires
- Moxie
>>Okay, lets get started. If you've gotten this far without knowing how to take out your hatchback's tail lights, please stop. There's plenty of walk-throughs on how to extract them, but its pretty simple. They're held on by two screws, one Philips on the outside thats plainly visible, and one hand-screw on the inside of the hatch.
Note
: If you've got an SVT Focus like I do, the driver's side inside hand-screw is right above the sub-woofer. You need to pull the speaker grill aside and find yourself a willing 5-year old to reach their tiny hands inside to unscrew your tail light.
Don't be surprised if your tails are rather stubborn. There's a 3rd (but unattached) guiding prong that helps guide the tails into position that can make it difficult to pull them out. Wiggle it a bit and it'll pop right out. DON'T FORCE IT.
Great. We've gotten our lights out. Give yourself a high-five and mumble random quote from an iconic 80's movie. I'm partial to the "once this baby hits 88mph..." Back to the Future quote myself. Clean the under-light area since it likely hasn't been clean since an overweight Detroit autoworker assembled your car.
Clip the wires. After much trial-n-trial some more, we determined (for our purposes) red does nothing. Well it probably does something, grounds it out or perhaps is the sensor to detect Cold-War era Russian MiGs, but I couldn't find what it did. So I capped the red wire off. A little trial-and-error is necessary to determine which wire is live and ground, so a friend (or a stranger you trust enough not to drive off while your working behind your car) will be necessary to try the signals and brakes a few times until you figure out which wire is live and ground. I won't bother listing colors here as different cars can and will have different color tail lamp wires.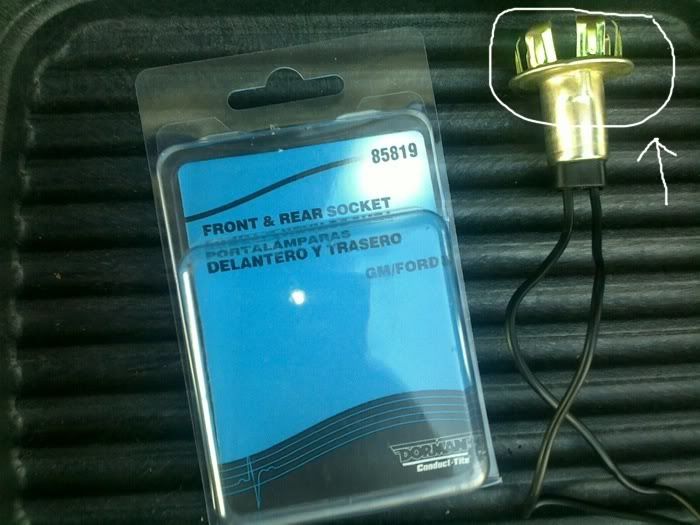 According to Assumption #4, you couldn't find (or afford) proper Euro bulb holders. Not a problem. You could duct tape, epoxy, glue, or other wise jury-rig in your existing bulb holders, but its anyone's guess if it'd hold...and God help you if you need to change out a bulb. Solution! Autozone (or any auto-parts store) carries generic bulb sockets in the replacement bulb section. They're cheap and they work well. For the upper Brake/Signal, we went with part # 85819.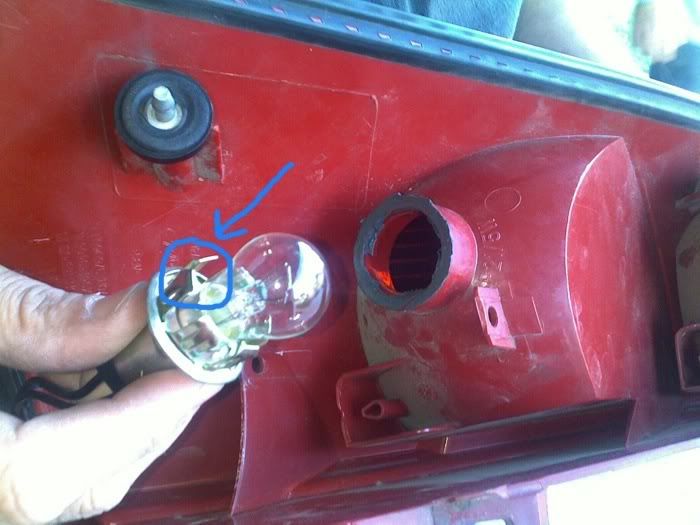 Note - the Doctor Octopus tabs on this bulb-holder needs to be bent in slightly before putting it in. If your trying to hard to get it to go in, either you've not sweet-talked her enough, or you need to bend the tabs a little more.
Easy as pie. Goes right in and feels factory. Well almost. Well not-at-all, but it goes in and stays in, and should you need to change a bulb out; its easily done. The beautiful thing about this mod is you no longer have to worry about different bulbs, your using all 1157 bulbs! Now lets do the lower reverse lights. Remember, according to Assumption #3, these will be amber reverse lights. Part # 85802 goes on the bottom for the reverse lights.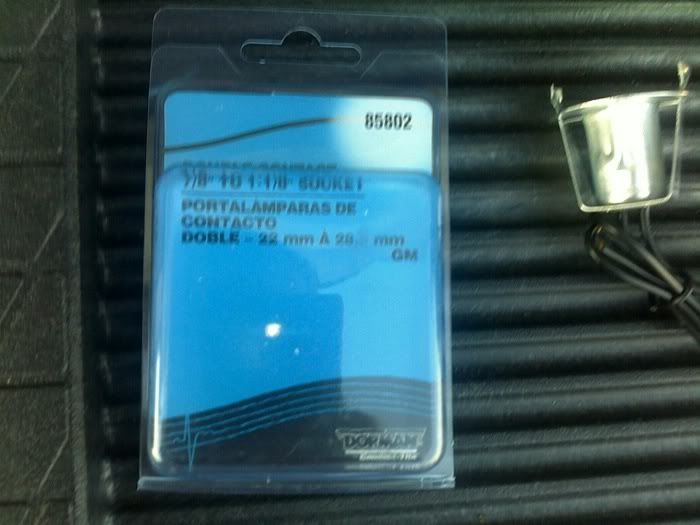 Again these will use standard # 1157 bulbs. No bending of these tabs will be required as they slide right in.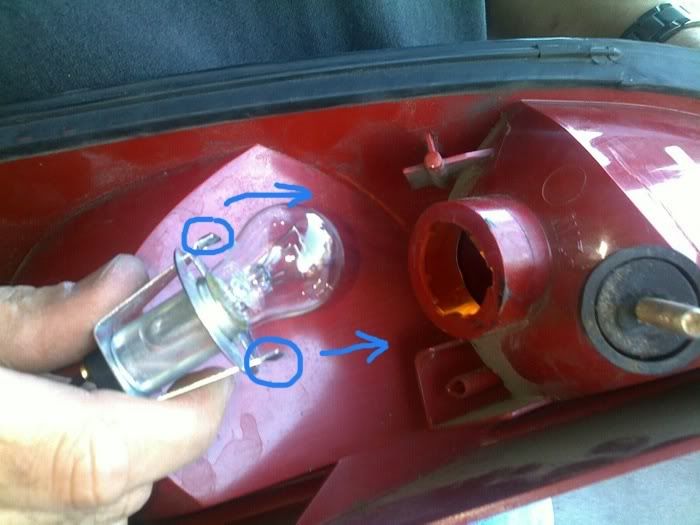 Yep. Like Ragu, its in there.
Thats not coming out...until its time to change bulbs. Remember to test and test often before screwing everything back down as you don't want to take your lights apart again.
Your tail lights will install same way they came out. Use the guiding prong to sit them down. Check and make sure its making good contact with the body of the car before screwing it down (otherwise you'll cry). Check your work again. Try out brakes/signals/reverse and make sure its working great.
Now post pictures for
bragging
rights. No, strictly speaking, this mod isn't 100% legit since your reverse lights aren't white. A simple re-route down to the rear grill mesh or somewhere else on the rear of the car can rectify this. Your doing this half-arse mod for the Euro look and the end-look
is
wonderful...particularly since you just spent less than $20 to install them.
Clearly it's bigger than the one about not coveting your neighbour's wife, bonking your granny over the head at the dinner table, or forcing your date to hide in the trunk at a drive-in movie so you don't have to pay for the both of you (but my God she'd be an entertaining date); no mod goes according to plan. Take your time and you'll be fine. Now take the money you saved installing your Euros and take your girl out (and not a cheap buffet, chicks hate that).