This will be updated weekly i would say with new types of headlights fro different cars i will be doing. As well as pics added when the cam makes it back.
Retro-Fitting Stock Headlights w/Projectors-
Tools-
10 Torx
Flat Head Screwdriver
Dremel w/cutting head
Mask
Saftey glasses
Materials-
Stock Headlights
Projectors(E55's, Acura TSX or TL, Audi RS6)
JB Weld
Sheet Metal (optional fitting)
Clear Silicone Sealer.
Optional Materials-
1000 Grit Sandpaper
Primer
Paint your choice of color if you want to paint the headlights.
Washers to prefrom optional Projector modification (more color on the Cut-off)
Headlight Restore kit (if your lenses are crapped)
Projector Shroud
Taking headlights apart-
Preheat your oven to 250 degrees.
Load one headlight into the oven on a cookie sheet or something similar for 10-15 minutes.
Remove at about 10 mins to check glue seal if not all the way stick back in to loosen completely.
One glue seems to just pull apart, use flat head screw driver to pry parts if needed.
Clean glue you will be replacing and using new sealer later.
Preparing for you Projector of Choice-
*This part will depend HUGELY on which projector you will want and what style headlight you will be after.*
OEM Fitting- !*Make sure to wear a mask and saftey glasses while cutting this stuff makes alot of dust and is not fun to get hit by.*
Once the headlight is apart first remove the Screw behind the housing holding in the Bulb Shield.
depending on your projector choice you will need to measure you prjector and then use the dremel to cut a spot from the stock reflector to fit it.
After you have cut this opening clean off the area and then test fit to make sure it will go into the hosuing.
Using a small piece of sheet metal cut into a square place it on the back of housing over the hole. Find a suitable mounting spot and then secure it to the housing with a few screws and some jb weld.
Once again test fit your projector inside of your mounting plate as well your hosuing to assure its level and is secure.
*OPTIONAL*
While apart use the shroud you have chosen to measure and then cut to be placed inside around the projector.
JBweld it all and let sit for approx 6 hours.
Preparing the OEM Fit for a test run-
At this point your Jbweld should have fully cured
After your JBweld has had time to cure take both lens and housing and line with silicone.
Put them back together assuring that each and every space is filled to prevent water or condensation build up.
Let your silicone sit for a couple hours and come back.
Take both Headlights and prepare to reinstall in car to check projector clearence.
Find a set of bulbs or HID's if thats what you will be using and prepare them for a run.
Wait till dark and find a flat surface thats about 15-20 ft from you.
Put the HID's in and adjust headligthts to get a crisp flat cutoff.
*OPTIONAL WASHER MOD*
If you want a little more Blue out of your cutoff and are willing to sacrifice Cutoff sharpness. YOu will need 1-3 #8 washers for the acura projectors. Installing these to lengthen the shield distance will give you a bit more blue.
*Optional Painting*
While the headlights are apart if you would like to paint your headlights to match the vehicle this is the time.
Use the 1000 grit to rough up the chrome pieces really easy to do.
Hit with a few coats of evenly sprayed paint of your choice.
Use a clear as well to prevent and kind of cracking or anything.
Wait to cure and dry reinstall.
Aftermarket Look-
Following the taking apart of the headlights you will need to remove the rear reflector piece.
To do this both plastic peices jsut pop off.
The off white with force can be taken out via the back.
Seal the hole off with silicone or a similar sealing agent.
Once the rear reflector and shield are out remove any spare pieces with the dremel making sure to wear your saftey objects.
Depending on how you want it to look use bondo or fiberglassing to fill in the area to give amore full look to the head light.
Paint your front piece a color of your choice or remove from the headlight.
After you have chosen your style put back together. and continue with the test.
I do have pictures but my camera is in New Hampshire so i will have what i don't have here for everyone. And be sure to watch this as it will be updated frequently with more methods and things
I am looking to try and install some sort of niteshaded parking lamp inside. And may be testing a ST170 Retro fit soon.
Test fit-
Example Cutoff-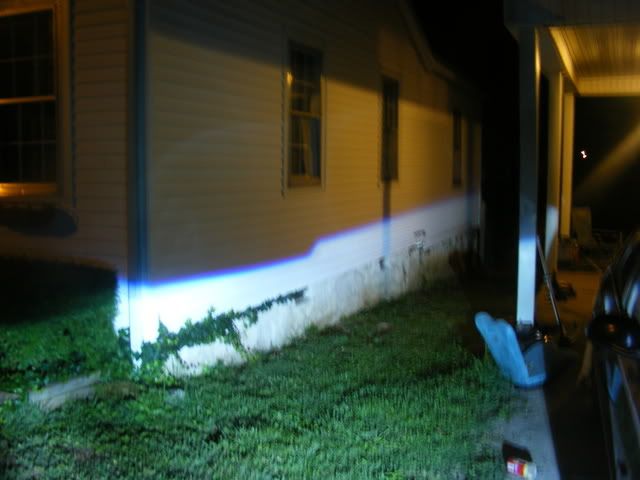 Tons more pictures for each segemnt to come.
Also a KEY NOTE!!! I suggest anyone who tries to take this on also look into an eyebrow setup. It will make your car look MUCH better and more agressive here is my test eyebrow.
Projector-