So today is the day. I started the mock up of my custom body kit today. Unfortunetly my camera isn't so good in the dark so I only snapped a few pics.
GOAL:
1-try to keep clean lines of the vehicle
2-lower appearence to the entire vehicle
3-more AIR more AIR!!!
I will start glassing tomorrow after work so as to start the how to on "making your own body kit"
1:Get a lot of cardboard from somewhere, thin but semi rigid.
2: Determine your shape by a quick sketch
3: start taping pieces of the cardboard into place, so as to "wrap" around the lower edge of bumper. keep in mind the only places that matter are the top edge touching the car and where the lower edge ends. The fiberglass cloth will be stretched from the top to the bottom front edge of the lip.
4:Tape both sides of the cardboard to make it more rigid.
5: MORE TO COME MONDAY, NEXT STEP INVOLVES FIBERGLASS BEING APPLIED
A few pics of the mock lower lip...
The glass cloth will start at the top of the recess for the front plate, smoothing out everything in its way.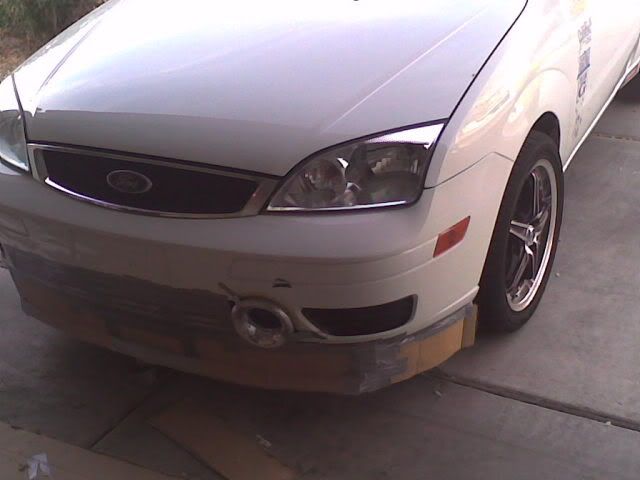 I used a roll of duct tape for the first part, then used the empty roll to maintain clearence by eye-balling it around. I have plans to also drop the car, so this should put me close to about a 3" clearence from ground up.
If you plan on glassing in any opening for air now would be a good time. The openings are usually finished by glassing a quarter slice of 6" diameter PVC tubing on to the back of the mold. That way air is forced up into the radiator and the front end is pulled down according to speed.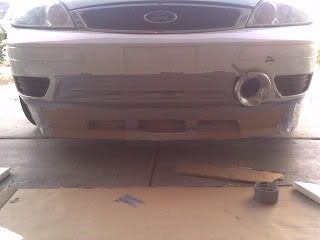 Fiber glass cloth, kitty fur, and first couple layers of rez will be applied Monday evening so keep a look out. This is going to be a FULL body kit with side skirts and all done by this Saturday morning for the mountain cruise.