Massive is pleased to introduce our EZ-Mount lower engine mount for the Ford Focus 00-11, all models/engine combinations.
We've taken our super popular purple motor mount inserts, and offered them pre-installed into an OE housing. This allows for a quick, trouble free install involving only 2 bolts!!! No need for a hydraulic press or other fancy, specialized tools.
We also now offer them in 2 different hardness levels!!! Our 76A level, as we have traditionally sold, gives a fantastic blend of motion control and street friendly manners (while still being 10% stiffer than Energy or Prothane) and our NEW SupeRace stiffness bushings in 95A, are for all-out competition only cars where limiting engine movement is essential and added vibrations are not a concern.
Note that the SupeRace bushings are not available seperate from the EZ-MOUNT, as install requires special Massive-in-house procedures due to the stiffness level.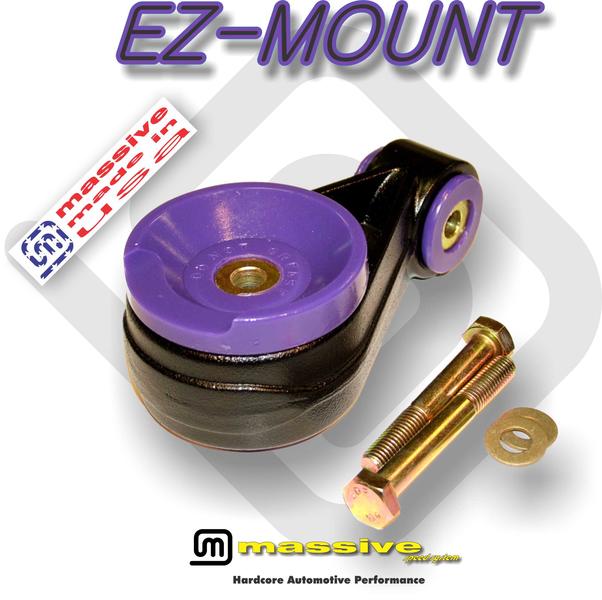 Here is our full description from the site!!!:
Excessive wheel hop plagues the Focus in standard form. Not only is this an embarrassing stop light antic, but of course it will seriously impede your ability to smoke that Camaro or Cobalt in the next lane. This also puts incredible shock and abuse on all drive line components and is the leading cause of axle failure. Upgrade to custom Massive spec polyurethane bushings for the best in motion control. Adds some real stiffness to the motor, drastically reducing movement. Expect better shift feel, no more loud banging noise from the stock mount bottoming out on hard shifts, less wheel hop, and more power to the ground! These mounts also are designed in such a way that the inserts can not come dislodged from the housing.
EXCLUSIVE: Massive ALSO includes our complete HIGH STRENGTH HARDWARE kit! Even stock foci have been know to break OE hardware, and with the added stiffness of your new mounts, failure of low grade stuff is inevitable. Often times corrosion will make re-using factory hardware impossible. We selected the highest quality grade 10.9 yellow zinc hex head cap screws and washers for the ultimate in strength.
Available as press in bushings or new EZ-MOUNT: Reclaimed OE housings are disassembled, blasted, checked and powder coated texture black. Massive bushings pre installed! Install is 2 bolts!!! 00-07 cars eligible for a $10 core return upon receipt of your usable OE core (within 30 days)!
EZ-Mount available with 2 different durometers. SupeRace is extremely stiff and recommended for competition use only. Will add significant vibrations.
Very straight forward installation. If you need assistance, let us know and we'll walk you through it! Should take less than 1 hour for the average car guy (or girl). Kit comes with instructions. Signature Massive PURPLE bushings. Super high quality construction. Quality made right here in the USA !!!
The new EZ-MOUNT is just $69.97
- and for you 00-07 guys with a usable core,
a $10 credit is available upon receipt of your usable stock housing!!! Net cost - $59.97!!!
Housings can be shipped back via USPS parcel post inexpensively.
Still ships for just $5 to the lower 48 states!!!
Find 'em
Here