Massive has improved upon it's already superlative timing tool set with our new version 2.0.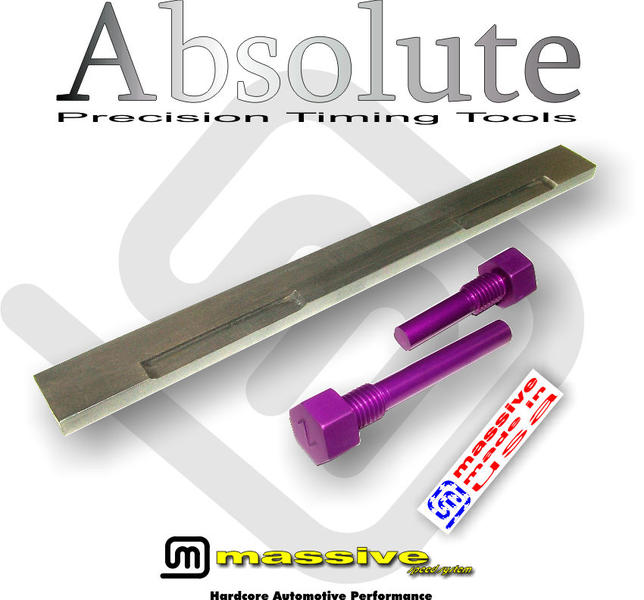 Updated product description:
A true cut above in quality and accuracy! You'll need these tools to positively hold your crank and cams in place whilst timing your motor. Several manufacturers have discontinued their tools. None offered the level of precision found here. 3 piece kit covers all Zetec and Duratec motors.
This high quality kit features both the cam lock gage, and 2 crank stop TDC pins (One for Zetec, one Duratec! This kit covers both!). Using both of these will allow you to be 100% certain your cam install results in proper timing – failing to do so can have very disasterous results – bent valves, smashed pistons, etc.
Gage is much more than simply a piece of bar stock like others have produced – it is a much thicker (and hence stronger) bar that features 2 machined releifs offering a TIGHT +/- .001" fit. A much more accurate means of locking your cams, resulting in less need for cam degreeing post install.
Pins are super tolerance monolithic machined 6061 aluminum for an exact fit. Pins are anodized in high vis Massive Purple for corrosion resistance and this bright coloring will help to remind user of removal(seen folks leave it in – NOT good!). Should pin be left in, aluminum construction will give way without harming vital engine internals. Handle area has built in hex for tool usage. Alpha stamping so you'll know the difference between the 2 pin styles.
Quality made IN HOUSE right here in the USA!!!
Just $34.57,
only $30.76 with our 11% OFF discount code til April 18th!
(Use code: IRSWON)
Find it
Here