Massive has manufactured the world's only Duratec torque plate for the past few years, now. We've decided to take it's advantages and offer it to the everyday consumer, not just high volume builders.
The plate's base price is $597. Pay that, we ship the plate to you or your favorite machine shop. Have it back on it's way to us in 21 days, and we credit you back $447 upon receipt of the undamaged, usable tool (net cost to you,
only $150!!!
). Want to keep it for your next build? No problem! It's yours!
Find it
Here
A word or two about the plates: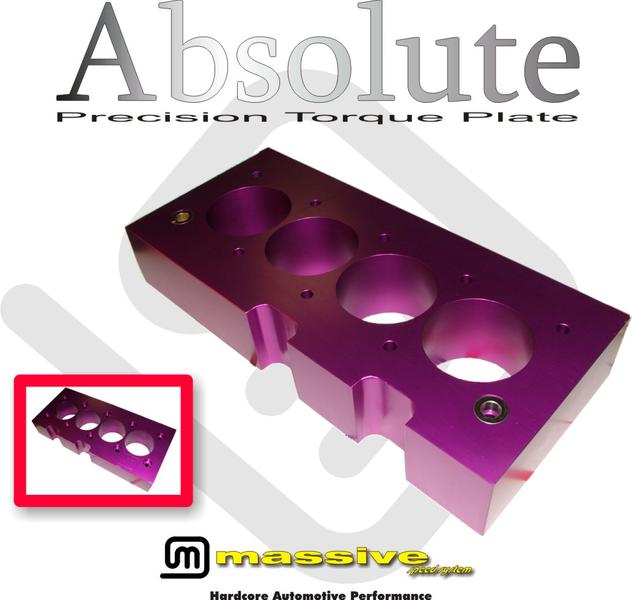 A must for your hardcore engine build. Another Massive exclusive!!! No one else offers these for the Duratec!!!
The torque from a properly fastened cylinder head can impart significant distortion to the bore. Rings do not seal properly and scuffing is often the case if the engine overheats. By installing the Massive Absolute Torque Plate, these problems are non existent, leading to more consistent tolerances, better sealing and more power. This plate is torqued to the identical specs while it is being machined, thus reproducing the exact same forces. This will ensure the truest machining for the best ring seal.
Made in house in the USA of 3" pure 6061 aluminum (most representent of the aluminum head is mimics). 90mm Bore size allows for ample tool space and over sized piston applications. 4340 steel inserts at dowel locations ensure long service life and accurate locating every time. Holes are countersunk allowing usage of any OE or aftermarket head bolt/stud. Plate is clearanced so pressed on water outlet on block need not be removed to mount. Massive M logo engraved on top so folks know you use the best. Anodized Massive Purple for extra wear surface durability and handsome good looks. No hardcore Duratec race shop should be without it!!!