Many of our PW customers lamented the loss of our MAX-BOOST pulley system, some went as far as to threaten violence... Thusly, we present to you:
LIMITED RUN OF TEN (10!) "JOSH DAVIS" EDITION PULLIES!!! THIS IS IT!!!
When the PowerWorks Supercharger kit was introduced in late 2004, Focus enthusiasts everywhere rejoiced. Never had there been such a complete and powerful form of Focus forced induction. Many kits have been sold worldwide with few complaints…
But a gear heads work is never done. Boost junkies – here is your fix. Massive has produced a truly exclusive and of course superlative product.
The Massive MAX-BOOST is a reduction pulley system used to rotate your blower at higher RPM's creating additional pressure and of course – more POWER. In our final (and limited!) re-release, the 2.4" (+6lbs) size replaces your stock 2.8". You can expect REAL gains of 30-75 HP starting at the bottom of the range.
We have desinged a system that allows you to easily switch between desired boost levels by merely swapping the outer "sheave" of the pulley while leaving the hub attached (should you be in possession of our other sizes). The OE pulley is pressed on and would make swaps difficult and time consuming.
Massive includes initial snout machining service at no charge with 24 hr turn around. Hub is located via a blind key hole indexed by stainless dog point double set screws (loctited of course) with a design that literally makes pulley slippage on the shaft impossible.
Machined from lightweight 6061 aluminum and anodized signature Massive Purple for both good looks and longevity. Single kit includes 2.4" sheave, hub, stainless M6 mounting hardware, correct pink Anaerobic sealant, correct Supercharger Oil (both for snout reinstall) and our snout machining service.
A retune of your vehicle is considered mandatory. Higher boost levels in turn place increased load on internal engine components, thus Massive recommends these be installed on only upgraded bottom ends. No warranty outside of product workmanship is expressed or implied.
Instructions for ordering:
1. Submit order
2. Ship stock snout
3. Massive will remove stock pulley, machine and install hub and pulley
4. Massive will ship out kit and snout within 24 business hours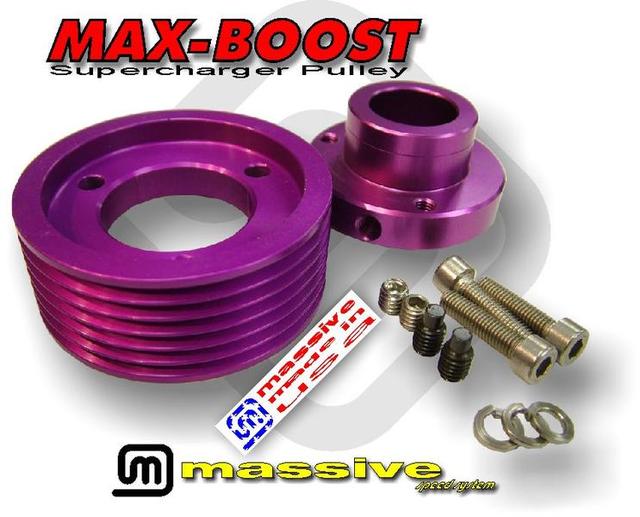 Get em before they are GONE!!! Just $179.
And tip your hat to Josh (bumpnzx3 on the boards) while your at it. Seriously. Or he might burn down your place. Serious. ;)
Find em
Here
Remember, use coupon code: MSSISBEST (all caps) for 10% off ALL MASSIVE products through the end of 2010!!!