You know you need it!!!
For 00-11 Focus, 04-10 Mazda 3, 06-10 Mazda 5, 04-10 Volvo S40, 08-10 Volvo C30 and 05-10 Volvo V50.
Here's the haps on these new gems:
Replaces stock fixed arm with adjustable. Allows for custom camber settings:
Obtain stock settings – many stock/mildly dropped vehicles cannot be set to OE specifications. Massive arms allow alignment to be perfect resulting in optimal handling and proper tire wear.
Performance/racing settings – Tune for more advanced settings for max race performance in road race / autocross environments.
Allows for extreme drops and radical wheel/tire installations. If your – tucking – slamming – stretching – chopped – screwed – flush, you need these!
Fully TIG welded tubular steel with billet machined tube adapter.
Years of exhausting research at the race track and on the street have led us to the "cost-no-object" Aurora swaged PTFE lined oversize 5/8" 15,000 lb rod end used. This spherical joint provides the highest in accuracy for ultimate motion control AND extremely low noise operation for the long haul.
Custom made high durometer polyurethane bushing minimizes unwanted deflection and is maintenance free.
Custom made Massive Billet Big OD offset bushings provide extended range of motion, tight fastener clearance for noise reduction and large load bearing surface for max strength.
Included is the Massive exclusive Hardcore Hardware kit – Mil-Spec blue grade 10.9 190,000 lb tensile strength hex bolts replace your worn, rusted weak factory stuff.
As always – made in house here in the USA!!!
Available in your choice of Signature Purple Pearl or High Gloss Black powder coat!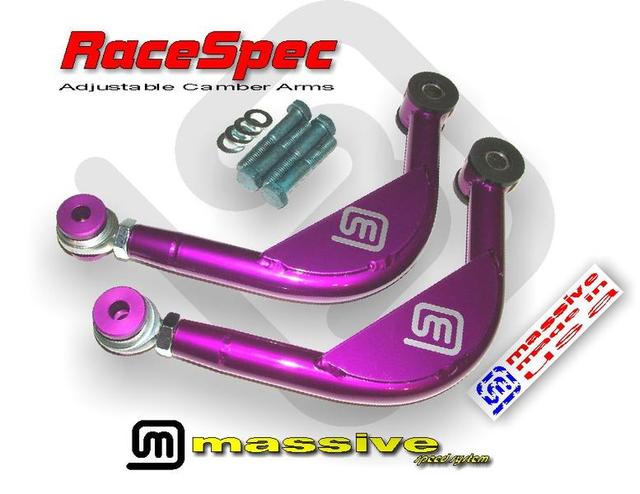 Find em
Here
Just $179.13!!!
Remember, use coupon code: MSSISBEST (all caps) for 10% off ALL MASSIVE products through the end of 2010!!!