Building on the success of our popular 05+ Mustang arms, we have increased our range of arms to include the 82-02 Camaro/Firebird AND the 64-73 GM A-Body [Chevelle, Cutlass (442), Le Mans(GTO), Skylark (GS)].
Here's a little about the family!
Stock lower control arms on that muscle car of yours are of an extremely flimsy stamped sheet metal construction. Soggy rubber bushings complete the recipe for unwanted wheel hop, deflection and flex.
Massive has created a stronger solution. Huge 1.5" heavy wall steel tubing can harness even the highest HP load with ease. Durable and stable polyurethane bushings transfer your hard earned torque where it belongs – the pavement. Fully TiG welded. Premium thickness powder coating with a prominent Massive logo so people know your using the best.
As usual, these arms are made in house in the USA – so you know the quality is as good as it gets.
Get ready to rock your 60 foot times!!!
Available in Victory Grey Metallic and
High Gloss Black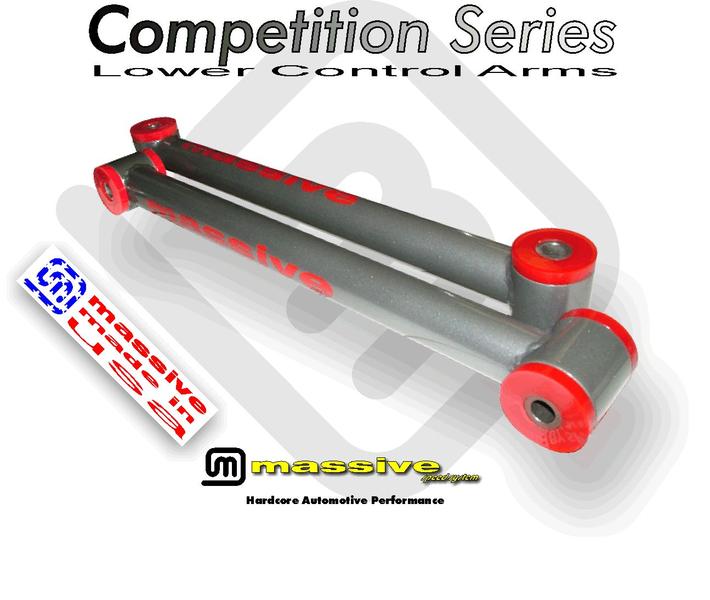 Available for:
GM A Body 64-73 - ALL
MCSS'11109.x - $129.17
82-02 Chevrolot Camaro / Pontiac Firebird
MCSS'11108.x - $129.17
Introductory Special !!! Take 10% off til August 16th!
Use coupon code: 2010MSSNEW
Find em
Here