Massive's Adjustable Panhard bars have been absolute HITS in the racing community since their release – a combination of strength, quality, ease of install and straight up TRACTION make it a grand slam. But we weren't happy with the numerous lap time drops, drag race victories and street car kills. We've now expanded our offerings with our PROSTEEL series for those looking for strength at a less expensive cost.
6061 aluminum red anodized nylafiber matrix race spherical rod ends – super strength yet metallic contact isolated – NO NOISE! LONG LIFE! NO LUBRICATION NECESSARY!
Hey good lookin' – High gloss powder coated .120" wall fully tig welded alloy steel!!!
Hardcore Hardware Kit:
Military spec grade 12.9 high vis socket head cap screws are included for the ultimate in power handling. 177,000 PSI Tensile Strength!!! The finest fasteners money can buy! You wont find this from the other guys. Cheesy
OE hardware is not up to the task – not to mention is probably rusted to oblivion.
Billet BIG O.D. Custom machined rod end step bushings – Not off the shelf tiny pieces! Dare to compare! HD construction made just for this purpose where rotary motion is most critical but torque loads are great. Wont let your factory stamped steel brackets twist or bend. BIG HP cars will tear lesser pieces to shreds.
Made with quality right here IN THE USA!!!
Full spherical rod end construction eliminates flabby rubber – this means your rear will be planted were it's supposed to be, dramatically improving traction and handling performance. Double adjustable with opposing threads so adjustments can be made while installed. Massive logo so folks know you use the best. Simple 1 hour install with basic hand tools.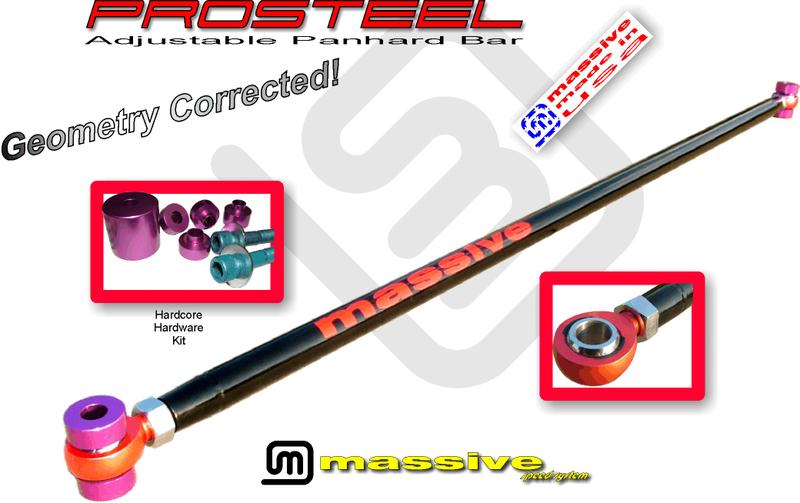 Available for:
05+ Mustang - V6, GT, GT-500 ALL
MASS'10581 - Geometry Corrected - $149.11
MASS'10581.0 - Standard - $109.77
82-02 Camaro / Firebird V6, V8 ALL
MASS'4795.0 - $109.11
Introductory Special !!! Take 10% off til August 7th!
Use coupon code: 2010MSSNEW
Find em
Here