The Massive UNBREAKABLE has earned its reputation as THE mount to have, and this has made it a wild success for us. Massive has sold a great number of these mounts since their release over 1.5 years ago. To this date, we have not recorded a SINGLE FAILURE.
Not ones to rest on our laurels, we have refined and brought you the even further superior V1.1 UNBREAKABLE mount.
Higher 80 durometer custom made Massive Purple Bushings
Our High Strength Hardware Kit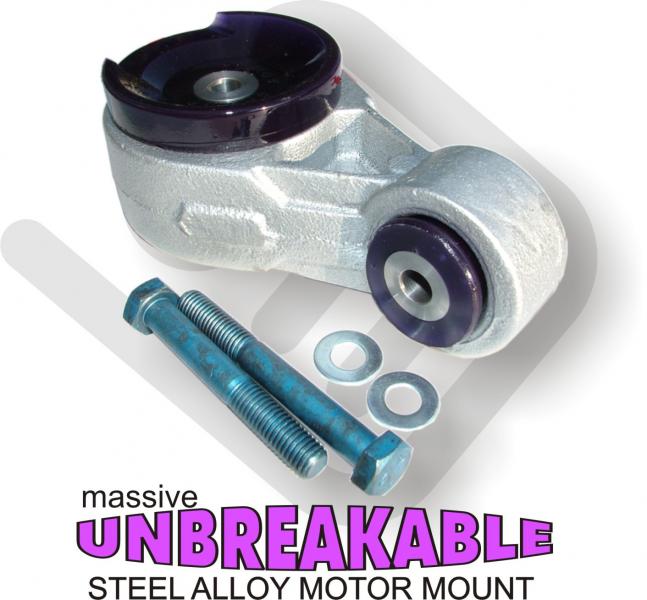 Here's what we have to say about these "mighty mounts":
High torque Foci with power adders regularly tear not only the stock/aftermarket bushings, but have been known to shatter the aluminum dogbone itself. While this is undesirable enough, the resulting free motion of the engine can cause damage magnitudes greater such as axle breakage, radiator puncture and shifter cable separation. How do we know? We've had it happen too many times… Massive has finally put an end to these woes by offering a truly STRONGER solution. Excessive wheel hop plagues the car in standard form. Not only is this an embarrassing stop light antic, but of course it will seriously impede your ability to smoke that Camaro or Cobalt in the next lane. This also puts incredible shock and abuse on all drive line components and is the leading cause of axle failure. A cast steel alloy mount contains custom Massive spec polyurethane bushings for the best in motion control. Adds some real stiffness to the motor, drastically reducing movement. Expect better shift feel, no more loud banging noise from the stock mount bottoming out on hard shifts, less wheel hop, and more power to the ground! This MSS mount replaces the entire "dog bone" assembly. These mounts also are designed in such a way that the inserts can not come dislodged from the housing.
Massive ALSO includes our complete HIGH STRENGTH HARDWARE kit! Even stock foci have been know to break OE hardware, and with the added stiffness of your new mounts, failure of low grade stuff is inevitable. Often times corrosion will make re-using factory hardware impossible. We selected the highest quality high vis Mil spec blue coated grade 12.9 European hex head cap screws for the ultimate in strength.
Very straight forward installation. If you need assistance, let us know and we'll walk you through it! Should take less than 1 hour for the average car guy (or girl). Kit comes with instructions. Custom made of high carbon steel for superior durability. Metallic Silver with signature Massive PURPLE bushings. Super high quality construction. Quality made right here in the USA!!!
Just
$79!!!
Find em
Here!!!