Yep. Send a name address and color/size/style/qty desired and we'll get em out to you.
Ohhh... It's YOU D-Humm... YOU GETS NOTHING!!!
;)
BTW we needed your car for testing our new lower motor mount, so you've got a prototype on there now.
Annnnddd... Local friend needed a stock exhaust, so (most) of that SVT exhaust is on there.
And I didnt really want to drive it to test that motor mount without doing an oil change, so that's done. But I figured that the time was ripe to do the balance shaft delete if we were draining the oil, so, uh. Yeah, did that too.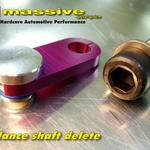 And replaced that serpentine belt, put a like new tensioner on that I had laying around so that's done.
Bottom line that car rips. Kick ass car.