Massive has been offering upgraded cam gear hardware for several years and has re - released them with even greater quality and looks, all WITHOUT an increase in pricing!
Here is the product description:
Having adjustable cam gears is a must for extracting the most from your Zetec. They also have the added benefit of looking pretty darn cool. These billet aluminum beauties tend to draw the eye... only to see a nasty/rusty bolt in the middle. Factory bolts, and even the ARPs are simple black oxided pieces that tend to corrode quickly. We decided we just werent satisfied...
What we have produced is manufactured from a combination of pure A2 stainless and 6061 billet aluminum that is impervious to the elements. We custom made our washer plates to be extra thick and with an extremely tight inside diameter to avoid any chance of an off center condition. They are anodized signature Massive purple for unique looks. The bolts are a super high tensile strength 10.9 grade which are far stronger than stock, and also get rid of that hard to find and hard to use torx bolt head. Seperating the bolt from the washer also provides a much stronger bond and virtually eliminates any twisting forces imparted to the gear. This also relates to far less cam gear finish damage. We've then CNC engraved the massive logo so people know you run the best. We added some Loc-Tite to ensure they wont loosen, which is particularly important when tuning on the dyno.
Were sure you can agree these are big step up in quality, ease of use, and cool looks.
Just $39 a pair!!!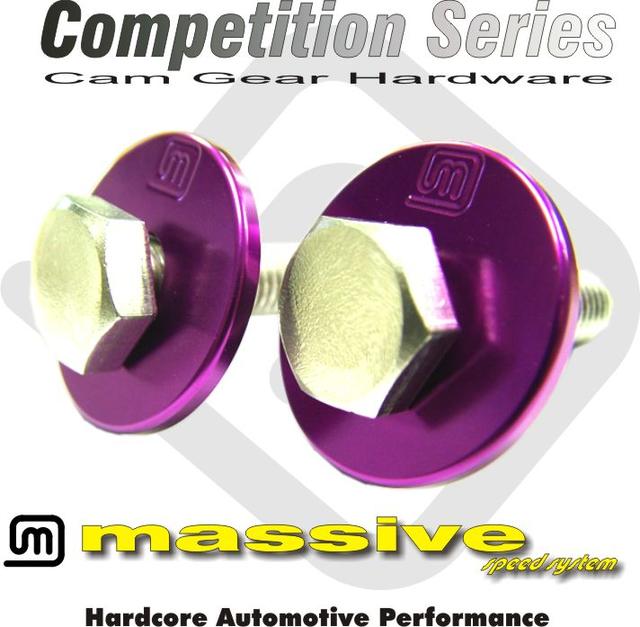 Find em
Here