So this is how the faux SVT sounds lol. I need to get a tail pipe on there when I'm not broke.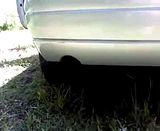 Also my friend painted some parts today, and most of it came out pretty good. The bumper was too low to the ground so the color coat ran, and he forgot to paint some parts of the door handle, and somehow the paint on the euro fuel door came out funny. So these 3 didn't get cleared. The bulkhead, side moldings, mirror cap, and rear trim all came out nice. Gotta grab them tomorrow.
I also got some used tires from my friend, Kumho MX in 215/45/17. He drove on them for not even a couple days and took the wheels off and sold the car lol.
I was gonna put the tires on the 5 spokes, but one of them has a bend and they're all pretty damaged. So I'm thinking about putting them on my Enkei RSV's and paint the rims a different color. But what color? lol