klod (and anyone else who wants to know how to make a 5'11" man fit into a 36" tall space and still leave 4" of ground clearance)
so here's the data i just nabbed from the model of the driver position in the dp1 (some guy started a small business making track cars, his first was the dp1 i imagine you've heard of it)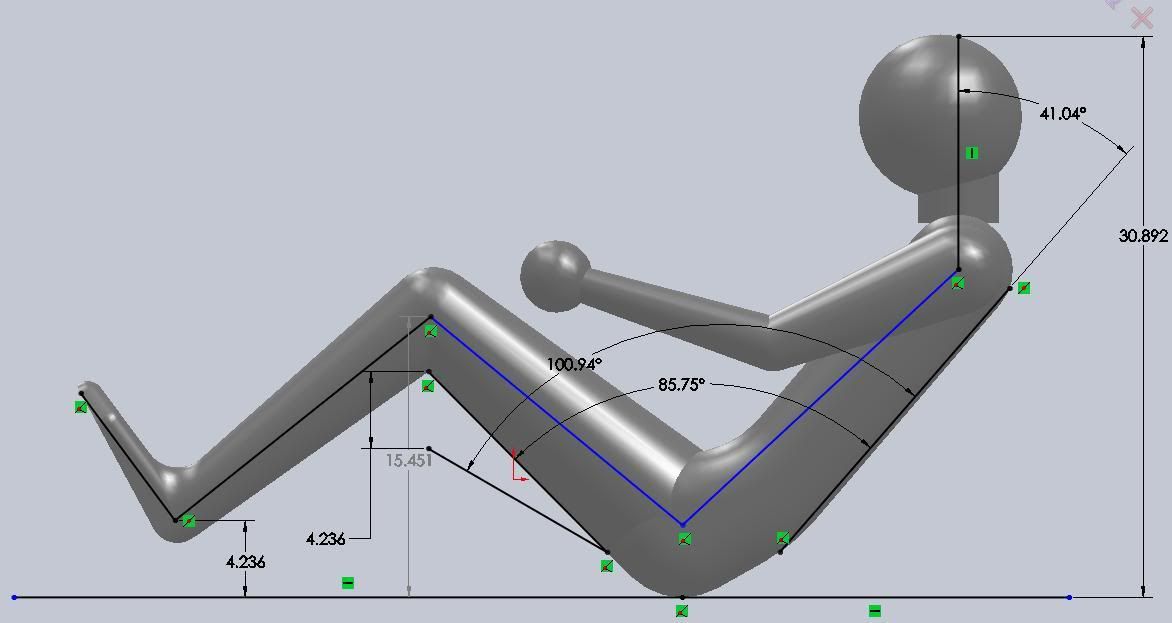 on the upside, the driver is (currently) at almost 90degrees thigh to chest, but i don't like having the feet elevated (i've tried it in real life, it's awkward)
so i imagined what would happen if we dropped the feet (and subsequently the knees) down to the floor.
this gives a slightly more laid back position (should be more comfortable) doesn't make the driver any taller (30.8" from butt to top of head!!!! [sans helmet of course]) and since most sports car/racing seats feature a slight recline from the factory... we should be good to go.
the difficulty is the 40 degree offest of the head from the chest center.... that'll be mildly uncomfortable when streeting the car, but a real ball buster on a track pulling some G's... the guy's solution was to build a custom seat from scratch (oh god no, please not that) but i'm HOPING (key word) that the helmet and the built in headrest in the racing seat will be sufficient to raise the head up.....
i can also unrecline the driver a bit (and i probably will) but that costs me in the vertical department (current max driver + seat height is 38") so i'll have to play with it, but i'll have to do so with my own model... because this guy's isn't editable...
anywho. progress is progress... thinking about using my manikin, the drawings i have, and a trusty steel rule to start mocking up the idea of a roll cage....... or maybe i'll start working on suspension pickups. not sure.... need to get a suspension modeling program to evaluate my options.