In the process of doing an engine rebuild, just had a few questions about gasket locations. I purchased a DNJ complete engine gasket kit FGS4032, and there's a few things I have no idea where they go. Attached is an image of some of the gaskets in the kit and I have labeled the ones I've found on the engine.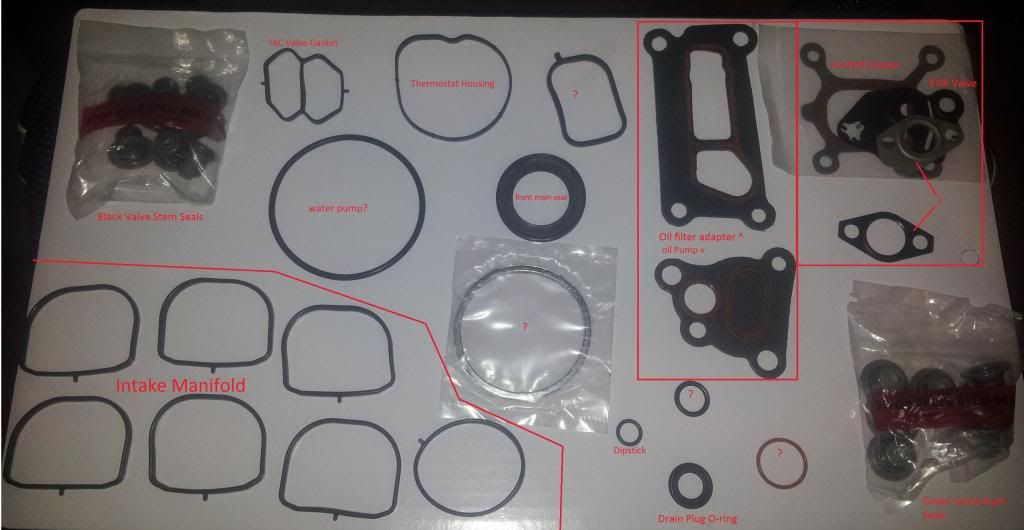 To start with there's a bag of black valve stem seals and a bag of green one's, from my head dis-assembly I roughly found that the intake were green and the exhaust were black. Not 100% on that though.
Onto the intake manifold gaskets, I'm confused why there's six of the rectangular gaskets. The intake only has four, so I'm presuming this is a manufacturer miscount.
There was a large O-ring included seemed like it could be for the water pump, but it's far too large. It looks to be included with the orange o-ring in a timing cover gasket set, so must go somewhere there.
The oil pump gasket, were does it go, my guess is I have to disassemble the pump to replace it. As the pump just bolts metal to metal to the crank case.
Onto the other question marks. I haven't found there locations, any ideas would be greatly appreciated.