Had a break in the weather a few months ago and replaced my passenger side (hydraulic) motor mount with a dealer part; fixed 75% of my vibrations!
Had another break in the weather last week, so I decided to replace the driver's side (tranny) mount. It's just a piece of stamped steel and some rubber, so I thought aftermarket would be fine...wrong!
Check this out - the Car Quest part has worst QA I've ever seen:

It's even worse when you try to install it - can you believe this??
This is
not
a minor design flaw!
So, I reinstalled the factory part, drove to Napa, and purchased theirs. It was a pretty good match, although I had to trim away the excess rubber from the bolt areas with an exacto knife.
When I removed the factory mount this time, the engine wanted to rotate towards the front of the car (ie. pushing the mount towards the battery), so I had to leverage it back using a prybar. It wasn't nearly as easy to maneuver as the passenger side was, but I finally got it into the same footprint as the factory mount. This before-and-after pic shows that I was able to secure the new mount within less than a quarter-inch of the old one: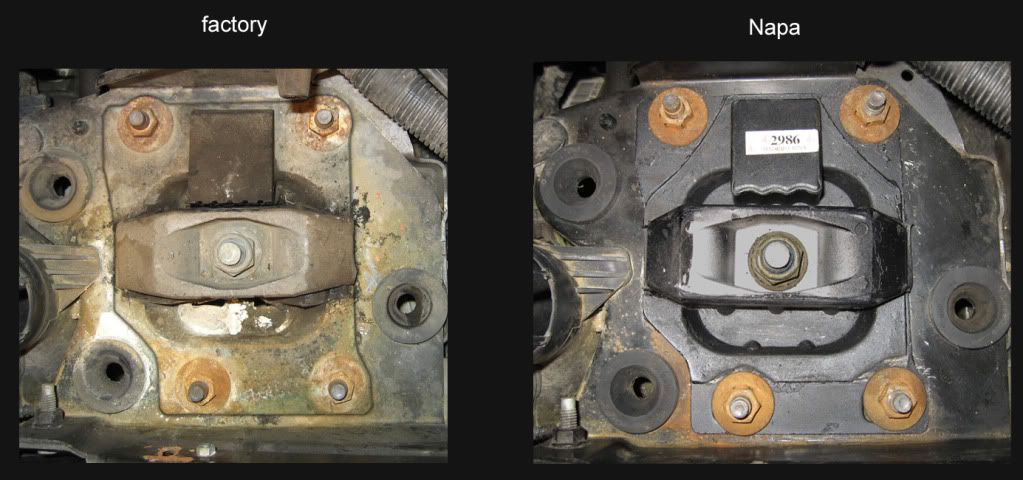 Now, the vibration at idle is
worse than ever
! I especially feel it in the steering wheel. The engine/tranny actually sound like they are binding, making a labored sound at 0 - 5 MPH.
My mechanic has a heated garage, so I let him replace the dogbone mount (under vehicle). He had no trouble with it, but it had no effect on the vibrations (I thought the engine might settle into a more comfortable spot).
Any ideas??? Will this prematurely wear the CV joints?
Thanks.