I have a 2007 Focus SE with this type of armrest:
I leaned over to pick something up out of the passenger floorboard and *snap* the armrest was wobbling and hanging on by one end of the pivot axle.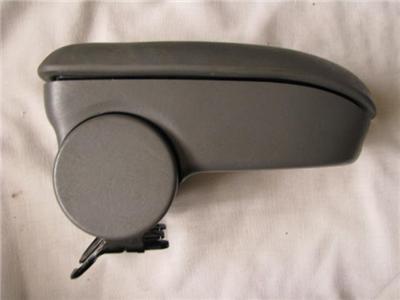 In the image above, you can see a metal bracket on the bottom and the axle which the armrest pivots on is covered by plastic circles on either side.
This is the axle that broke:
http://www.ebay.com/itm/NEW-FORD-FOC...-/230765466196

This guy has the nerve to charge nearly $30 for it.
The plastic end snapped off. I had already decided that Home Depot had the parts I needed when I saw the metal bracket had square holes under the circular covers.
* 1-3/8"x5 1/2" long lag bolt (has the little square under the head, then threaded all the way down, not a carriage bolt which is only threaded part of the way and lacks the square part)
* 4-washers (2 for each side)
* a thin lock washer
* a jam nut (not enough thread protruding on the other side for a nylon lock nut to grab onto)
Total cost: just under $5!
The end of the bolt and the jam nut won't allow me to put the other circular cover back on, but my armrest is reattached and it ain't goin' nowhere any time soon!
I saw another thread showing how to beef up the latch on the armrest lid with a spring from a stapler. I may do that next as the latch seems loose to me. Surely I can find someplace to buy just the spring; it seems wasteful to buy and cannibalize a perfectly good stapler.
I hope this info proves useful to someone else who is also a cheapskate, er on a shoestring budget like I am.