We feel we are on our final install (kit has changes 3 times because of Diff things we saw on the dyno that we didnt like ) so she is on and close to being dynoed again , I hope to have numbers this week or early next we will have to see how some personal stuff goes this week.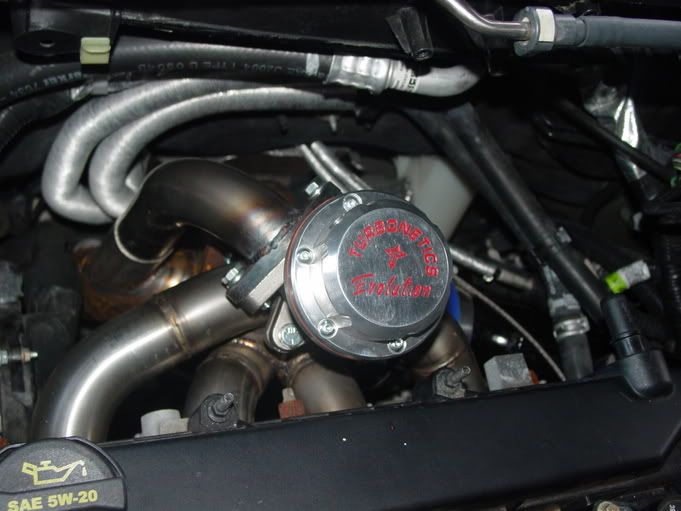 I am pleased that we have been able to run a full 3 inch intake pipe to the turbo and keep the filter out of the engine bay in fact it is installed and you will have a hard time seeing it , I feel any filters in the engine bay using already heated intake air isnt a good thing , My filter will be located tip of filter to bottom of frame is about 2 inches so basicly even with the frame rail or you will have the option to place it inside the inner fender well where the Zetec kit is either way its still in a cool location for intake air and in the dry from sucking water
What i would like opinions on is how the MAF look, this will as allways now be a blow through MAF and is located right where it can be seen, i thought black hoses may look better , I also dont have the VERY SHARP 120Deg turn helping to create turbulance going into the intake , I tested both the 120Deg and mine on the flow bench and it sure does not like the sharp turn that close to the TB and into the intake , The straighter one like i went with flowed MUCH better we will see what it shows on the dyno now it is one of the things i changed
This is a full intercooled kit and is in a Roush so the IC was a pain because of the front bumper
The manifold is also being made of cast and i should have a fitment one in 3 weeks to OK and go into production with. It will be a tubular cast not a log
I have worked very hard on keeping this kit very clean and stealth like under the hood , Opinions there as well
This kit also as you can see has External WG.
2.5 Exh with an option for 3 on the Duratec
Many Options on the turbo
So give me opinions on what you think of where the MAF is and looks and what ever else you see good or bad
It is NOT CARB and no price as of yet
Tom