Seals and Oil Pump
The next steps involved the rear seal, front seal, and the oil pump.
I purchased a complete seal/gasket kit from CFM that proved to be a great deal. It had everything in one kit to re-build the bottom end of a Zetec.
I decided to re-use my rear-seal assembly but we did replace the seal itself. The old seal popped out with a screw driver. The new seal required a little persuasion to properly seat in the flange. I don't have a picture of it but I "helped" it with a 2x4 and a hammer. Here's Dave affixing the assembly to the rear of the block: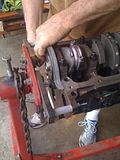 There's a gasket that goes between that rear-seal assembly and the block. I almost forgot to put that gasket in there, which would have been an epic fail. Again, that gasket/seal kit was a life-saver.
A little RTV to make sure things are completely sealed: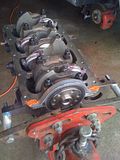 Rather than use my old oil pump, I picked up a new one from CFM for less than $120. Instead of using a 2x4 to seat the seal, Dave decided to use a socket:
We slid the new oil pump with its new seal and gasket onto the crank, then snugged it down to the block.