Final numbers on page 7. Pics and vids from McNews on page 8.
Well I thought I'd start a build thread for my boost project. I will use this thread to document my progress, ask questions, answer questions, etc. I don't mind criticism or advice but I don't want to turn this into a flaming thread. Not all images I will post will be full size; just click on them for the full size image.
Link to my photobucket album:
CLICK!
So the background....
Over a year ago a fellow FF member was selling a turbo kit on here. I messaged him and after a few months of negotiations back and fourth we finally settled on a deal and my turbo parts arrive. This kit consists of mostly all the major parts from the F2usa original turbo kit including...
Cast style manifold with jet coating
2.5" downpipe w/ integrated flex and jet coating (could possibly be 3" to 2.5")
Master Power turbo (Used 6 months, no shaft play, brand new exhaust housing)
.47 A/R Exhaust side , .42 A/R Compressor side
Internal wastegate (~8 psi spring)
Turbosmart dual port BOV
Turbosmart manual boost controller
3" MAF sensor housing
42lb injectors with harnesses
IAT sensor (For running a suck-through MAF sensor setup)
Misc. piping, couplers and clamps
SCT xcal2 with tunes
Gaskets for turbo
Oil feed and drain lines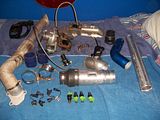 I purchased separately...
AEM wideband
Glowshift boost gauge (will probably upgrade to Autometer for accuracy)
Glowshift oil pressure gauge w/ sender
Glowshift oil filter adapter plate for gauge and oil feed
FMIC (used, a very solid piece)
Universal intercooler piping, couplers and clamps (2.5")
3 gauge, A-pillar pod
Autolite 103 spark plugs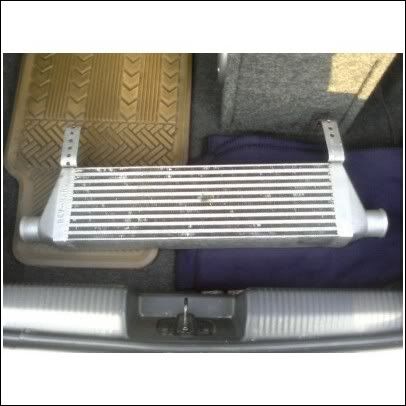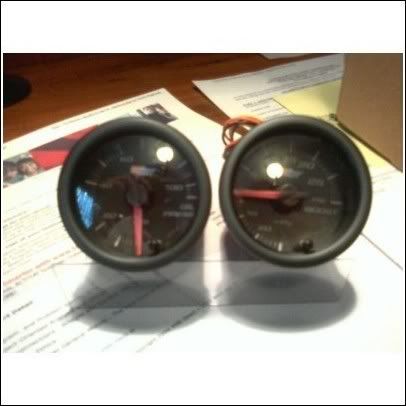 Gauges originally installed in the '05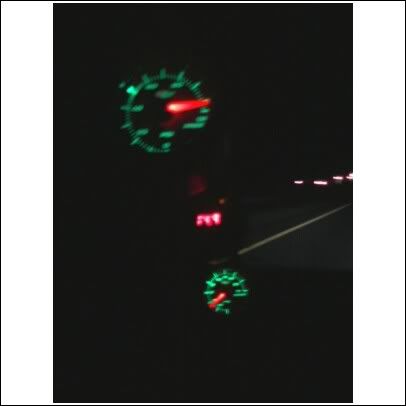 I originally planned to install this kit on my first focus, 2005 ZX4 SE w/ auto trans. But school started back up before I could install anything so I just sat on the kit until I had the money. I thought about selling it many times. Over this most recent summer I purchased a 2007 ST. Wow, what an upgrade and my turbo parts still fit! So I will be installing this "kit" on my ST, 2.3L Duratec. The best part is my xcal2 works with my new focus because the stock tune was reloaded by its previous owner.
I have been sitting on this kit for well over a year. I've done hours of research and have a pretty good idea of what is going on. I'm no expert but feel I have the ability to tackle this myself. I have read through many custom build threads multiple times to pick up all the tips and tricks.
Additional Info
-Although I've heard plenty of bad things about Master Power turbos mine is practically new; so I'm going to give it a go and see what happens.
-Tuning: I've went to Tom for plenty of questions about my build over the past year. But I've decided that since I am so close to McNews in PA, I will have my car tuned by them on the dyno.
-I am a full time college student and a full time intern so my time is very limited anymore
-This build will be happening over the next 1-3 months so bare with me :)
Turbo tease...