Here is the dyno chart: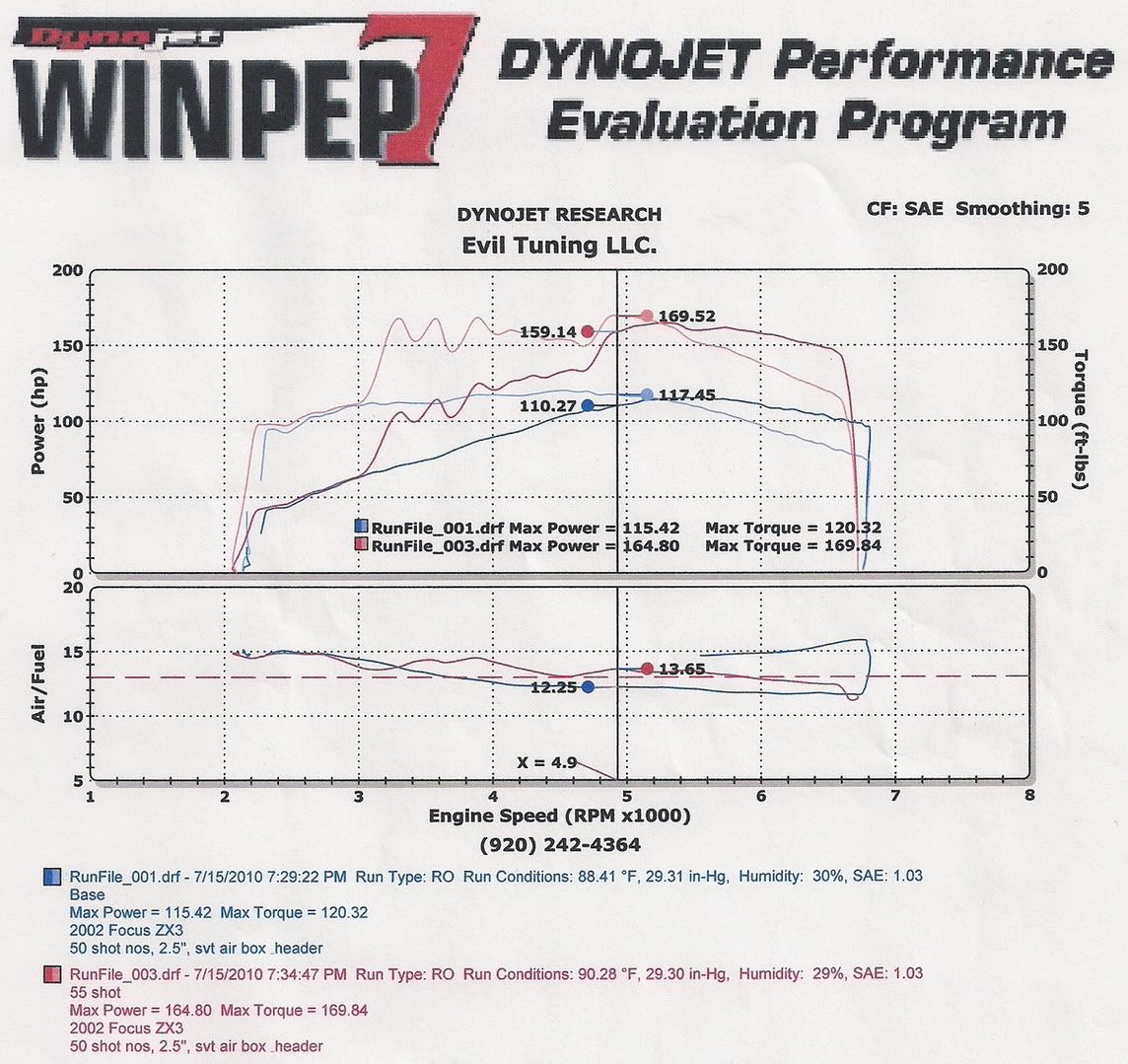 The first run is
without nitrous
. My mods are:
SVT Header
SVT Catalytic converter
SVT Flex Pipe
2.5" OBX Exhaust
SVT Intake with snorkel and K&N filter
9mm Ford Racing spark plug wires
The second run is with an
NX 50 shot
(at ~1,000 psi)
I'm happy with both runs and the numbers both ways. Although there are two things that I would like to fix.
The first one is I am leaner than I would like to be with on the bottle. (The dyno guy said the ratio would read about 1 point higher than it actually is because I have a catalytic converter and a decent exhaust leak between the flex and exhaust)
There are two things right away that I know I can change to help the problem. First, I can up the fuel jet and second, I can close the gap on the plugs. My question is, which jet should I use for fuel? Right now I'm using 35N/20F, so should I go up to a 22 fuel jet? I ask because I have a spare 22. Then for the plug gap, what should I be gaping these to with nitrous? Right now I have the colder Motorcraft coppers gaped at ~0.65. The dyno guy said I should gap them down to ~0.35-0.40, what do you guys think?
And the second issue, as you can see if you look at the graph, the line with the nitrous on is bouncy. When it hits 3,000 RPM the nitrous kicks in and goes up but then drops back down a bit and continues to flow like that. The guy at the dyno said normally when cars are on nitrous it peaks up like that and stays that way as it caries over. Any idea why it is waving like this? The line was purged, so we're thinking the solenoids might be kicking in and out. Could the fuel pressure safety switch be causing this?
Scott and I will be checking out the timing and knock with his scanner sometime within the next week just to make sure everything is alright. After I work things out, I'd like to get a tune, but that isn't in the price range right now.
In the end, my questions are:
What fuel jet should I go up to?
What should I gap my plugs to?
Any idea why the chart is wavy?
Thanks for reading, constructive criticism is welcome