Ok so i just wanna say THANK YOU to Fernando at RSP. this car f'n rides out and its just the beginning. we ran into a couple different problems like the coil on plug setup suck. it was making low power (311) and the graph was all up and down so fernando says maybe its not getting enough power. Fernando worked his magic and it gained 28 more whp, we were amazed plus it cleaned up the graph alot. I am going to go back to stock coil pack and wires so i should gain more HP too. Another thing i had one of the welds on the intercooler end tank break ( my fault fitment issue) but Fernando pulled it off the dyno and let me take the intercooler off and let me use the shop welder to fix it. ( thanks again) also we had killer hot temps today dyno READ 101 degrees and it still made 376whp and 360tq at 20psi. I was really excited considering i have a stock head, stock cams, stock MAIN bolts, stock fuel system and 2.5in intercooler piping, and those shitty Coil on Plugs. I want to say a big thanks to Fernando for hooking me up with a tune, when i am low on money with college.
Full spool on this 3582r is 4500rpm on the dot lol i will post a graph soon
STD
SAE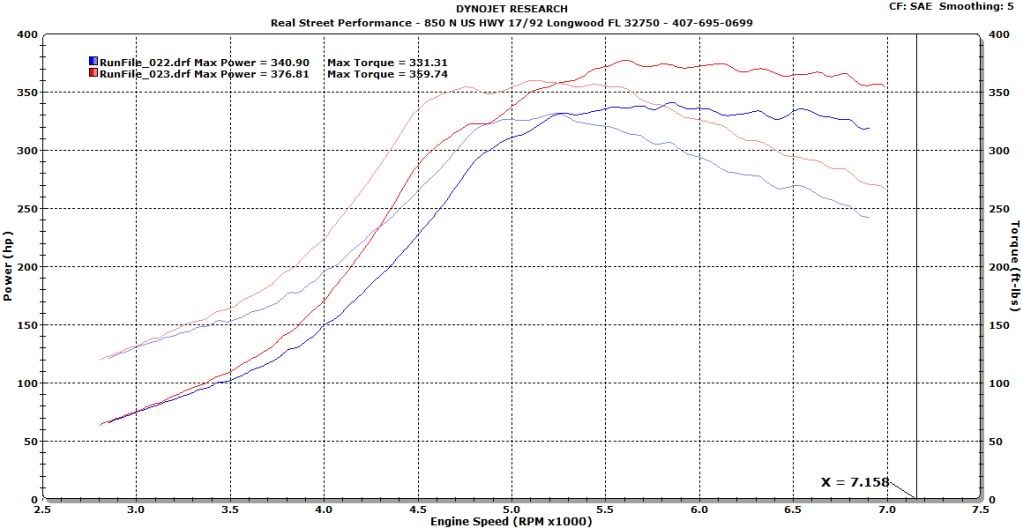 O ya car is stupid on the streets
My Specs
2002 liquid grey zx3
Supertech 8.7:1 pistons 85.5mm bore
eagle rods
Clevite bearings
Zetec block bored to Piston specs
Ford zetec head gasket
ARP head studs
ARP main studs (coming soon)
Decked the head .10 thou
Cleaned up the casting in the head
Eibach valve springs
AEM cam gears
CFM dogbone mount
VF pass mount
Custom Topmount manifold
Garrett 3582r Anti-surge housing,.63 exhaust side with v-band, .70 compressor side
Precision 46mm wastegate dumped to atmosphere
28x19x3 intercooler core
2.5in intercooler piping (upgrading to 3in)
3in 304ss exhaust with magnaflow muffler
SVT fuel pump
Kenne Bell BAP
Siemen 60lb injectors
Clutchmaster stage 4 6 puck
Torsen lsd
Clutchmasters Aluminum flywheel
Skunk 2 springs
Koni adj shocks
Lakewood traction bars
Greddy type s boost controller
And more but theres a drift of it.