Well it started out as any other day..... got up, went to work, decided to take the long way home to get more break in on the engine....
On the way home I stop off at the local mom and pop store to pick up a couple of cans of brake cleaner since I was going to take the rotors and calipers off and paint them, when I stopped I noticed some smoke coming out of the hood so I open it and I still see smoke but I dont see where its coming from.
Since just seconds before I was in boost I chaulk it up the the header wrap curing. I get home and jack up the car, when I get the wheel off I see a bunch of oil spots all over the floor... first thing comes to mind is my oil drain line is leaking... so I go ahead and finish doing the brakes and put the car on the lift for a better look.
I soon figure out its leaking from a brass extension next to the oil filter.. this is where I put my aftermarket oil pressure sending unit. Well the extension is about 4 inches long and has both the aftermarket and stock sending units on it. The extension was a little loose feeling so I decide that I'll take a closer look after I do alittle maintenance to the lift (you have to relevel it every 6 months)
When I back the car off the lift I notice all kinds of oil EVERYWHERE!!!! Once I finish with the lift I put the car back on the lift and this is what I saw....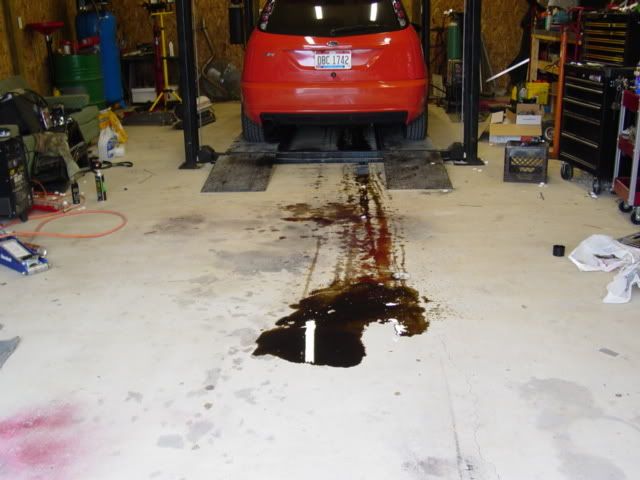 Once I put almost 15 pounds of oil dry on it (cheap ass kitty litter) I see the whole underside is COVERED with oil. I decide to take the extension out and re install it... well it sorta just broke off in my hand.
Apparently the strain of the 2 sending units and the vibration from the car itself caused the brass to crack right in the threads.
Unfortunately the F__ker BROKE OFF EVEN WITH THE BLOCK!!!!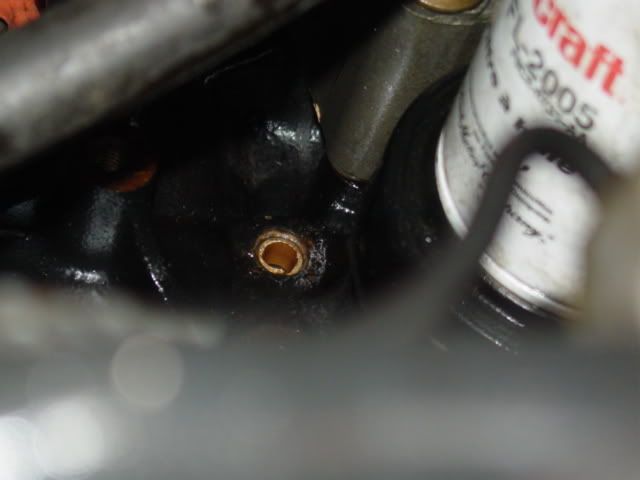 So tomorrow after work I'm off to find an easy out big enough to get it out of the block.
If that had broken out on the road I would have been screwed... not to mention the possible damage it could have caused on the motor (180 miles on it now)
Luckily I have this to drive to work tomorrow........ one of the RARE 1996 Mystic Cobra's