There was a car show today at the dealership my brother works for, Holman Infiniti. They had a mobile dynojet there, $75 for 3 pulls with A/F. Here are my results:
Max HP: 198.3
Max TQ: 161.9
Additional Notes: Weather was 82 degrees with 40% Humidity. I am throwing a CEL Code for my rear O2 since I have not gotten an MIL for my ORP. My A/F was in 10s at WOT.
Figured thats where my numbers would be since everyone else with SVTFs and the JRSC BBK with the Ford Racing Tune has been getting the same numbers on average.
Here are the scans of they DynoJet Graph and Data Logs.
Videos:
First run - Fourth Gear pull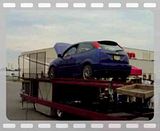 Second Run - Third Gear Pull - (numbers were low cause he only waited about 15-20 seconds after the first.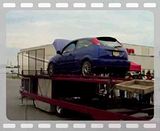 Thirs Run - Fourth Gear Pull - Waited a good 3-4 minutes before running this. HP was one off 1st run and only 3.5 ib/ft tq. That "nice" 10.0 A/F ratio on this run caused some nice flamage when the run ended.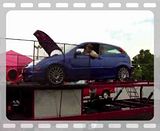 I am not totally dissapointed with the runs. I would have hoped higher numbers. But for a warm, IATs listed in logs at 88 and 89 Degrees, and such a rich A/F, there is room for some power with some tweaking from dyno tuning.
Anyone think the CEL would hurt performance?!? Just a thought. My initial opinion on this is no, but a couple friends think otherwise. Figure to ask all you Focus FI nuts.
Thanks
~Tim