Cliff's notes:
I took my car in for grinding sound from brakes, because its under warranty and I know there's a lot of pad left.
1. Car was in the dealer service dept for brake related noise.
2. Although problem was duplicated in initial test drive, they couldn't further duplicate it. They felt the lug nuts weren't tight enough, so they tightened them down.
3. Service advisor offered to let me have a visual inspection.
4. When they tried to undo the wheel lock they over tightened themselves, they let their impact wrench slip messing up on wheel in addition to not being able to take off the wheel lock.
5. They told me to go blame the other tire shop.
6. Tells me its not their problem and go blame the shop who worked on the wheel before they over tightened and they won't be paying for the damage.
7. Eventually they agreed to pay and I'm still waiting to see what will happen.
Details:
My '05 Focus has had random squeals from the front brakes while not being applied at random, but it was progressing to grinding, so I decided to take it to the service dept to my usual service dealer Beaverton Ford 12325 SW Canyon Rd, Beaverton, Oregon on Aug 23, 2006. For those of you familiar with the area, its the Ford dealer on Canyon between Cedar Hills Blvd and Fred Meyer.
I had my new tires from Tirerack.com put on my wheels by the fine people at A-N-T Tire&Wheel in Portland at 8131 N Interstate Ave not long ago and I personally saw the tech installing the wheels on my car using a torque wrench, so I know that all my wheels are torqued the same. The grinding/squealing was there with the old stock steel wheels and it just happens that I haven't bothered to take the car in until this week.
I got to the dealership early in the morning and I went for a short test drive with the service advisor , which reproduced the problem on the spot. Dropped off the car and went on with my day.
I was supposed to be informed with the details of the problem, but I have not heard them after five hours have passed, so I gave my service advisor a call. I was told "we could not reproduce the problem further, however we re-torqued the right rear and/or right front"(he was unsure exactly which)
(*1)
and to come pick up my car. At that point I took what I was told for face value.
When I went to pick it up, my service advisor assured me both inner and outer brake pads have plenty lining left and neither had unusual wear pattern nor anything unusual stuck in it
(*2)
He offered to take me back to the shop and let me visually inspect the brake components. He had me wait in the waiting room and said I will be called into the shop once they get my car up on the lift. After waiting for about 15 minutes, he has yet to get me, so I checked through the window and see that my car's already up on the lift. I go around the back and see three employees standing around it, one of them my service advisor, one of the other two, whom I later found out is the service manager.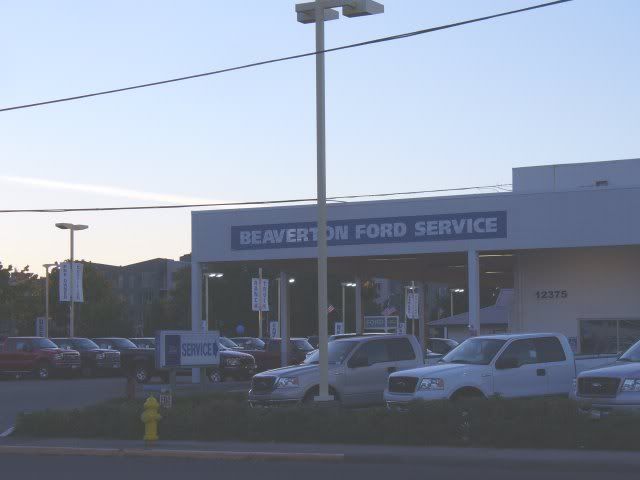 So, I go to my car and this is what I see: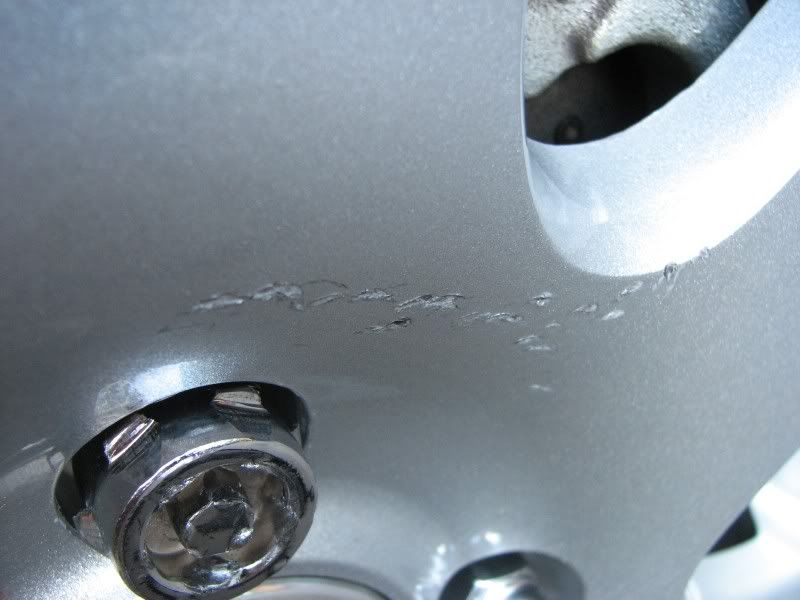 With the service manager, my service advisor, and the other employee present, one of them said "your lug nuts are way over-torqued. We could not get your wheel lock off who worked on your wheels before you brought it here?"
I told them it was installed by an independent shop and I was there when the tech installed all the nuts with a torque wrench. So, he immediately tells me " they don't know how to use their torque wrench, because they're way overtightened. we tried to remove it with a handtool, but we couldn't so we used an impact wrench, but the key stripped out and jumped". They also went on about how one of their techs couldn't find my wheel lock key(which was in the cup holder). Umm... they have my phone number, ever thought about calling me and asking me the simple question "do you have the wheel lock key with the vehicle?"
me: "who's paying for the wheel damage?"
them: "you need to take it back to that tire shop and blame them, cuz our tools slipped due to the wheel lock being on too tight"
In fact, it is them that over tightened the lug nuts + wheel lock. As stated by the service advisor(see
*1
above), they re-torqued the wheel. Also, the findings he reported in (see
*2
) implies they had the wheel in order to be able to make those observations.
Despite the fact my service manager KNEW that they're the last one who worked on it, he just stood there in the conversation and let the "blame the other tire shop" game continue.
What the hell?!
So, this is what the wheel lock they over-torqued, then subsequently tried to remove looks like: (except the hexagonal pattern on the outside, which is from the skilled technicians at Les Schwab who had to forcefully remove this thing the dealership over-torqued and stripped out the key groove)
As I said before, all 16 lug nuts were tightened by the same torque wrench by the same guy at A-N-T before being brought to this dealership in my presence. I had Les Schwab remove all four wheel locks since with one of them destroyed, the set is mismatched and now useless. After they removed them, all looked fine except the one dealership service dept got stuck on right front.
(When these pictures were taken, the nuts have already been removed from the wheels, but I hand-tightened them back on for the camera.)
When I asked for this whole B.S. to be put in writing, the service advisor said "we'll document everything for you, so you can go after the other tire shop for tightening the bolts so much and causing us to screw up your wheel, now if you would go wait in the waiting room". He knew the dealership was the last one to work on it and tells they're not paying for it and had the nerve to tell me to go blame the innocent shop for the dealership's negligence.
After another 15 minutes went by, service advisor came by and said "after I talked to my boss, since we are re-torqued it, we'll fix it".
I didn't know that one of the other two employees is the service manager. I had only found this out after he called me back following a letter I sent them and told me "one of the two employees standing there" was him. Well why the heck didn't he tell me that right there in shop, discuss the details in the back while having me wait in the waiting room? The service advisor simply said "I just talked to my boss" not even telling me one of the other guys was the boss.
In my conversation with the service manager, he admitted they tightened the lug nuts, but says they didn't torque the wheel lock. (So, this implies they tightened down three out of four lug nuts. ). But then,the findings my svc advisor repoted me in
(*2)
points back to the dealership as being the last party to tighten all the lug nuts on the wheel in question.
He complained about the call being recorded after he noticed the beeps(the recording notice tone the recorder makes for the states that requires this by law) and how he should have been told about it. When I advised of my right to record as one of the parties in phone conversation in the state of Oregon under "one party consent" law he then compained about "there's a difference between your rights and being a decent individual". WELL.. if they were being decent individuals and not making me concerned that they may change story later, I woudn't have felt I needed to secure evidence.
---
They issue is still being worked on. Even though they eventually budged and agreed to pay, it wasn't upfront and honest. It was more of the "we can't BS our way out, unfortuantely we have to pay" sorta attitude.
Ok, so the car was originally taken in on Wednesday. They said they will be sending my wheel to their contract wheel repair shop and I will be given a rental during the repair. So, instead of arranging for the repair right there and then and giving me the rental on the spot, they are making me wait until Monday. I don't know why but my guess is to minimize the duration on the rental and avoid having to have the rental out through the weekend at an expense of longer wait for me.
Update: Aug 28
---------------------
I took the car in with one of my steel wheels, so they can put it on while the alloy wheel is being repaired.
Service manager refused to replace the wheel until the repair is complete and both he and I deem it unsatisfactory, whatever his standards are.
I also got them to pay for a new set of wheel locks.
As soon as I got home, I immediately took my "+" shaped tire iron to the lug nuts. Just as I expected, they were torqued through the ceiling. One of them would not come off by hands. I had to stand on one leg, then pull on the other before the lug nut squealed loudly and loosened. Now, that is NOT 95 lbs-ft specified by Ford. They really don't know what the hell they're doing and they're not touching my car again, evar!

Update #2 9/05/06
-----------------------
They've informed that my wheel is "repaired". It looked alright at initial lookover, but after they put it on, dayum. They removed the damage in metal to an acceptable level, but all sides of spokes had visibly less gloss they felt rough, then after I got home, I realized the clear coat on the face of wheel is soft and can be scraped with finger nail. This is clearly not pre-loss conditions.
I'll leave it up to you to intrepret these events:
1.
I said it was "good enough" for the time being since this is becoming a time waster.
2. This old tech takes my wheel into the shop and tries to put my tire on. He struggles. Soon, there were three techs around the tire mount machine. They were unable to put the tire back on my wheel in the service department shop.
3. The old fart tech takes the wheel to their used auto detail/repair area and have the tech in shop install the tire, apparently because he's not skilled enough to do it himself. I was there watching to make sure the whole thing was going ok. The tech there was friendly enough and ask how I'm doing, but as soon as the old fart realized they're being watched, jerk off old fart tells me "step out of the building".
4. After the tech at the used car shop put the wheel on, the old fart brings the wheel back to the service department by rolling the tire all the way through the parking lot, across the street to the service department. Does he have any f'in idea what would happen to the wheel if the tire hits something uneven and tips over on its side? Careless handling, stupidity and laziness seen here makes me feel one of these is what lead to the damage in first place.
After I noticed quality was not to my standards. I mentioned to the service advisor I will take possession of it now and come back later as its becoming a waste of my time, he saysit was a waste of his time too. What a jerk. Waste of his time that he's having to fix something his idiot tech damaged and not having it repaired to pre-loss conditions.
"when you let other people work on things happen, that's just life. things just happen, your car could fly off the road too. I suggest you take your car elsewhere"- service advisor. He's telling me the damage they do should be thought of the same way as what could happen to my car. There's a great difference between something that happened as a result of THEIR negliengece compared to what might happen unrelated to them, but that's just Beaverton Ford way of treating customers.
So I have to waste my time again, go talk to the service manager. If the result does not look good, I have to start preparing for small claims court.
9/7/06:
--------
After all those fight, I got a new replacement wheel and they paid for installation to be performed at Les Schwab.
Even though it was settled without going to small claims court and my car is back to pre-loss conditions, HOURS were wasted, so was gas for going back and forth many times AND I got treated like shit because I wasn't accepting of their attempt at dodging accountability.