Okay so Aug 18th, I paid $1500 down and took possession of a 01 SE. The guy, Matt said that he needed to get the title from his Mom in Seattle and that she would mail it to him. I didn't think anything fishy about that arrangement, because I did the exact same thing when I was his age to sell my little Nissan pickup truck. So he said that she sent the title on the 19th, but then I never heard back from him again. I called him twice a day since then and never heard back a peep.
This is where I became quite skeptical. I noticed the dash is brown while the rest of the interior is slightly lighter color of tan/brown. Is that normal for Focus color matching? I thought, okay maybe that is so it isn't as reflective and glaring from the sun. I know that the dash is the primary position of the VIN. So I immediately thought to look at the door sticker on the driver's door. It doesn't look tampered with at all and it matches the dash VIN. Anyone know all the other locations where VIN numbers are stamped otherwise? I know some vehicles have it stamped on almost every panel.
So I called the Crime Check number(this is our stupid local substitute for 911). They told me to call the Sheriff. So I called the Sheriff's Department. They told me to call the local city police. So I called Police Department front desk. They told me to call the Crime Check number and file a report if I wanted to. I couldn't get anyone to come out and inspect the vehicle. What is that about?! I am trying to do the right thing here. So Crime Check said I didn't really have enough to file a police report at this time and that if the VIN is correct, the officer's wouldn't do anything otherwise regardless. Still, I want something on record that I tried to resolve this issue on my own. Yeah so finally Crime Check told me I should call DOL.
I called DOL and gave them all the information I had on the car and they told me it is listed as SOLD and that it's still registered to a woman in Seattle. I felt a lot better when they said this, but there is still the issue of the different color dash and the fact that I still owe Matt $1000. DOL told me I should contact the registered owner, Tanya in Seattle and get her to release interest in the vehicle with an Affidavit In Lieu of Title so that I could license it myself. Well I had the registration and a receipt for new tires. Both had Tanya's information on it. I tried to Google her name and found her on Facebook. I sent her a message and her son whom lives conveniently in my city contacted me this morning and said his Mom lost the title and filled this affidavit out for Matt after she sold it to him a couple months ago and he isn't returning their calls. I am supposed to meet him this afternoon.
Okay so this is all great, right? I'll be able to license and insure it. But what about the dash and the fact that I can't get in touch with Matt to pay him? This is all very odd in my opinion. Even to the extent that I can't even get a cop or sheriff's deputy to come out. On one side, I might get a pretty decent car for $1500. On the other side, somebody might be out there looking for their stolen car somewhere. I'm at a loss as to what I should do?
Matt listed the car in Craig's List and linked pictures from the account so I was able to look at all his other pictures. He sells dozens of cars apparently. I was able to write down 15 or so different license plate numbers and find a couple different addresses here locally by carefully looking at the background imagery in the photos. I know I can track this guy down if I had to, but I'm also a paraplegic, so I if it were to get sketchy, I wouldn't be able to properly defend myself. No, I never got his address. I met him at a little parking lot where people park their cars to sell them.
This is linked to Matt's PhotoBucket account if anyone is curious to look through it.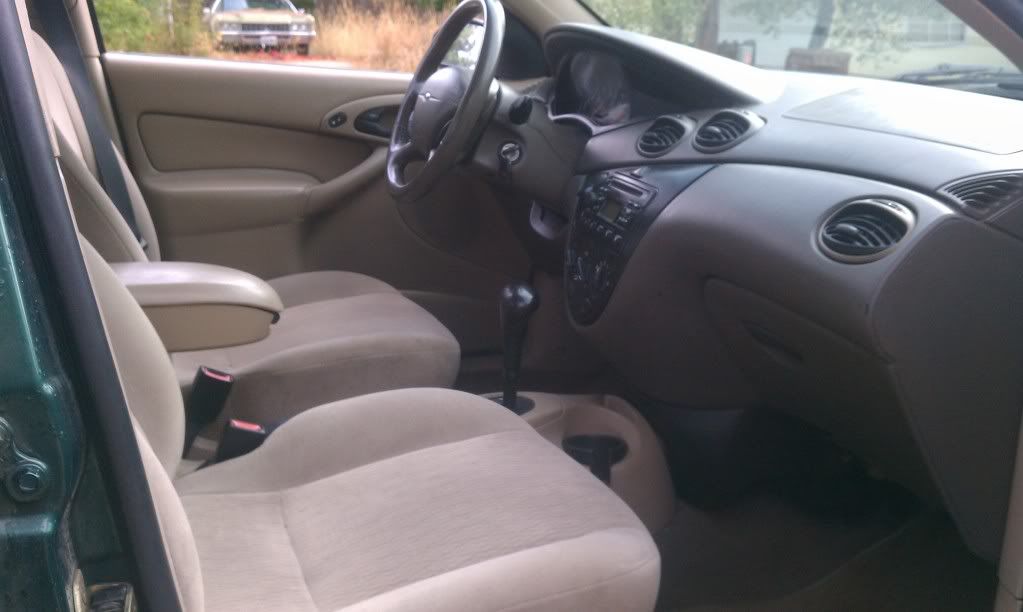 Is that different shade dash normal for Focus color matching?
Anyone know all the other locations where VIN numbers are stamped otherwise?
I'm at out of Focus as to what I should do? I'd appreciate lots of opinions here please.