So I've had my ZX3 for 3 or 4 years, and I was just starting to do some things with it, when I came across this: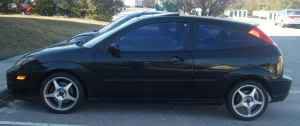 2002 SVT for sale in my area by a private party I just went and looked at it tonight. It's got some definite problems. Here's the basic rundown (in list form so I don't bore you to death with a drawn out story)
Bad-
Unknown white/gray smoke coming from tailpipe
power steering not working
paint faded on rear bumper
cheesy angel eye headlights that sort of work (comes with stock headlights)
drivers side door handle pulled off
two cig burns on driver's seat
audiophile sub is mysteriously missing
speedo and odo not working
good-
Motor has 40k on it, was pulled out of a wrecked SVT with 20k and has been in this car for 20k. I saw papers supporting this.
Clutch is one month old. Also have papers for this.
Tires are nearly brand new Yokohamas.
Says he's used Mobil1 and 93 octane.
Clean carfax.
The odo reads 105k, they said it stopped working last month and I believe them. I talked to the guy for a long time when I left the keys in it and closed the driver's door, he locked and closed the passenger's door, and we couldn't get back inside the car because the driver's door handle is broken. He's a nice dude, not really up on car stuff too much though. I think he's just tired of dealing with it. They want 3k as is but would take less I believe. Some guy offered them 2 and they turned him down.
As far as the smoke goes, I checked the oil and coolant and neither seemed to be contaminated with the other, so I don't think it's a headgasket. It could be rings, but that seems crazy for a motor with 40k on it. I dunno. The smoking situation is the only thing keeping me from buying this car for 2500. What's the opinion of the forum?