I think the design has a lot of character and good use of features to set it apart from the competition: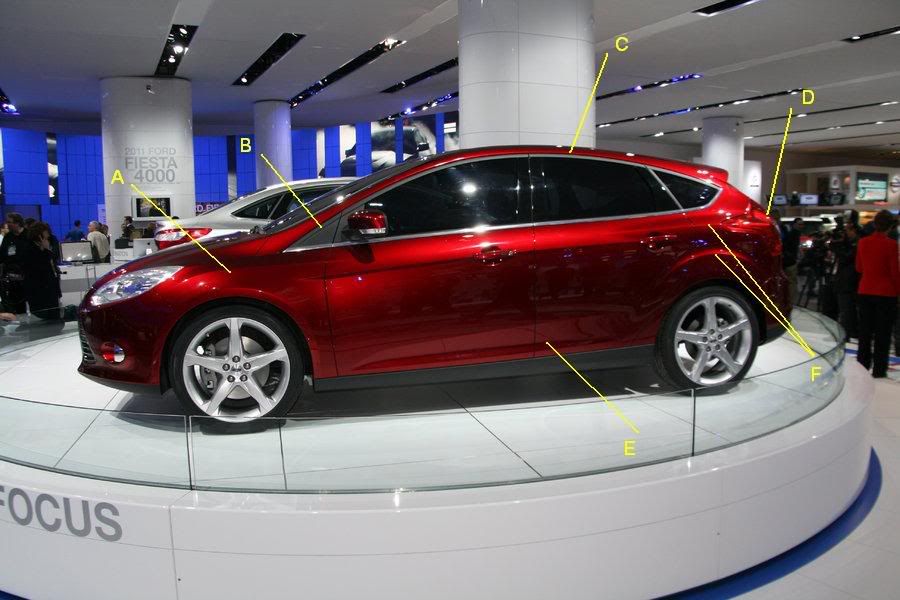 A. Front fender adds a nice muscular stance to the car, seperating the fender line from the main character line adds visual length and interest to the car
B. Large black space that adds nothing and could become an eyesore as it weathers
C. Increasing radius roof has a nice overall curve, and should reduce drag nicely on the car
D. Taillight lenses are large, but they flow nicely and integrate well with the end of the glass and the rear fender
E. Surface inset reduces the visual height of the car while also filling the design language of expressing motion of the car. Adds height reducing detail without requiring bottom of the doors to be curved inward at the bottom
F. Upper crease matches forward body line and the fender widens the stance. Detail does a nice job masking the large expanse of space between the wheel well and the window
Not quite a Robert Cumberford from automobile review
I'd be interested to see what he would say about the new focus.