Just thought i would place a thread telling you guys the kits that i put together and the differences. I have had alot of inquires to them lately and with Ford Racing having some new pieces,ill tell you about them here. For the money, you cant beat any of these.
The full kit would include everything you need to make your Focus handle like it on rails and still ride decent. This kit includes:
Ford racing complete damper kit, (struts, shocks, strut mounts, strut bearings, spring perches, boots, bumpstops, and hardware) for any year Focus.
Ford Racings springs, (these match the dampers very well)
The damper kits are so complete that i will assemble them for you so that you will not need to get or use a spring compressor. They will come to you ready to install.
The last part of the full kit will be the Ford Racing swaybar kit. This kit includes a 22mm front bar and a 25mm rear bar. They also include Energy Suspension endlinks (rear) and mounts. I will also include the Mood style front endlinks when you order the Full kit. All this will only cost you $624. Thats hard to beat for a whole new suspension.
Ok, the standard suspension kit would be the strut kit and springs, assembled as stated above. Any year Focus would cost you $360. As above, these will come in ready to install, no spring compressor needed.
If you want the swaybar kit by itself, that kit would run you $264. These kits are put out by Ford Racing but are the Eibach kit, just Ford puts their sticker on them.
Race kits:
These kits are more for track use and will ride pretty harsh on the street. They are put out by Ford Racing but are made by Dynamics. The same maker of all the FR 500 Mustang racing suspensions. Thes ekits will lower a Focus 1.5" and are a matched damper/spring setup. The kits will fit 2000-2005 Focus and run you $440. This is by far one of the finest suspensions that you can buy.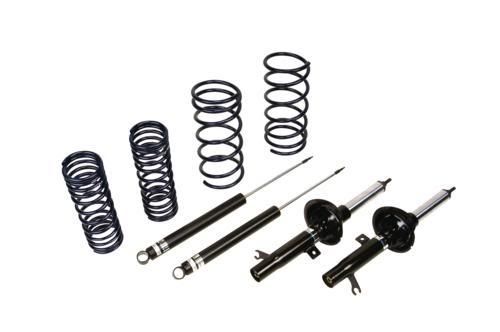 Ill try and post up a couple others as i get the time. These are the most asked about.