I thought this was an interesting list of cars according to Automobile Magazine. There are a lot of surprises and information that I didn't know. I was bored at 5:00 a.m. and thought I would post this up.
So, enjoy these little nuggets of automotive trivia and feel free to contribute and discuss:
DYNAMICS
1. BMW E30 M3 (1984 - 1991) - 2.3 Liter in-line 4 cyl. 192HP. A track car for the masses. 7000 RPM redline with low end torque combined with a near 50/50 weight ratio wrenched the German DTM series from Mercedes.
2. Ferrari F430 (2006) - 4.3 Liter V8. 479HP. Vaccuum actuated exhaust to increase HP & torque under WOT. Flat crankshaft to evenly disperse exhaust gasses across each cylinder bank. Sadly, no cupholders.
3. Lotus Elan (1962 - 1973) - 1.6 Liter in-line 4 cyl. 105HP. Centrally mounted engine, gearbox and suspension differentially mounted to the vehicle backbone. Full fiberglass car weighing in at 1500 LBS.
4. Porsche 911 Carrera RS (1972 - 1974) - 2.7 Liter Flat 6. 210HP. The most successful factory "race car" ever built. Limited to 500 units per year to meet FIA rules, this 911 remains one of the most desireable cars for collectors and enthusiasts.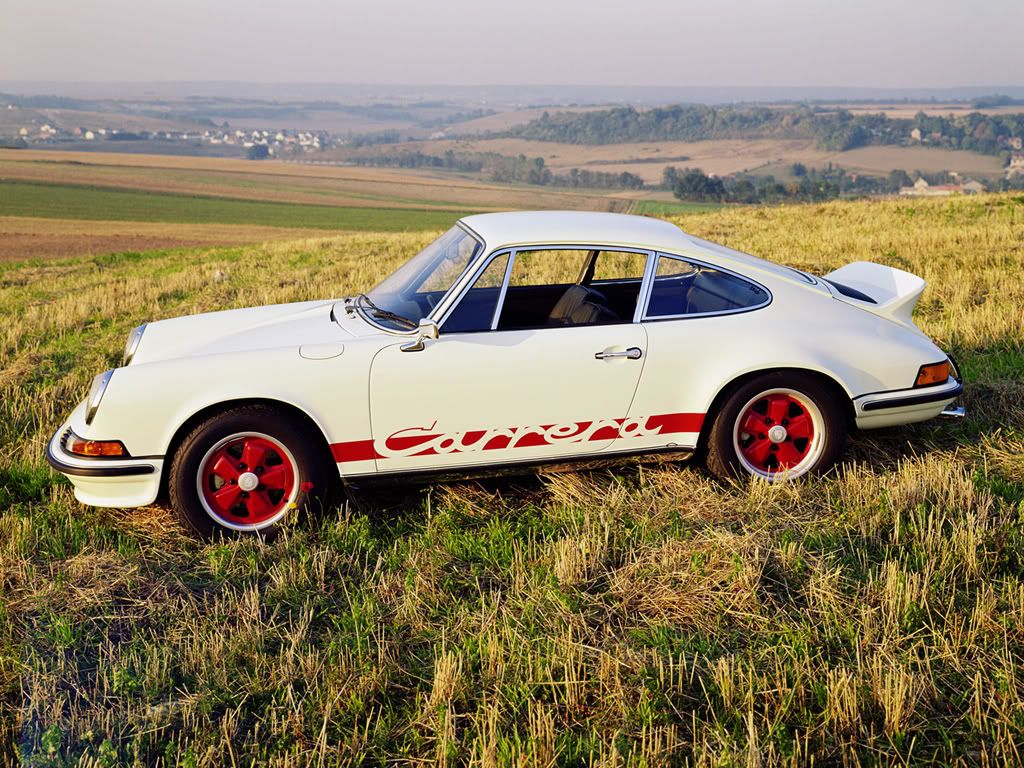 5. VW Rabbit GTI (1976 - 1989) - 1.8 Liter in-line 4 cyl. 90HP. Before you turn up your nose, the mighty little GTI brought FUN back to the commuting masses. An infinitely tossable car, what it lacks in power is more than compensated through handling (even with manual steering). OH, and they are darn near indestructable.
INNOVATION
6. Audi Quattro (1980 - 1986) - 2.1 Liter in-line 5 cyl. 200HP. Simplified all wheel drive systems by utilizing two concentric shafts and central differential using a slightly modified standard Audi transaxle. The bulk of the parts were borrowed from the VW Ilitis military vehicles.
7. Benz Patent MotorWagen (1886) - 1.0 Liter Single cyl. 0.9HP. 1st practical use of the spark plug and float carburetor. Top speed 10MPH, but completed the 1st 50 mile trip in a motorized carriage.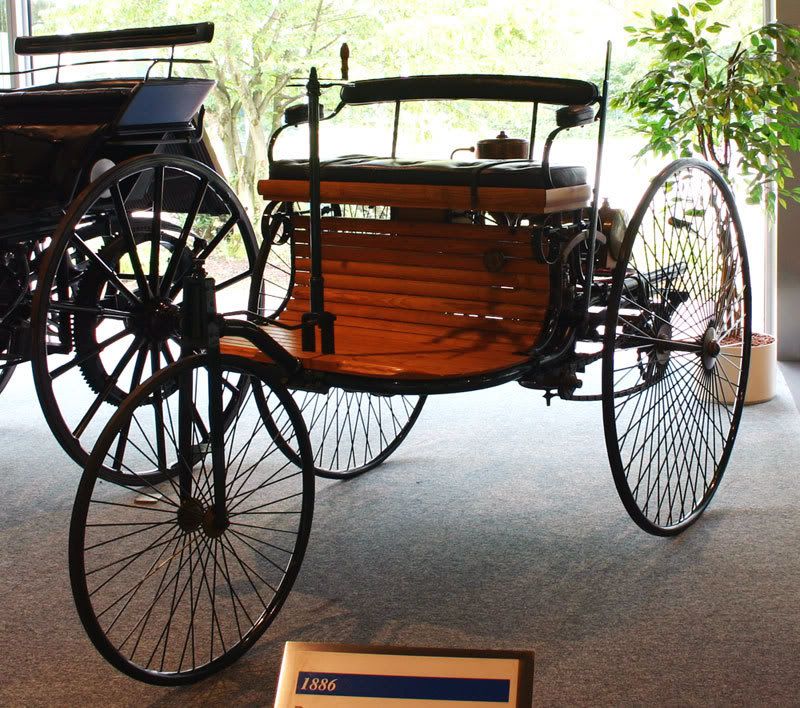 8. Citroen Traction Avant (1934 - 1957) - 1.3 Liter in-line 4 cyl. 80HP. Essentially, the first "modern" car. 1st unibody car. 1st successfully mass produced front wheel drive car (Cord only produced 400).
9. BMC Mini (1959 - 1970) - 0.8 Liter in-line 4 cyl. 22HP. 1st Transversely mounted engine. Engine and transmission shared the same oil. 1st mass produced car available for less that 500 Pounds (Not $$). Designer Alec Issigonis designed the car for "the district nurse".
10. Bugatti Veyron (2006) - 8 Liter V16. 1001HP. Top speed of 257MPH. $1.4M price tag. 10 radiators, 4 turbochargers and only 300 produced. At top speed, the tires will wear out in 50 minutes, but don't worry - you will run out of fuel in 12 minutes.
SUPERCARS
11. McLaren F1 (1994 - 1996) - 6.1 Liter V12. 627HP. At the time of production, the F1 was the fastest car in the world. Top speed was 240MPH. The engine bay is coated in gold for better heat dissipation. Driver is centrally located with passengers on each side and slightly behind. Still one of the best handling cars in the world, the steering wheel only requires two turns to hit the stops.
12. Lamborghini Muria (1966 - 1973) - 3.9 Liter V12. 385HP. The car the introduced the term "Supercar". Designed and built to go head to head with Ferrari, it was mistaken for a race car at the 1965 Turin auto show. While a masterful piece of engineering, the nose would rise and wander as the fuel tank neared empty.
13. Mercedes Benz 300SL (1955 -1963) - 3.0 Liter in-line 4cyl. 240HP. The success of the racing 300SL in 1954 prompted a production car. The "Gull Wing" door design was introduced and the 300SL became one of the most successful racing platforms and street cars. Even today, the 300SL is the Gold Standard for Mercedes collectors.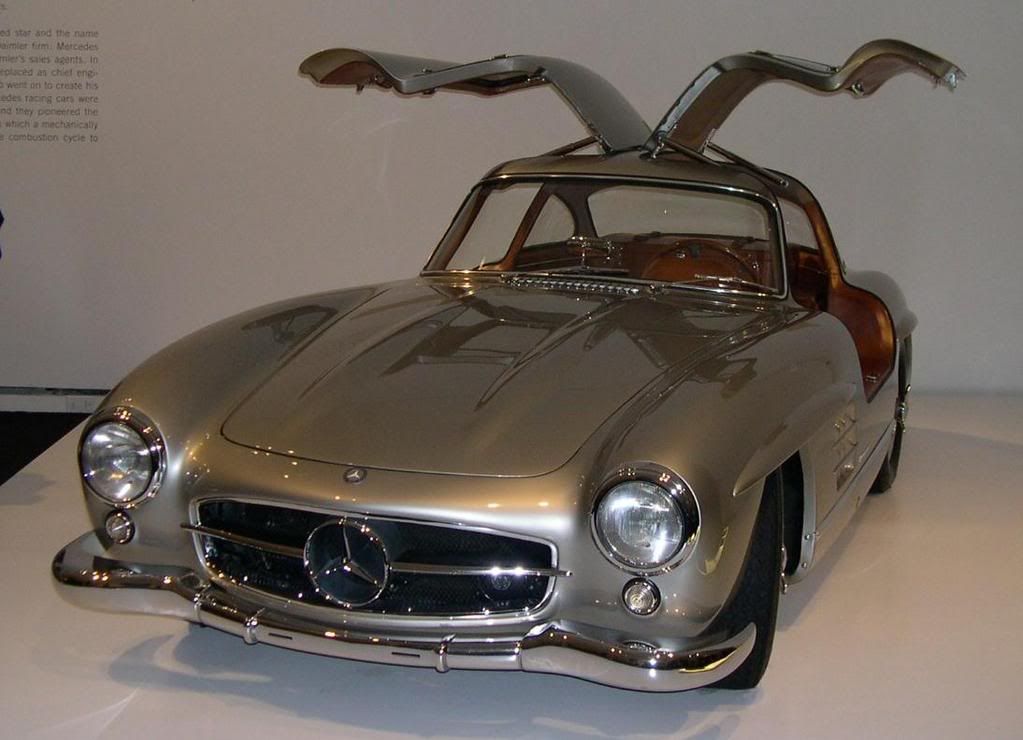 14. Ferrari F40 (1987 - 1992) - 2.9 Liter V8. 471 HP. The Ferrari F40 was released on Ferrari's 40th Anniversary when Enzo Ferrari was 90 years old. It represented ALL of the engineering expertise Ferrari had to offer. Unlike its forebearers, the F40 was all business. The body was a homolugation of kevlar, fiberglass and carbon fiber. No creature comforts, but only the bare essentials and most critical devices for a driver travelling at 201MPH.
15. Alfa Romeo 8C 2900 (1938) - 2.9 Liter in-line 8 cyl. 220HP. One of the first cast aluminum engines, the car was capable of a then staggering 143MPH. If you are lucky enough to see one of these, only 4 race cars were built, you just watched $10M roll by with a resounding BLAT from the exhaust.
RACE CARS
16. Lotus 49 (1967 1971) - 2.9 Liter V8. 415HP. Piloted by Graham Hill, the 49 is synonymous with Formula 1 racing. It brought Cosworth to the forefront of engine platforms and transformed the sport. The additional power from Cosworth was at first obvious and Hill would later talk of a wooden board placed behind the driver to compensate for the increased acceleration. This sudden surge of power came at 6,500 rpm and took some getting used too. Until the throttle linkage was upgraded the car had a distinct feeling of an on and off switch.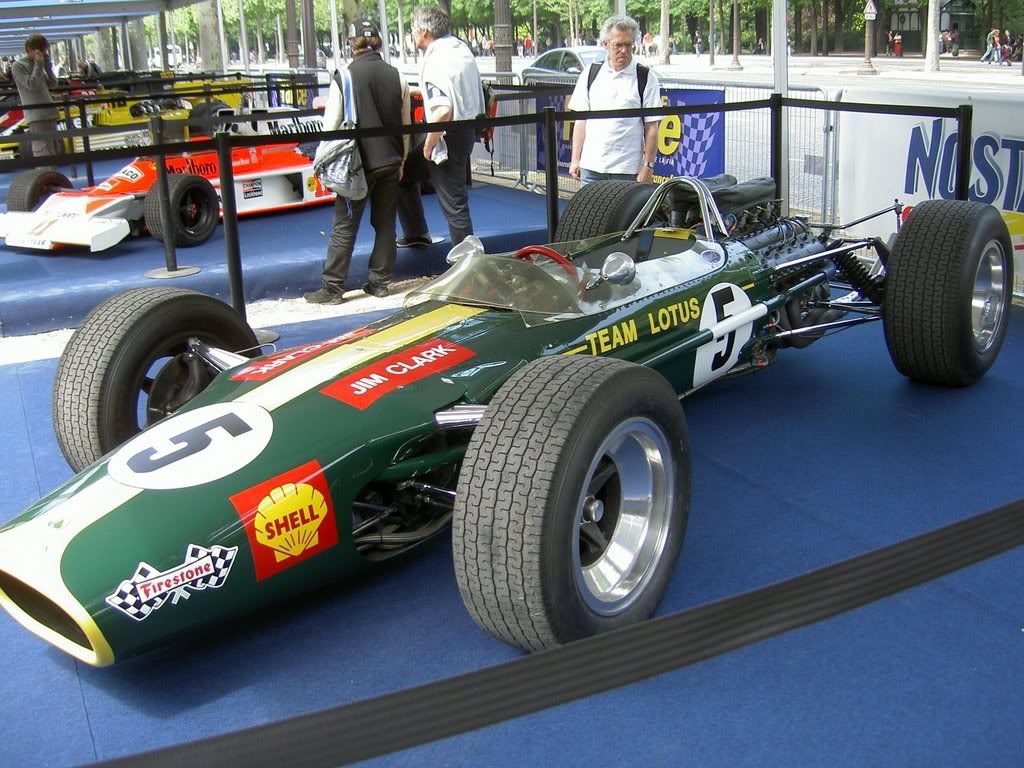 17. Auto Union (1934 - 1938) - 6 Liter V16. 520HP. The Devil. A car capable of 200MPH (never proven) in 1936 was intimidating for even fearless drivers. The driver position was ABOVE the front wheels with the massive powerplant placed at a longitude angle behind him. The power was incredible and drivers were forced to swing the rear to negotiate corners.
18. Miller 91 (1926 - 1928) - 2.0 Liter in-line 8 cyl. 250HP. Every part of this vehicle was hand crafted for the 1928 Indianapolis 500. It set the lap record at 124.02 MPH that stood for 9 years. The Miller 91 won virtually every race in the United States until the ruling authority banned them for being too fast.
19. Porsche 917 (1968 - 1971) 3.0 Liter Flat 12 cyl. 1500HP (In qualifying tune). One of the first open prototypes in the 24 Hours of Le Mans, Porsche set their sites squarely on the big 7 Liter Fords (GT40). The success of the car lay not on the track, but in Porsche's desire to win. With the rule change that dictated 25 models needed to be produced to qualify. In less than a year, Porsche produced the required cars and went on to be the fastest race car of its era.
20. Dodge Charger Daytona (1969 -1971) 6.4 Liter V8. 425HP (Yeah right). The first NASCAR racer to break the 200MPH mark on an oval track, the Superbirds and Daytonas ruled the roost in the late 60's and 70's. To put it in perspective, the Formula 1 record at the time was a mere 151MPH.
ICONS
21. The Military jeep (1933 - 1975) 1.3 Liter in-line 4 cyl. & 2.3 Liter in-line 6 cyl. 60 and 140HP. Arguably the most versatile vehicle ever built, the jeep was the workhorse for the US military. Used in combat missions, medical roles and in reconnaissance roles, over 636,000 units were produced by the end of World War II.
22. VW Beetle (1938 - 2003) 1.3, 1.5, and 1.8 Liter in-line 4 cyl. 60 - 180HP. "The People's Car" was the brainchild of Adolf Hitler and designed by Ferdinand Porsche, the Beetle was a symbol of "Utopia". The VW plant in Puebla, Mexico continued to produce the same car until 2003. As such, it remained basically unchanged until VW introduced the "New Beetle" in 1998.
23. Chevrolet Corvette (1953 - Present) 2.3 Liter in line 6 cyl. to current 6.0 Liter V8. 150HP to 505HP. Created by Harley Earl, the Corvette epitomizes American Sports cars. Regardless of your brand allegiance, the Corvette set the bar and is recognizable to everyone. It pioneered the use of fuel injection and fiberglass bodies. It also put the US on the map for international racing.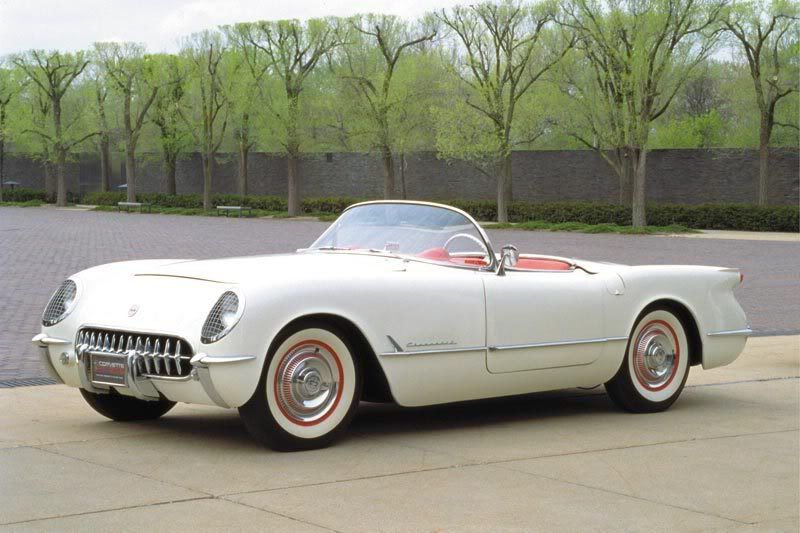 24. Jaguar E Type (1963 -1964) 3.8 Liter in-line 6. 91 HP. Apart from its distinctive styling, the E-Type's chassis was what truely set the E-Type apart from its competition. Like the D-Type, it consisted of a central steel monocoque with a front subframe supporting the engine and independent front suspension. The center section was extremely strong, but less complex than the spaceframe constructions of equal strength. Although it was relatively cheap to construct, it was quite expensive to fix a damaged chassis. Rear space was conserved by using the driveshaft as an integral part of the suspension. It acted like the upper section of two wishbones.
25. Ford Model T (1906 - 1917) 2.9 Liter in-line 4 cyl. 20HP. Started the American car industry and introduced the concept of the assembly line. During its lifespan, over 15 million units were produced in 37 factories in the US and 12 overseas. Instead of batteries, the Model T employed a magneto to provide spark and power for ...headlights. All the controls were on the steering wheel. The car had a unique means of propelling itself. One pedal on the floor got you going, another gave reverse and you shifted into "high gear" by lifting off of the low gear pedal and a third pedal gave you brakes.