After having to use AAA numerous times, never really had a problem, always been good service for the most part....that is, until yesterday.
Ok so here's how it starts, 2 weeks ago I slid into a curb, bent my control arm. We replaced that, did am alignment. Found on the drive home my tie-rods were also bent that we apparently looked over. No big deal. So yesterday I start off for my moms at noon, usually an hour drive and I was going to drop my car off and driver her van for the weekend so I didn't risk anymore damage to mine. Left at noon, soon after I left my battery light came on..oh crap. Figured, if it was my battery, the alternator would keep me going. If it was the alternator, it shouldn't go out suddenly and I figured I'd be fine to make it up. Half way up, I look down and my gauges go blank, ABS comes on and the car starts bucking and misfiring....Crap. So I pulled over, didn't think much of it, just a set back, I didn't have to be anywhere till 7 and I had over 6 hours to get it all towed and make the drive. So I call AAA at 12:45. I was on hold for a few, weather wasnt great but also far from bad weather to. So I got ahold of them, place my call and they put me on a priority since I was stuck on the side of a major highway and had no power so it was getting cold. After an hour, I was getting alittle antsy cause the tow place was literally at the exit 3 miles back. Waited till it had been an hour and half and called to check up. Apparently they had redirected my original tow and the new was an half hour out...great, oh well plenty of time still. 2 1/2 hours pass. By this time I was freezing, luckily I had an extra super thick sweatshirt and beanie so I was doing alright, but still, my feet were so cold. Called again at 3 hours cause at this point I was pissed. When I got ahold of them again, I got the same crap. Redirected driver to a new call. Also, I made an observation that alot of drivers are complete jerk offs, I had stuff thrown at my car, people honking at me.
I was so pissed by now cause they intially told me under an hour. Also forgot to mention when I first broke down I called my friend who I was doing the work at his shop anyways, he offered to send one of his drivers down to tow but since I figured they were still atleast 35-45min away, I would just call AAA....yea...idiot
So here I am 4 hours into sitting on the side of the road, no one stopped, had atleast 10 state patrol officers pass...not a one stopped. Granted I never called for assistance but still kinda figured maybe they would atleast stop to see if I was alright since I'd been there for 4 hours. By this point, the snow was starting to fall. 4 1/2 hours in, I called abosolutely furious now, SAME THING...your driver has been redirected to another call, the new driver is still an hour out from your location. I about lost it on this lady at this point. So I sat there in my car, stewing about how much I just wanted some food and some warmth and to kill the dispatchers at AAA. This whole time I've been sitting or laying in my back area and my back has been really badly sprained lately, was really sore and uncomfortable. Heres what both relieved me and also pissed me off. They called me right after 5 and told me they were sending a driver from my buddies shop down
Had I known they were going to send them, I could have been gone and towed less then 40min after breaking down. Instead, I was on the side of the road from approx 12:45 and the top driver finally showed up at 5:50. Thats nearly 5 hours on the side of a major highway, in the cold and with absolutely no power. Well finally, on my way, exhausted from being so pissed off and finally get to my moms. After the tow driver showed up and I let my mom know I was finally again on my way, she had called the other place who was suppsoed to tow me and they said that AAA had re-directed me again to a driver who was 60-90minutes out. ridiculous
My shelter for the majority of the day on saturday: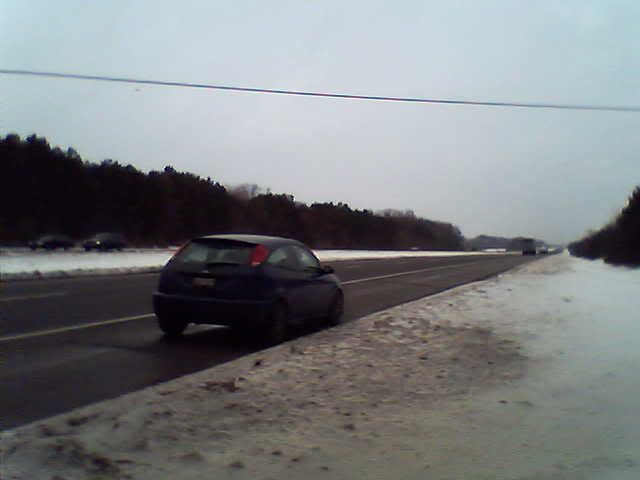 By the time I got to my moms, it was 6:30. I was supposed to be at my friends in Dayton at 7, which now was alittle over 2 hours away. Set off for a long drive down and thankfully ended up having a good night, stayed out with friends. In the morning, his mom brought one of thier pet monkeys out (currently have 3) Even got to watch him draw on paper and run around like a madman!!
I was also curious if I had any grounds to file a complaint with AAA or anything? I mean, they pretty would have had me sitting on the side of the road for more than 7 hours had they continued to dick me around. Thanks guys
Nick