Oh one I can run for. I have been through 3 motors (due to the shop I had hired to build the motor for me not clearenceing the bearings right, so i finally did it myself) several clutches(Due to too much power for a daily driven focus), andeven sank it once in what I thought was Shallow puddle (not knowing in the middle of the puddle was a huge foot deep and 4 foot wide pot hole).
It started its life out as a STOCK BASE model measly zx3 focus (5 speed no power anything)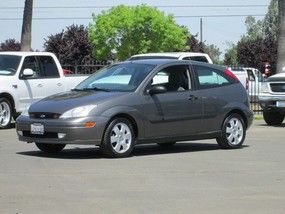 Then It got boosted and a new hood, and rims (these are the 2nd rims sorry i dont have a pic of the first ones ti was too long ago)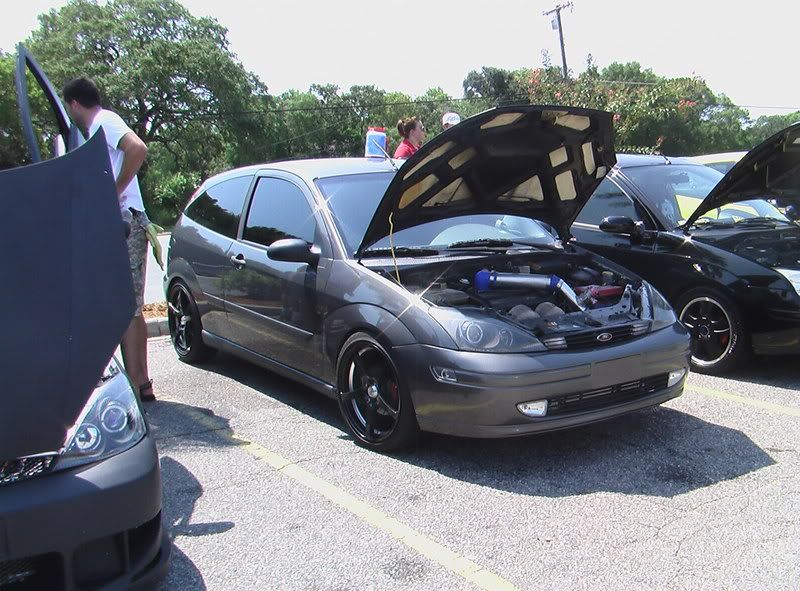 And the Girls liked it..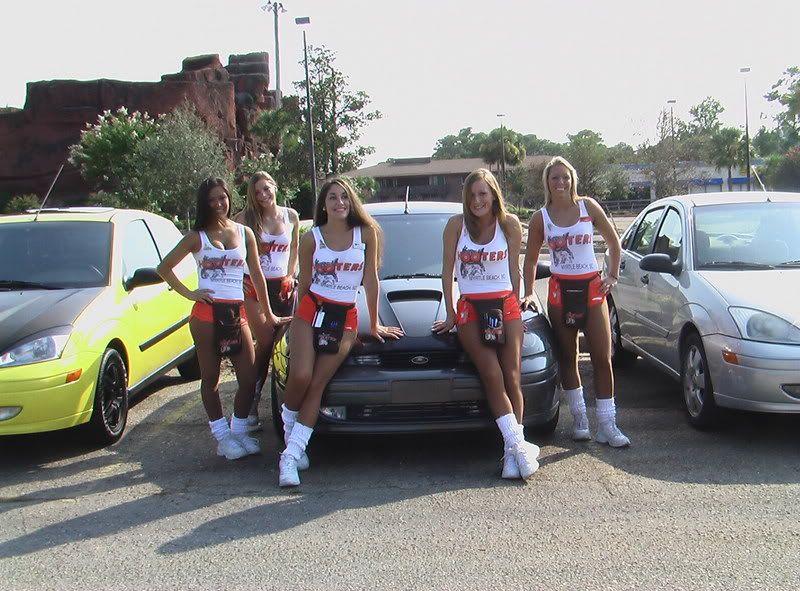 Well the it got too much boost.. :( And I thought it was done for. threw 2 rods out of the block and bent the other two. I was about to give up on it When I lost my daughter in a car accident due to my 1st exwife not paying attention to the road. So when I got the settlement check to keep my mind off of what I lost and keep me busy I decided to put it into my focus. (Not sure where my pics of my motor build and blown up stuff is im sorry) But I figured if im gonna build it im going BIG.
After about 8 months of research and putting together parts. i ordered a Wrc CGI short block with oil squirters with Manely rods and Diamond low compression pistons from Mcnews automotive. Full custom turbo kit. 71lb injectors, stage 4 clutch master clutch, Quaife LSD, Mandrel bent 3 in stainless steel borla exhaust.
With many many issues and being one of only a few people at the time going for the 350whp mark on a daily driven focus with a/c and Lots of help from here and Tom we got it tuned and back up and running. ( Im not sure where my final dyno was But this was an early one it ended up putting down 378whp and 382wtq)
BUUUUTTT..... For some reason every time i got into my high boost i found out that it would spin a rod bearing. After the third rebuild I finally went though it myself with W.C. Scarbourogh (NHRA motor builder) and Toms knowledge we found out that none of the clearances were right on the main bearings and # 2 oil journal was clogged with casting flashings that were never cleaned out. So puled lit all apart recleranced everything cleaned everything (event though Mcnews wouldnt warranty anything even though they said they would when we found out it was their fault) and put her back together. Then we had issues with fuel starvation under full acceleration pulls due to the car pulling so hard it was keeping the fuel away from the pump. So I turned my fuel tank into a fuel cell and moved the pump to the back of the tank and PROBLEM FIXED. Oh but then we had issues breaking the dogbone moutn and bracket.. GRRRR.. So i just kept replacing it and took it easy.. Until i found out that my motor was just slightly misaligned. Oh and i cant snatch 2nd gear. lol
Got a nice new front bumper and rear bumper for her..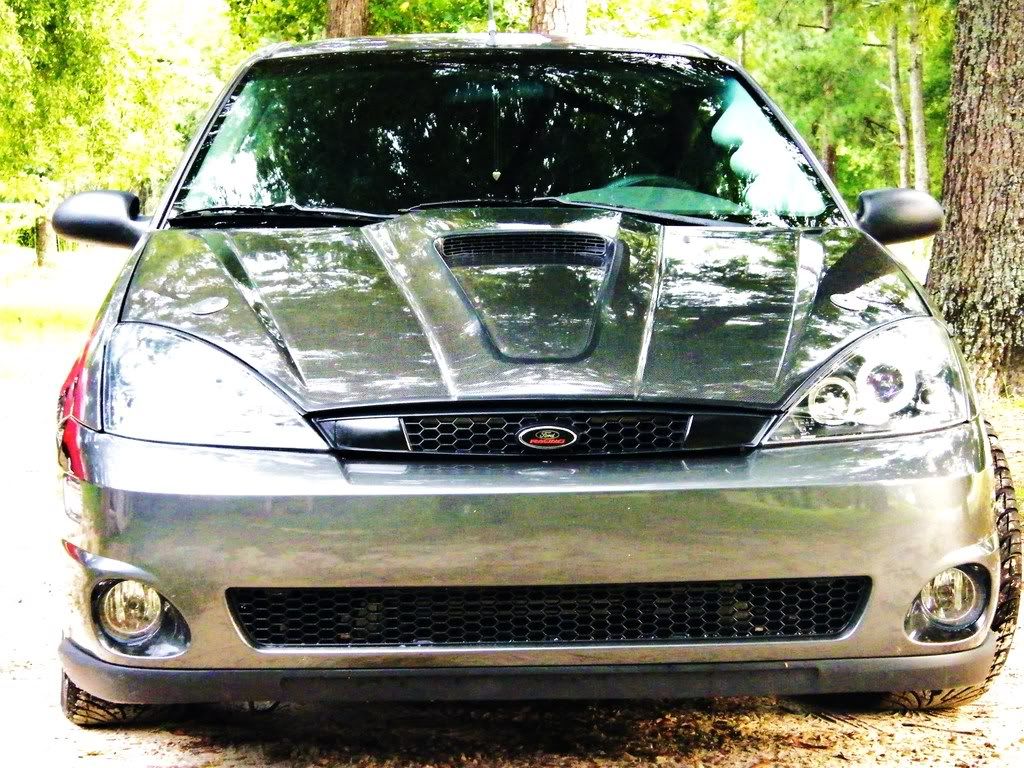 Then I picked up this beauty to use as a parts car 2004 svt eap
So it was time for a brake swap (Bigger better brakes to stop my bigger better power right?)
Then an interior swap.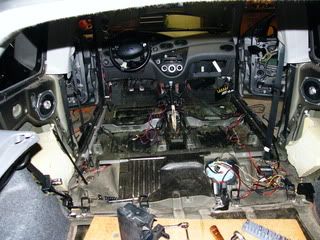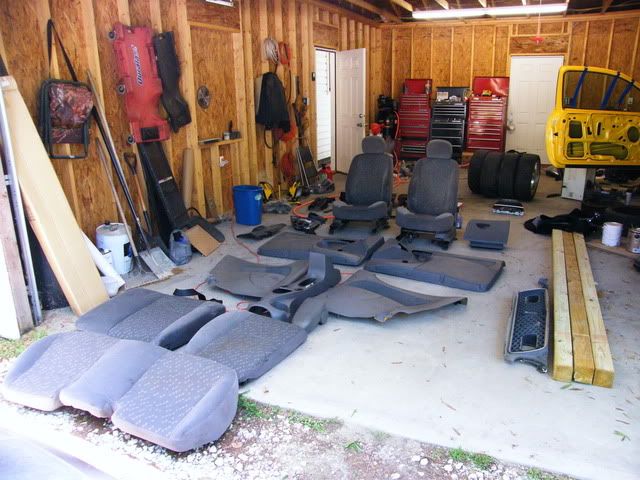 And some custom gauge work.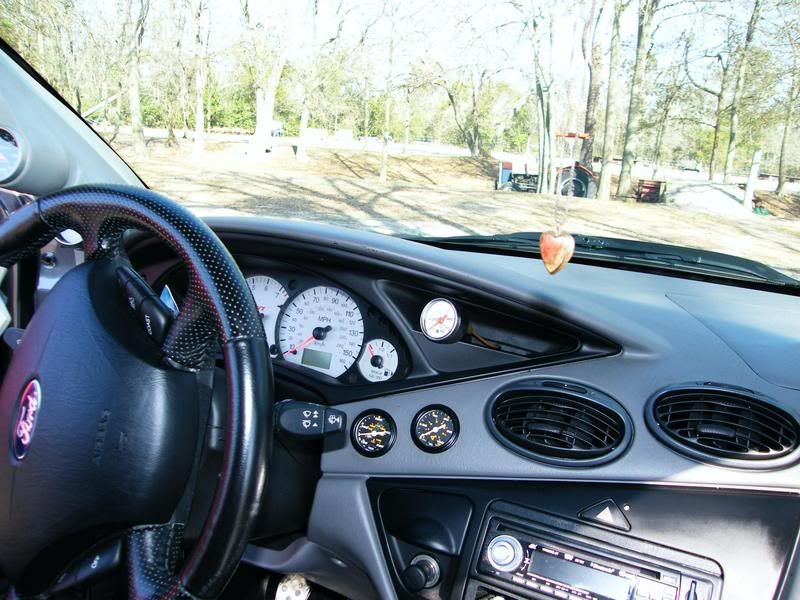 Then shortly after this my turbo went out. So I sent it off to Comp turbo and had a long discussion with Justin down there about my setup. We decided we needed to change my turbo to improve power and driveablity. So custom turbo here we come!!
Well Tom was gone after this and I didnt feel comfortable with retuning my car over mail or phone So, I ended up going to Pro-dyno and got a retune. Due to new turbo setup, at the same boost we put down
408whp and 412 wtq
on a mustang dyno with no timing added and Lots more boost and fuel in reserve. Lots more room to go!!! If i ever so decided to.. Sorry i dont have the dyno sheet for this one either. :(
Then WE had issues with clutches breaking, tried many different types before I called Lonny at Clutchmasters and had a nice big long discussion with him about How I need something to handle my power and last longer than a few months. So he made me a custom full face clutch that should handle my power (I dont know i havent Gotten to try it on high boost yet)
Then we had a REALLY bad rain storm before I got my new clutch broke in and the car sucked up some water and broke a valve on my way to work one night. That was the final straw I had decided to give up Also due to a new toy i picked up
I put it up for sale as easily repairable MONSTER focus With a/c, cruise, heated leather recarros, 3kwatt stereo system and god gasmileage . But after a few VERY VERY insulting offers An the disbelief that a lot of people had of what my focus was capable of (besides the people who had seen it in action) I once again decided to fix it and keep it.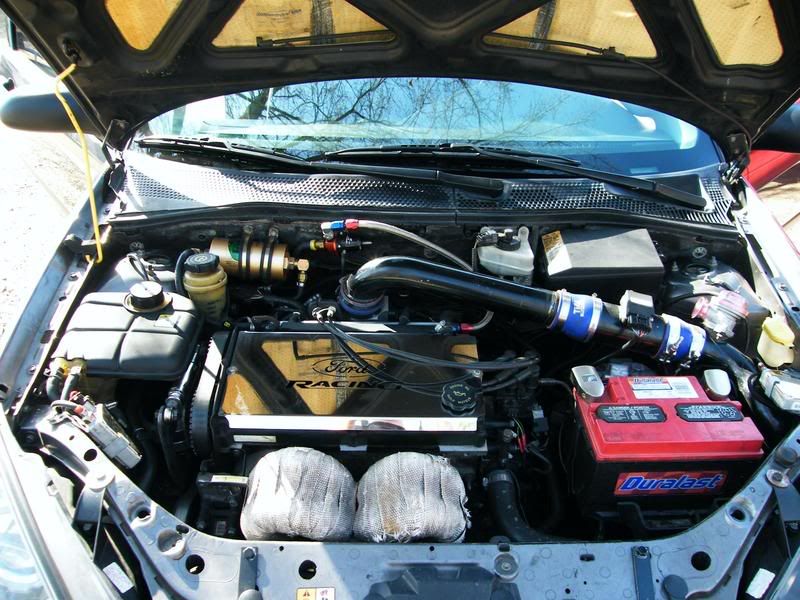 Now I drive her every day shes running better than ever, and I have intentions of more plans. (excuse the crude photo shop effort)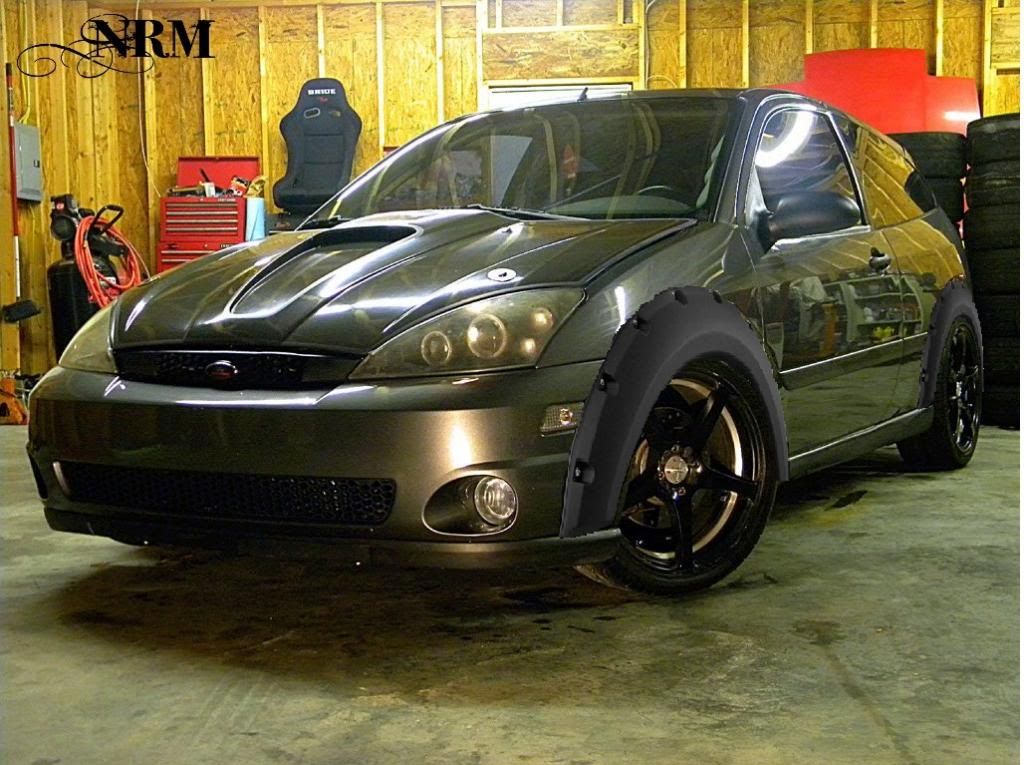 Now I want some Bushwacker style fender flares and some fat wide sticky tires to help the power get to the ground. Smoking the tires (even $340 a piece drag radials) At anything under 75mph is getting old..
Hope you enjoyed my journey into the past 11 years of me and my focus. I feel like she saved my life and in a way to me is now something ill never get rid of because I think of my daughter every time I drive her.