This contest is divided into 2 phases:
-
1st phase the members of FF.com get to vote on the past 12 ROTM's (Aug 08-Jul 09) in a poll where you can vote for as many contestants as you like.
This poll will begin Jul 16 and end Jul 31.
-2nd phase the top 3 contestants get placed in a poll beginning Aug 1. This time you can only vote for 1 contestant. This ends Aug 5. Whoever wins this poll will become our Ride of the Year and be placed on our homepage for the next year.
-If there is a tie then there will be more than 3 in the final voting.
Please choose who YOU think should grace our front page for the next 12 months!
Quote:
AUGUST RIDE OF THE MONTH(2008)

Member name: SYZ
Location: California
Model: ZX3
Color: Yellow



MODIFICATIONS

EXTERIOR:
F2 front bumper
Clear sidemarkers
Projector headlights
Custom eyelids
Niteshaded tails
Kaminari side skirts
SAP rear bumper
Hella Micro DE fog lights
Edge rear wiper
5% tint on rears
Painted mirror caps, hatch moulding, and front grille frame

INTERIOR:
Rear seat delete
Sparco Fighter seats
Sparco Globe-X shift knob
Sparco gaiter
AEM wideband gauge
Tachometer cluster swap
Custom gauge lighting

I.C.E.:
10" RF subwoofers,
Full sound deadening in doors and hatch
Pioneer 6x8 3-ways
Alpine 9886 deck

ENGINE DRESS-UP:

PERFORMANCE:
FocusSport Stage 2 GT28RS turbo kit
Torsen LSD
Exedy stage 2 clutch
2.5" Borla exhaust
2.5" Magnaflow hi-flow catalytic converter
Crane stage 1 cams
Working on a fully built 2.3... should be done within the next month.

SUSPENSION:
Eibach Sportline springs/dampers
MOOG endlinks
Auto-X ZTS 24" adjustable rear swaybar

WHEELS, TIRES & BRAKES:
215-35-18 Pirelli PZero Nero tires
18" RS rims

MISC.:
Quote:
SEPTEMBER RIDE OF THE MONTH(2008)

Member name: CLEANZX3
Location: Minnesota
Model: Sedan (ST)
Color: CD Silver



MODIFICATIONS

EXTERIOR:
www.mnfocus.com decal's
Hoen Endurance fog light bulbs

INTERIOR:
Full sound deadening in front doors(edead)
A few booster seats :)

I.C.E.:
JVC Arsenal KD-AHD39 cd player/hd radio
Microsoft Zune with a bajillion songs on it
Stock sony 6x8's powered by a Rockford T3002(ED e9.65i on pre-order)
Elemental Designs Nine.1
Elemental Designs 13av.2 In a sealed box
Rockford 4 gauge wiring, and patch cables

ENGINE DRESS-UP:
I just keep it clean :)

PERFORMANCE:
Cosworth cold air intake
Crane stage 1 cams
Borla 2.5" exhaust
Xcal2 with Focussport tune
Homemade "Big 3"engine wiring

SUSPENSION:
Ford racing performance parts springs on stock ST struts/shocks
Urethane rear swaybar endlinks

WHEELS, TIRES & BRAKES:
18x7.5 asa AR1's
225/35/18 avon tires

MISC.:
Waxed monthly/washed weekly with poorboys products
Quote:
OCTOBER RIDE OF THE MONTH(2008)

Member name: CKA
Location: Elgin, Illinois
Model: Sedan (ZTS)
Color: Sangria Red



MODIFICATIONS

EXTERIOR:
Fiberglass fully functional ram air hood
Clear grille
Clear corners
TYC tails
Tint

INTERIOR:

I.C.E.:

ENGINE DRESS-UP:
Ford Racing chrome valve cover

PERFORMACE:
Borla Exhaust
FS 4in1 header
9mm FR plug wires
MSD ignition
Volant Intake
Optima battery

SUSPENSION:
K&W springs
SVT struts

WHEELS, TIRES & BRAKES:
17" SVT wheels
Toyo Proxes

MISC.:
SINCE THE NOVEMBER ROTM NEVER REPLIED TO MY SHOWCASE PM OR HARDLY EVER LOGS ONTO THE FORUMS HE IS AUTOMATICALLY DQ'D.
Quote:
DECEMBER RIDE OF THE MONTH

Member name: HAVEBLUE83
Location: Pennsylvania
Model: SVT (3 door)
Color: Infrared



MODIFICATIONS

EXTERIOR:
Black ST170's w/wiring kit & bulbs
CFM Euro Grille
TYC black tails
22% Tint sides and back
Sylvania Silverstar Headlights
Sylvania Silverstar Fog Lights
Debaged "Focus"
"1978" on left side front bumper
JDM Style Black-Clear Turns
Ford Edge Wiper
rebadged "PIRANHA" in red on hatch
removed SVT side-skirts
Replacement APC hood in the works after fire...

INTERIOR:
2-pod gauge surround
Autometer NV EGT gauge
Autometer NV Water Temp gauge
Carbon Fiber single pod on steering column
Autometer NV 20 PSI Boost Gauge
Triple pillar pod
Autometer NV Oil PSI gauge
Autometer NV Fuel PSI gauge
AEM UEGO Wideband A/FR gauge
FRPP/Steeda Short Shifter
Rear Seat Delete
COSESVT Black Harness Bar
Schroth Racing Harnesses
Red interior light
Red Hatch light
Red bungie cargo tiedowns
Painted Door Grab and shifter surround Pieces Red
Mini Red shift light
StreetGlow Red LED light strips Under dash and seats
Red "SVT" stickers on the front headrests


I.C.E.:
Pioneer AVIC D-3 In dash touch screen/NAVI
Kicker CV-R 8" SUB
Kicker 100WX2 AMP
JBL Grand Touring 6X8 Components
JBL 6X8 2-way speakers (rear)


ENGINE DRESS-UP:
Red cable covers
Black painted dipstick, windshield-washer cap, Hood Prop
Engine Cap Decal Covers for coolant and PS fluid.

PERFORMANCE:
PowerWorks SC
Torsen LSD
HKS Hi-Flow exhaust
Southbend stage 3 clutch
Southbend lightweight aluminum flywheel
R/T High Flow Cat hollowed out to ORP
VF-Engineering rear motor mount
VF Engineering Dr Mount
VF Engineering Pass. Mount
K&N filter
Removed shifter counterweight
DEI Header Heat Wrap

SUSPENSION:
H&R Sport Springs
KYB AGX Shocks
Steeda caster/camber plates
Steeda rear camber kit

WHEELS, TIRES & BRAKES:
Exel F1 Bronze rims
BFG G-Force Sport Tires
Russell SS Brake Lines F & R
Hawk HPS Front & rear Brake Pads

MISC.:
Valentine One radar interceptor
Quote:
JANUARY RIDE OF THE MONTH(2009)

Member name: MR.BERGNER
Location: Missouri
Model: ZX3 (S2)
Color: Custom



MODIFICATIONS

EXTERIOR:
Custom Paint: Titanium, Black w/ Sapphire on Roof, Fog Inserts and Lower Induction Insert
Roush Front Bumper
Roush Side Skirts
Roush Mid-Wing
Xenon Rear Lip
S2 Upper Wing
Hoen Yellow Fog Lamps
Ebay Projectors
Sylvania Silverstars
SX200 Functional Hood NACA Duct
Stubby Antenna
RS Style Grill
Black Exhaust Tip
LED Turns in Front, Rear & Sides
Mazda 3 Wiper
Euro Tails - Two Tone Nite Shaded
Bosh Icons

INTERIOR:
Custom Painted Two-Tone Dash
Black Roof liner
Black Pillars
Gloss Black Vents/Bezels
Reverse Indiglo Gauges
Red LED's in Vents & Floors
Focus Sony Edition Xplod Sub/Amp/Box
Focus Sony Edition Stereo Bezel (yeah!!)
ST Gauge Bezel
Phone Cradle

I.C.E.:
Alpine ida-X300

ENGINE DRESS-UP:
Ford Racing Valve Cover Overlay
SVT Coil Pack Cover

PERFORMANCE:
Bosal Flex
Roush Exhaust
Magnaflow Resonator
Xcal II - Focus Sport tune
MSD Wires
Motorcraft Copper Plugs
Optima Yellow Top
Big 3 Ground
Volant Intake Tube
K&N Gigantic Filter
Focus Central Throttle Body
EGR Delete

SUSPENSION:
KYB AGX's
Vogland Racing Springs
Energy Suspension Rear End Links

WHEELS, TIRES & BRAKES:
EAP Wheels Powder Coated Black
Nitto Neo Gen Tires
Centric Blanks
Hawk HPS Pads

MISC.:
[QUOTE]
FEBRUARY RIDE OF THE MONTH
(2009)
Member name:
MTADD162
Location: Massachusetts
Model: Sedan (
ST
)
Color: CD Silver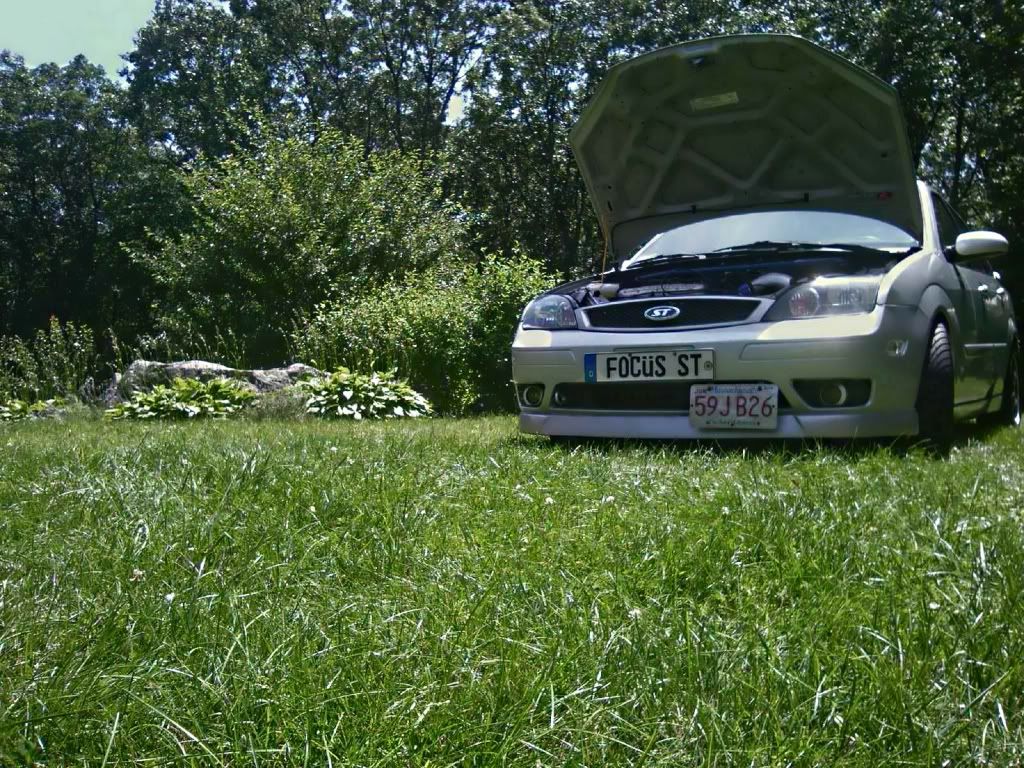 MODIFICATIONS
EXTERIOR:
Tint
Stub Antenna
Clear Corners
Laminex Yellow Fog Covers
4500k Yellow Xenon Foglights
Smoked Taillights
8000k Bi-Xenon HID Conversion
Dual outlet vibrant tip
Euro Plate
Black oem headlights
ST emblems overlay
Lower grille removed
Debadged
Painted inner grille piece
FS Lip
Tow Hook
INTERIOR:
Fatmat sound Deadener
Painted Stock shifter
Momo Pedals
Custom Gauge pod for AEM Wideband
I.C.E.:
ENGINE DRESS-UP:
PERFORMANCE:
Focus Sport Cool-Flo Intake
Crane Stage II Cams + Retainers/Springs
Cosworth IM
Xcal 2 for 93 Octane Remote Tuned by Tom
OBX Header-Wrapped
2.5" exhaust with 2 magnaflow mufflers no cats
AutoLite 104 Copper Spark Plugs
BS Delete
CFM 67mm TB
VF engineered Lower Engine Mount
SUSPENSION:
H&R Spacers and Studs 20mm rear, 15mm front
Eibach Pro Springs
FS Front Lower Stress
FS Front Stress Bar
FS Rear Stress Bar
Progress 25MM Rear Sway Bar
WHEELS, TIRES & BRAKES:
Painted Black Stock 16" with a polished lip
Quote:
MARCH RIDE OF THE MONTH(2009)

Member name: FASTZX360
Location: Texas
Model: ZX5
Color: Cloud 9



MODIFICATIONS

EXTERIOR:
98 RS Collection front bumper
HD lower lip
02 Euro Facelift grill with white painted surround
SVT/Mach Hid's
6000k D2S bulbs
Hoen H7's for highs
amber 194 city lights
Shorty antenna
tint 30% front 15% rear
SVT style mirrors
black painted calipers
Lumma Dachspoiler
Edge rear wiper
American "Euro" tails (amber turnsignals where reverse was)
SVT rear
Custom diffuser with red fog light and clear reverse light.
Half debadge

INTERIOR:
Cobalt a/f gauge
Silver painted trim ring around gauges
Custom pod in gauge surround
CDX-GT630UI
Black painted interior with silver accents
Viper 3000 alarm

I.C.E.:

ENGINE DRESS-UP:
Painted engine pieces
Powerade Strut caps

PERFORMANCE:
Cosworth CAI
Mbrp exhaust
Mobil 1

SUSPENSION:
Apex 2" springs
Eibach pro-dampers
Focus Sport rear stress bar
Moog Endlinks
Focus Sport Lower stress bar (on the way)

WHEELS, TIRES & BRAKES:
Custom painted 5 spokes with white pinstripe

MISC.:
Quote:
APRIL RIDE OF THE MONTH(2009)

Member name: NITETIMEBOLHER
Location: California
Model: ZX3
Color: Pitch Black



MODIFICATIONS

EXTERIOR:
ST170 Front End Conversion
ST170 Glass Fogs
2002 European Grill
Custom shaved rear hatch
Custom Cut Stock Rebar to fit euro bumpers
Mustang Fuel Door painted to match car
Rear Wiper Delete
Focus Central Short Antenna
Trim Pieces painted (mirrors, sidemoldings, antenna base/antenna, hatch trim, door trim)
Tinted Winshield Banner
Euro LED taillights
In Pro ST 170 Headlights
European rear bumper

INTERIOR:
Recaro Heated Leather Seats Front/Rear
SVT AC bezel Mid Console
Short Shifter
Chrome Shifter Bezel
Painted Gauge Cluster and Needles
SVT pedals
Carbon Fiber Shift Boot/Knob
SVT E-brake handle
Intermittent Wiper
Power door locks conversion
Polished Door Trim Bezel

I.C.E:
Car Vision DVD/Bluetooth head display
Cerwin Vega 12" Subwoofer
Hart Amplifier
Infinity Kappa Series all around
Remote Start/Automatic Window Roll up

ENGINE DRESS-UP:

PERFORMANCE:
Focussport Stage 2 Turbo Kit dynoed @11 psi (252whp/235wtq)
Garrett GT28R Turbo
Cast Turbo Manifold
Stainless Steel Downpipe w/intergrated flex & O2 sensor fittings
Powdercoated plumbing w/bead rolled ends
Internal Wastegate Actuator
Waterline Kit
Bailey Diverter Valve
ITG Maxogen Air Filter
42lb. Bosch Fuel Injectors
Custom MAF housing
Custom Oil Catch Can
Stainless steel Feed line
Custom Drain Line tapped to the block
Autolite 103 Copper Spark Plugs
Front Mount Intercooler
Eboost2 Electronic Boost Controller
Ford Racing Tach Adapter
SVT Coolant Tank Cover
Trubendz 2.5" madrel bent exhaust
Added extra magnaflow muffler mixed w/Trubendz exhaust
Cosworth Balance Shaft Delete
2005 Fuel Pump Conversion
SCT XCalibrator 2 ECU Flasher
Dyno Tuning by Focussport
Exedy Stage 2 Clutch
Exedy Flywheel
Torsen T2 Limited Slip Differential
VF Polyurethane mount driver
VF Polyurethane mount passenger
VF dogbone mount

SUSPENSION:
H&R Coilovers
Eibach 25mm Rear Sway Bar
Polyurethane Sway bar Bushings

WHEELS, TIRES & BRAKES:
SVT Front/Rear Brake Conversion
Mintex Pads all around
EAP Dark Argent wheels
Azenis RT615 215-45-17

MISC.:
Quote:
MAY RIDE OF THE MONTH(2009)

Member name: SPATAKULA710
Location: Raleigh, North Carolina
Model: SVT (3 door)
Color: Sonic Blue



MODIFICATIONS

EXTERIOR:
Blacked out Mach H.I.D.'s
Black corner lights
Colormatched ST170 grille
Colormatched rear hatch strip
Rieger RRX Front bumper
Rieger RRX Carbon Fiber Front splitter
Street Apprearance Rear Diffuser
Cherry Car Freshener Tree

INTERIOR:
MOMO Duke Shift knob
Focus Central Race shifter
Traction control defeater switch
Ford GT Start Button

I.C.E.:
Pioneer Headunit
Pioneer 10 in. sub in stock 8 in. sub box
Rockford Fosgate 400 w amp.
Pioneer 4 way speakers front and rear
PAC SWIX interface
iPod interface with 16gb iTouch

ENGINE DRESS-UP:
Colomatched SVT Valve Cover

PERFORMANCE:
CFM Oil Seperator
AEM CAI
CFM underdrive pully
Diablo tune from Focus Power
SVT Jet Hot coated header
CFM 65mm Throttle Body
Random Technology High Flow Cat
2.5 in. Trubendz flexpipe
2.5 in. Trubendz Borla exhaust
Torsen LSD
CM Aluminum Flywheel
CM Stage III 6 puck clutch
All 3 VF engineering polyurethane motor mounts

SUSPENSION:
KW Variant 1 coilovers
LCR Race Camber plates
Progress 25mm Rear Sway Bar
F2 adjustable sway bar endlinks

WHEELS, TIRES & BRAKES:
17 x 7 Konig Hurry Ultra Lightweight wheels
Kuhmo Ecsta MX's in 205/ 40/R17
R1 Concepts Cross Drilled and Slotted rotors
Hawk HP pads

MISC.:
Quote:
JUNE RIDE OF THE MONTH(2009)

Member name: WUNGUUSVT
Location: Canada
Model: SVT (3 door)
Color: Sonic Blue



MODIFICATIONS

EXTERIOR:
F2 RS widebody kit
Custom rad lower air damn
Custom inner fender liners
Bosch/VW wiper arms/blades
Custom halo/LED fog lights
LED side markers
White LED strip headlight driving lights
Twin halo projector headlights with Infinity FX
bi-xenon projectors with Retrofit-Source clear lenses
Hella HID balasts
LED license plate lights
Custom LED 3rd brake light
Eurostar LED tail lights with custom amber LED signals
RS reverse/rear fog lights
Kona-Edition roofrack
Custom match-painted Yakima SkyBox Pro roof carrier

INTERIOR:
Push button starter
RS Focus headlight switch (rear fog/Parking)
Blue LED interior switch lighting
LED dome light
Custom gauge face
Sonic Blue gauge and shifter surround
Aluminum diamond plate dead pedal and floor mat protectors
SVT embroidered floormats
TWM weighted stainless shift knob

I.C.E.:
MSI MS-7191 motherboard with OPUS 320 PSU
2 X Asus Xonar D2 PCI sound cards
Infineon HD radio
2 X TRU T4.65 4 channel amps
Alpine 400 watt 2 channel sub amp
Custom CNC machined acrylic/MDF enclosure
Relay/Terminal distribution block for lighting, waterpump,
HD Radio
DangerDen 480mm radiator
Swiftech CPU block
Swiftech MCP655 water pump
DangerDen resevoir and filler neck
Hand braided VenHaus speakerwire (solid copper core/Teflon insulated)
4 X Pioneer Premier TS C720PRS 6.75" drivers/tweeters
Aurasound NS10-513-4A 10" Subwoofer
Nakamichi gold plated, solderless RCA's
Neutrik gold plated 1/8" TRS jacks
Custom made interconnects using Monster THX cable
CNC machine acrylic amp cover
Carbon-look false trunk floor
Audio Control/dash/components:
8" Lilliput touchscreen monitor custom mounted in DIN opening
Griffin Powermate USB multimedia knob
Custom mounted VU meters
2 X USB jacks in-dash
AudioMulch 1.0 DSP software
Virtual Audio Cable passthru software
ASIO4All drivers
Various VST plugins (crossover, delay)
Centrafuse 2.2 frontend software
USB GPS reciever
Linksys Bluetooth adapter
OBDII USB interface
Slot-load DVD drive
USB Wi-Fi adapter with 7dB gain antenna

ENGINE DRESS-UP:

PERFORMANCE:
Volant intake
Ford Racing blue plug wires

SUSPENSION:
Multimatic damper kit V2
Intrax SVT springs
Prothane rear sway bushings

WHEELS, TIRES & BRAKES:

MISC.:
Quote:
JULY RIDE OF THE MONTH(2009)

Member name: BRADWHITE
Location: University Place, Washington
Color: Vista Blue
Model: Sedan



MODIFICATIONS

EXTERIOR:
3D Carbon 6 Piece Body Kit
Debadged
H9 instead of H11 fog light bulbs (H9s 2200 lumens brighter - cut one tab to install)
custom Headlight LEDs
25% window tint all the way around
Blacked out chrome headlight trim
Painted honeycomb grill insert to match headlight
Nite-Shades & clear coat on Chrome grille
color matched Fender Vents
3rd brake light flash controller
replaced chrome door handles with stock black
replaced chrome mirror caps with stock black

INTERIOR:
SFX Performance Full Dash Kit, carbon fiber blue
F2USA Short-throw Sift kit
JEGS Racing Peddle covers
Blue Jumbo Laser LED strip in dome light
Four 4" blue sound activated cold cathode lights
Two 12" blue sound activated cold cathode lights
StreetGlow light controller
AutoMeter Ultra-Light Wide Band Air/Fuel Ratio Monitor
AutoMeter Ultra-Light Volt Meter
AutoMerer Ultra-Light Water Temp. Gauge
3D Carbon's Trunk Organizer
Saleen Focus N20 weighted shift knob

I.C.E.:

ENGINE DRESS-UP:
engine bay LEDs

PERFORMANCE:
Custom Tune (by Tom)
Steeda SRI
Trubendz 2 1/2" stainless steel exhaust
F2USA Race Header
Steeda Strut Tower Brace
FocusSport Rear Stress Bar
FocusSport Lower Front Stress Bar
Autolite 104s (.060 gap)
Sun Hyper Ground kit
Sun Hyper Voltage GT
Steeda Intake Spacer
custom air-scoop (fresh air for the SRI)
Transaxle Rear Support Insulator Bushings (better known as "the dogbone")

SUSPENSION:
Eibach SP Sway Bars (22mm front, 25mm rear)
PowerGrid Adjustable Front Sway Bar End Links
H&R Street Performance Coilovers (2 1/4" lower front & rear)

WHEELS, TIRES & BRAKES:
Raceline 17x7.5 wheels
Toyo Proxes 4 91W 215/45ZR-17 tires

MISC.:
Voting for this poll ends
JULY 31st
. If any of the nominee's would like anything changed (pictures, modifications, ect.) please PM me with the corrections.