You can follow my build on instagram
@SVT_Focused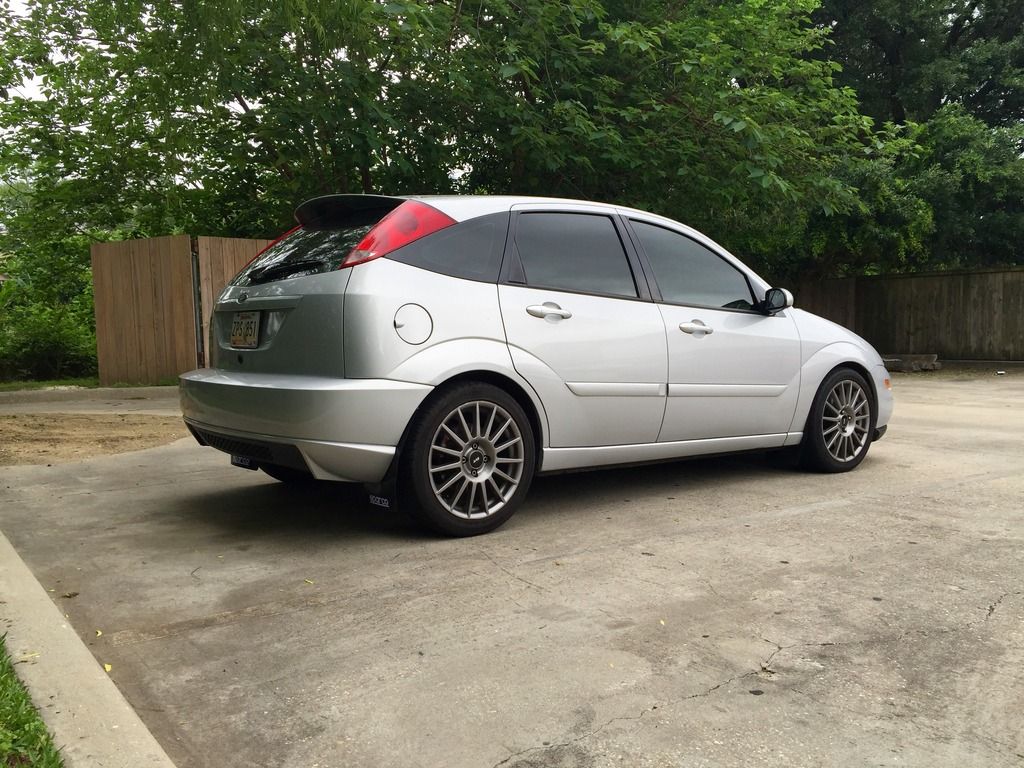 So I recently decided to get a little more powerful car because I missed my SVT Cobra so much. I thought about getting another cobra to build on the side or maybe even going over to the "darkside" (as some may call it ha!) and getting a subaru WRX or STi.. I thought long and hard then came to the conclusion that I can get more power, keep my reliable SVT Focus, and have gobs of fun just by boosting my focus. I did a lot of research on the forums and decided that a turbo build is the definitely the way to go for me. I shopped around; looking at kits, parts, accessories.. Nothing really caught my eye. I came across Tom's DIY Turbo Kit while in the process of looking (go figure ha!). I contacted Tom and began asking a million questions. Mean while, FF's very own JaFocus01 was also helping me out by answering most of my noob questions and helping put me on the straight and narrow path that leads to boost! After almost a week of talking with Tom and JaFocus01 about my goals and whatnot, I decided that this was it.. time for BOOST! I bought Tom's DIY Turbo kit and continued shopping around to piece together everything else that I needed to turbocharge my car.
My goal, as you can see in the title, is 300whp. I hoping to be able to do it on pump gas as well. No race fuel for me. Ha! The car is currently my daily. So I tried to make sure I had all my basis covered, so that I could order all I needed at once time and start and finish the build ASAP.
Lets get this started.. Also, I hope this thread can be very useful for other people down the road who think about boosting their SVT focus.
Here is a list of everything I have
Focus-Power – DIY Turbo Kit
What You Get:
• SPA Manifold
• 2.5 Down pipe with V-Band clamp for ease of install
• Waste gate down pipe going back into the 2.5 down pipe slip style
• Piping from Turbo to Intercooler
• Intercooler that is 8 x 31 x 3.5 this sucker flows like crazy and cools very well
• Piping from Intercooler to TB
• Piping from Turbo to Filter in the inner fender well
• Bracket for intake piping
• Price: (ZX3 or SVT) $1495.00
Options Will Be:
• Comp Turbo with v-band installed ($795.00 When bought with DIY Kit ) This is a very good spooling turbo yet will make 350HP at the wheels with a built engine
• Oil pan with bung welded in ($95.00), if you exchange oil pans ($35.00)
What You Need To Get:
• Turbo
o $795 option with DIY Kit
• 3 Inch MAF Tube
o $90
o
https://www.c-f-m.com/performancepar...-Focus-p76.htm
• BOV
o $30
o
Universal Adjustable Billet Aluminum Type RS PSI Turbo Blow Off Valve BOV Blue | eBay
• Waste Gate / Adapter
o $263
o
Turbonetics 10780 Wastegate Kit Evolution | eBay
o $40
o
2 Bolt Wastegate Adapter for Spa Turbo L Fitting Manifolds ADKTVL03 | eBay
• Hoses (2) 2 inch , (1) 2 to 2.5 , (2) 2.5 , (2) 2.5 to 3 inch (1) 3 inch
o $8+ $6 + $11 + $12 + $6 = $43
o (2) 2"x3"
2" Straight Silicone Coupler Hose Turbo Intercooler Intake Piping Pipe Black | eBay
o (1) 2" to 2.5"x3"
Black Red 2" to 2 5" 2 1 2" Straight Silicone Hose Reducer Turbo 51 63mm Coupl | eBay
o (2) 2.5"x3"
Black 2 5" 2 1 2 Straight Silicone Hose Pipe 63mm Intercooler Coupler Turbo | eBay
o (2) 2.5" to 3"x3"
Black 2 5" 2 1 2" to 3" Straight Silicone Hose Reducer Turbo 63 76mm Coulper | eBay
o (1) 3"x3"
Black 3" 3 0" Straight Silicone Hose Pipe 76mm Intercooler Coupler Turbo | eBay
• Oil feed line -3
o $40
o
Precision 36" 3AN Oil Feed Line Kit 3AN Straight to 3AN 90 Deg Female Ends | eBay
• Oil return (drain) line
o $43
o
New Turbo Oil Drain Return Feed Line T3 T4 T04E T60 T61 T70 Complete Kit | eBay
• Diablosport Mafia
o $171
o
https://www.discountbandit.com/diabl...brator-24.html
• 60lb Injectors
o $120
o
New Set of 4 60lb EV1 Fuel Injectors for VW Audi Ford 630cc 1 8T Turbo 2 3L | eBay
• AFR Gauge
o $140
o
https://www.amazon.com/AEM-30-4110-U...ords=AFR+Gauge
• Exhaust
o $420
o
00-07 Ford Focus Exhaust - with Magnaflow - 3.0 inch - Mandrel Exhaust Systems
• Parts to buy locally
o $150 (approx. assumption)
o Vacuum lines, Filter, Clamps 16, Bolts, Nuts, Washers, 180 deg. Thermostat
• Motorcraft SP463 Spark Plugs
o $15
o
SP 463 Motorcraft AZFS22C Spark Plug Pack of 4 | eBay
• Remote Tuning
o $550
• Clutch Kit + Flywheel
o ~$900
o
Clutch Masters FX400 (Stage IV) Clutch - SVT Focus
o
Clutch Masters Flywheel for '02-04 SVT/ST170 Focus for Clutch Masters Clutch
• PCV Delete
o $60
o
http://www.c-f-m.com/performancepart...m#.V4rmCbgrLmE
• Boost Gauge
o $?
o ???
__________ = Paid For
__________ = Not Paid For
__________ = Parts Arrived
I will try to frequently update this post for all of you who desire to follow along in my quest for 300whp.
7-13-16
Flywheel and diaoblosport mafia has arrived.
7-15-16
Clutch kit has arrived
7-20-16
PCV Delete and Magnaflow exhaust has arrived (Exhaust installed)
9-14-16
12-1-16