So I've finally decided to start a build thread of my car after owning it over a year. The car was a surprise Christmas present from my parents. The car had 22,071 miles on it when I first sat in it. That's no joke. Unfortunately, the car is an auto... But hey, I didn't pay for the car! So, a 5 speed swap is probably in the future. For a time I had lots of fun plastering the car in stickers (most of which have been removed). The car was a "rally car" for a short time as well, but since that started breaking things, I've stopped that. The ultimate plan is to have a really nice looking street driven car, that is used for roll racing and highway pulls, and taken to shows. I'm currently in the process of building a forged motor, and have partially completed a turbo kit. Anyway, enough talk. Pictures! (I hope they upload okay.)
First picture I ever took of the car. That's frost all over the windows, which is a real rarity for North Houston Texas.
Soon I did an extra set of fog lights, with yellow lenses. I had quad fogs on my 1985 BMW 535i and they looked sweet lit up. Along with the fogs, I blacked out the grille.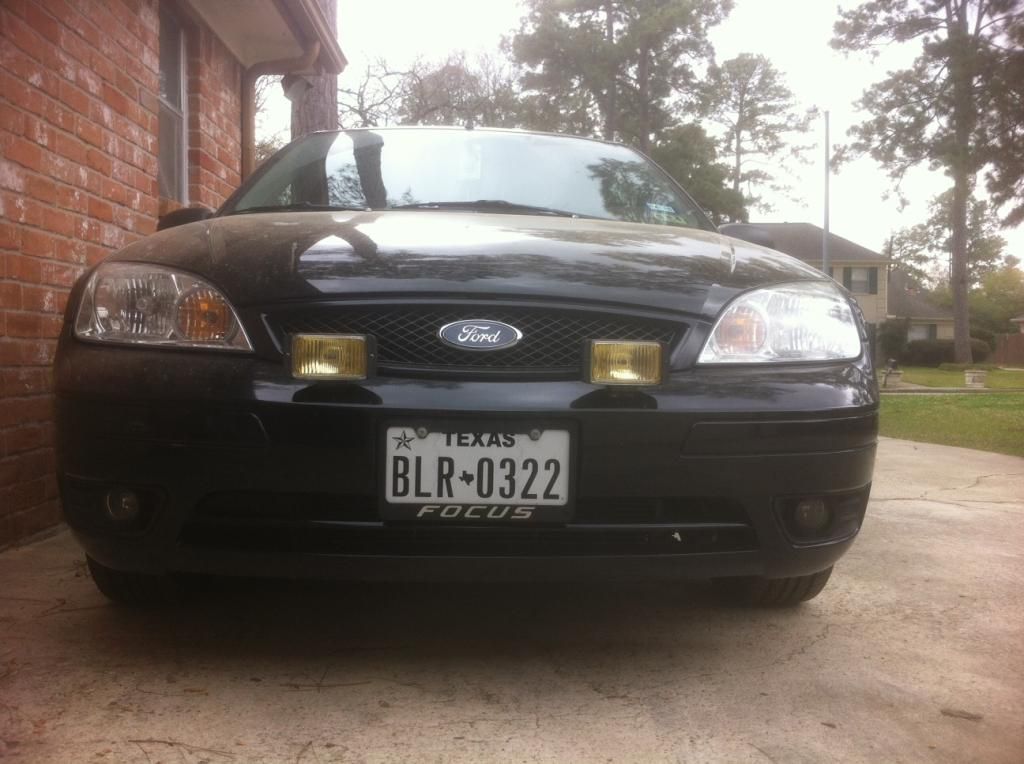 Another picture with the fogs all lit up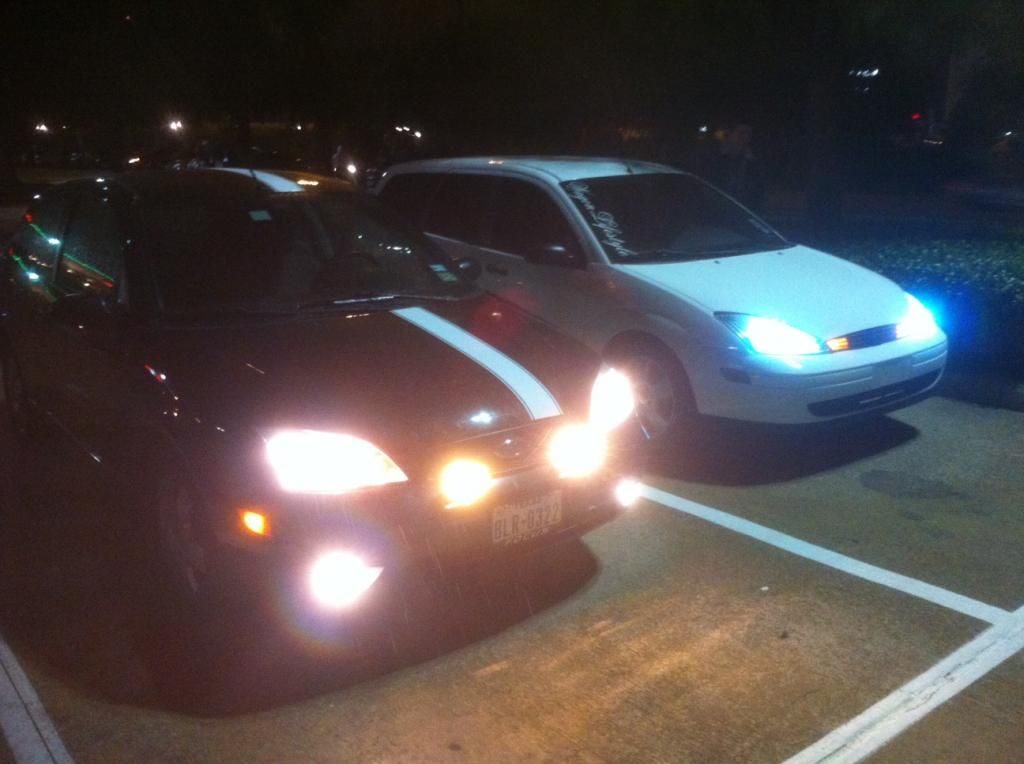 Here's my car with two of my friend's/classmate's cars. This was while I attended the Fall 2013 session of Hennessey Performance Tuner School. Blue hatch WRX has Crawford muffler delete, Cobb DP, K&N intake, Cobb tune. Made 288awhp on 93. Red car is a 2012 (I think) Kia Forte Coupe. He has LOADS of exterior stuff done, but the best part is that it's completely straight piped. It was affectionately named the "Farte" because of the sound it makes when you start it. Sets off car alarms too.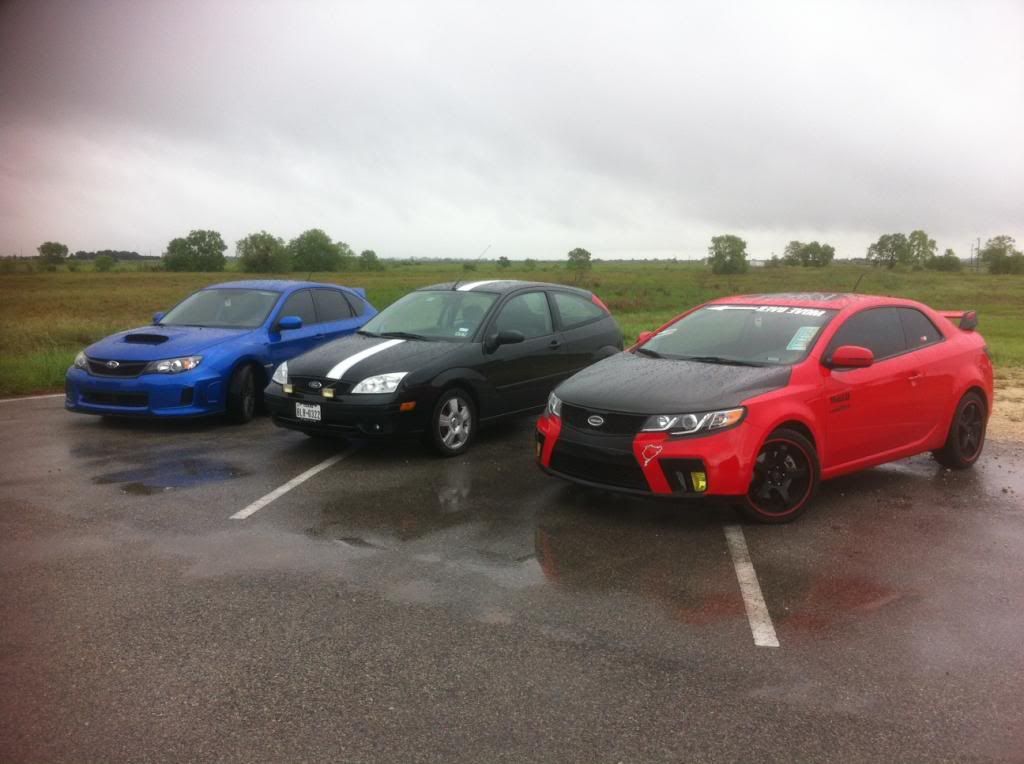 I did a custom intake. This is the only pic I have of it, but it sounds MEAN!
I soon began to gather parts to do a custom turbo kit. As I sit now, I have an ebay t3/t4 turbo (47mm compressor, .63 A/R Hotside) for mach up. Will be upgraded to a Precision turbo probably. I've also got a 38mm external wastegate with screamer pipe. I custom fabbed a crappy downpipe just to test fit something. Pics are of the turbo kit being test fitted into the car.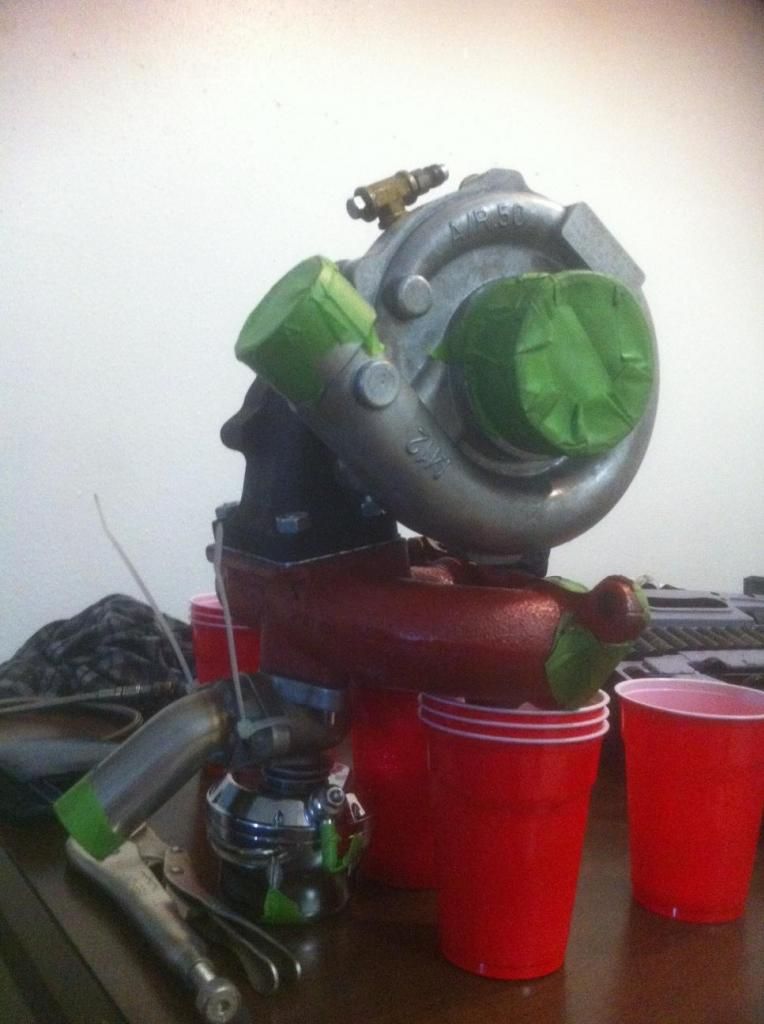 Here's it in the car. I went with top mount to be different, but it's bringing a few fitment headaches.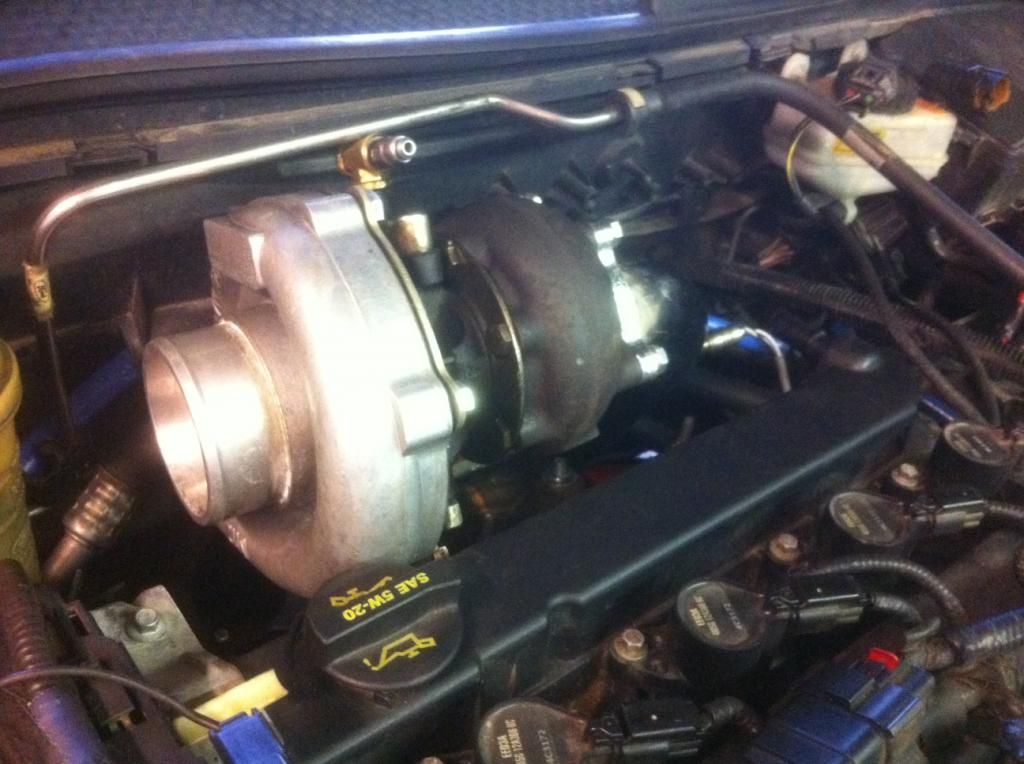 I used to be sticker crazed, like I said. Almost all of this stuff is gone now.
The car is super dirty because I just got back from some back roads with my Subaru friends.
Pic of my car with my friend's POS Ford Festiva rally beater. He was tired of breaking his Subaru, and we picked this up for $600 with 88K on it. Also, my other friend's Miata can be seen in there.
Picked up a motor from the junkyard last month. Going to do a fully forged motor in preparation for high boost and much power. (I know my tranny won't hold it. That's why I'm going to 5 speed swap at some point.)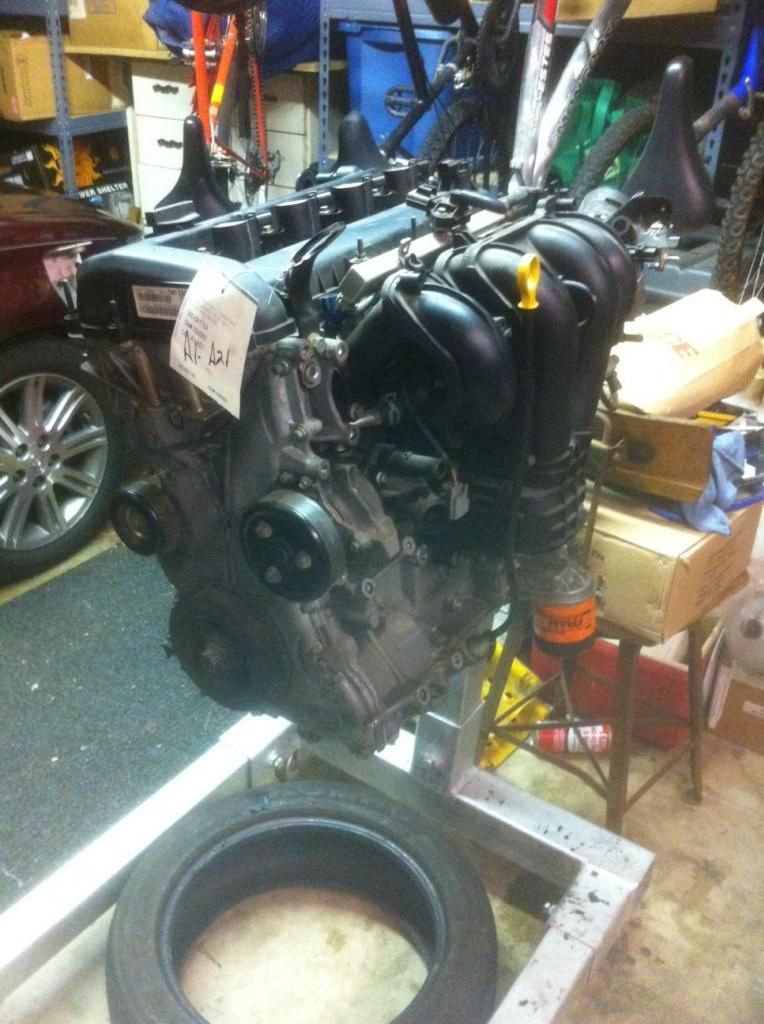 Here's a digital rendering of the wheels I'd like to get. Thoughts? I know they're cheap knockoff wheels, but I like them.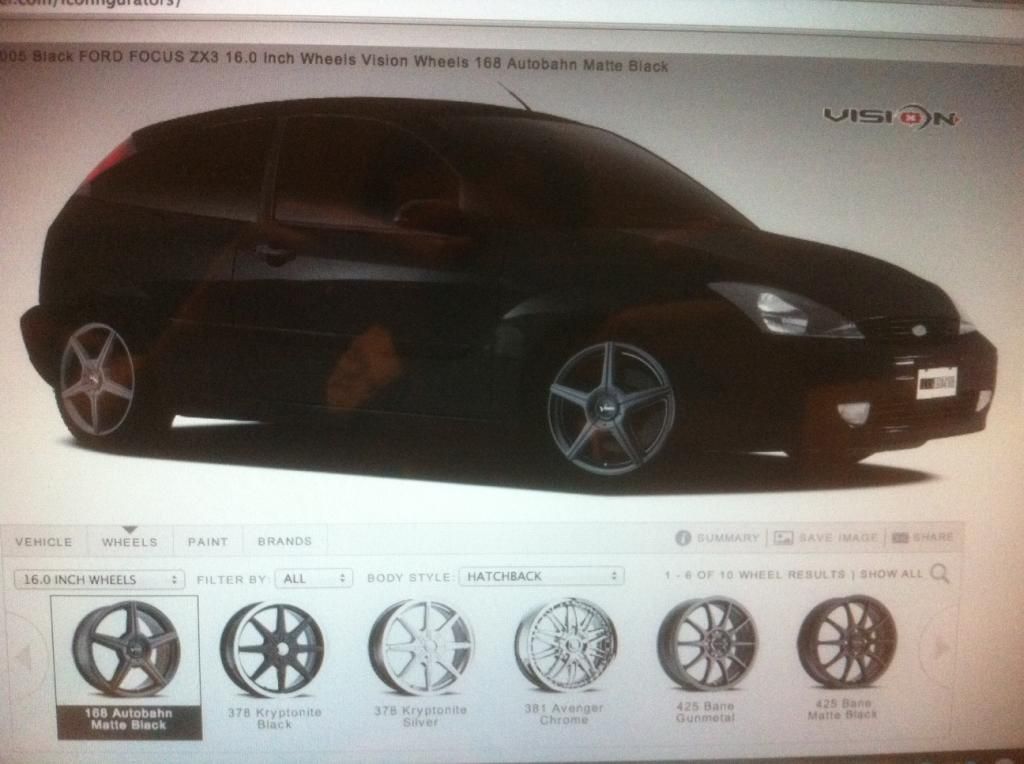 Quite possibly my favorite picture of the car.
I did Eibach Sportline springs last weekend. The car corners AMAZING now. The ride is a little bouncy with the stock dampers, but not terrible. It went down 2" front and 2.25" in the rear. May settle out some. I picked the springs up for $178 on ebay, brand new in an opened box.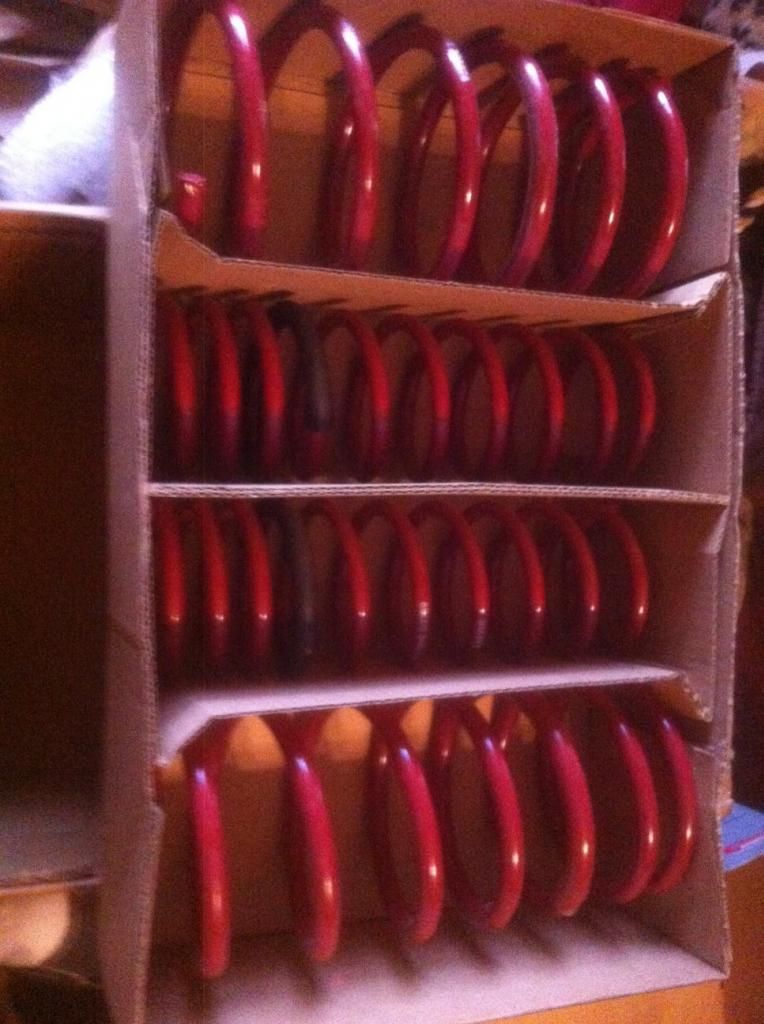 Stock vs Sportline front springs.
These style spring compressors are a dangerous idea! But it's what I had to work with... That's the compressed spring next to a relaxed spring. Both front. How much potential energy do you suppose is behind that?
Here's how it sits:
Another shot: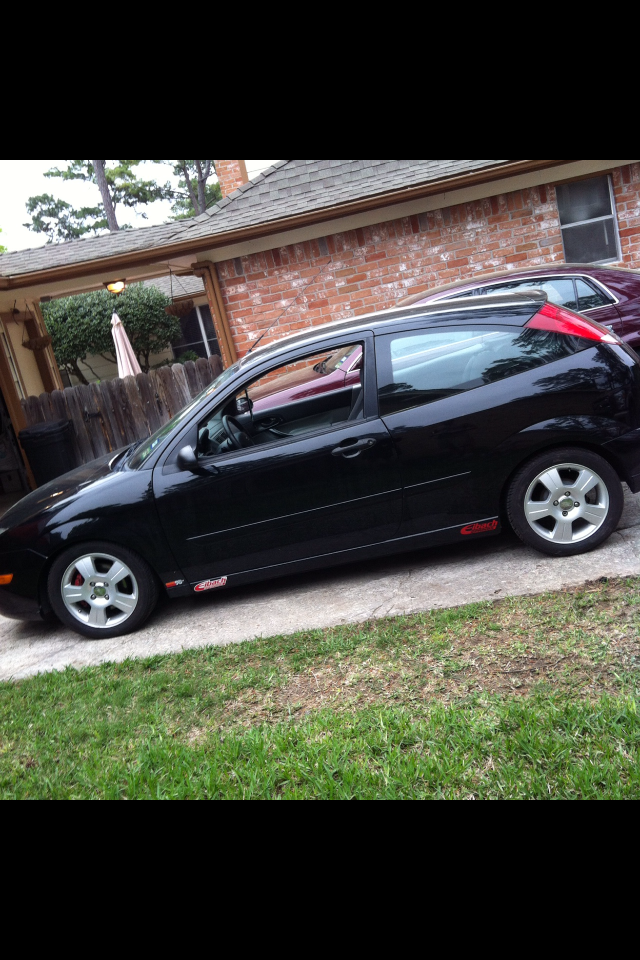 I guess I should make a list of what's actually in the car. So, Here you go:
Custom Intake
Custom exhaust with high flow "muffler". Both Cats still in- for now...
EGR Delete- Made a custom plate.
Eibach Sportlines
That's really all that's in the car. I'm going to continue working on the forged motor and the turbo kit, and will post pictures as I go (and as I remember to take them.) Anyway, thanks for looking!