Figured I'd make a build thread, even tough a lot of this probably won't be done in time for FocusFest. I got in a bad ATV accident a few weeks ago and broke a bunch of ribs, couple vertebrae, among other fun stuff. So I'm slowly working on getting better and going over my list of stuff I have planned for the Focus. Whether or not I make it to FocusFest, this stuff will eventually get done and I'll be keeping this thread updated as progress is made.
This is a list of the main stuff planned, and a lot of this I already have sitting in boxes.
SVT honeycomb upper grill project (underway)
SVT lower grill
Custom heat extractor vent in hood
Satin white vinyl roof
Satin white mirror caps
Strip/Paint wheels satin white (ASA AR-1's)
Re-paint gloss black mirrors surrounds, b-pillars, triangles
Twilight Blue Paint on Hood/Front bumper/Ford accessory side skirts/Upper grill surround
Redo the head liner
Sound deadening/carpet rear interior(already gutted)
Simulated Wood floor in rear and also on the speaker box
Install triangle fender markers
Wire up headlight LED's (LED's installed in housings already)
Re-Paint calipers silver
Rust reform suspension/subframes
Sink in tailpipe
2.5" Flex pipe
Massive adjustable end-links
Maintenance items:
Replace front brake lines
New Rotors/Pads
New front bearings
New clutch
All new tires
Timing/Serp/WP/Pulleys/Tens
Axle Seal
Thermostat/Housing
Seems like a lot, but it'll be done in stages.
This is an older photo, but she still looks the same minus the roof rack.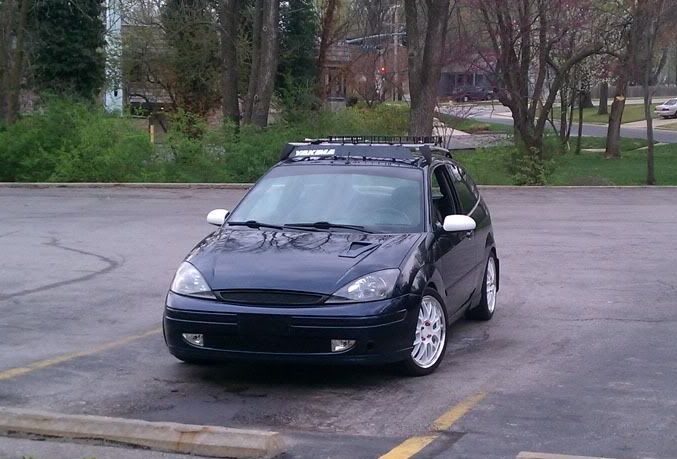 Here's a peek at the SVT honeycomb upper grill I've been working on.
First an old fiberglass grill from eBay. This will be getting heavily sanded down and then spot puttied.
SVT lower grill hacked up and getting fitted. Still lots of trimming to look nice.
Getting it mocked up, but still needs adjustments. Looks a little rough here...