I've been looking at all the trim levels, wheel options (OEM
and
aftermarket), and colors for the Mk3 Focus while waiting 'til I'm ready to buy one. After over a year of wavering (so many beautiful combinations) I had pretty much arrived at the combination you have. Of all the wheels I have looked at, the ones you have are the ones I really want to have. Were they hard to find at a reasonable price?
I used to not like the black headlight trim with lighter colors and thought the chrome finish ones would look fine with silver, since I don't plan to buy a Titanium or an ST. Your photos have me thinking I might have been wrong about that. With those black wheels and fog-light grilles they look
really
good with silver. (Thanks a lot. One more thing on my wish list.) What you have there is EXACTLY how I will want mine to look. (Unfortunately, window tint that dark is not legal on the front windows in California.) Now I just have to stop looking at photos of all the other colors and wheels. (OK if I use one of your photos for my wallpaper?)
I had thought that if I get too discouraged trying to get a Focus the way I want it I might consider a Fusion, but agree with you about the Focus being a better fit. Sorry to hear your Fusion was such a nuisance. Have you described the problems you had with it elsewhere? (I sure hope the DCT in your Focus turns out to be one of the solid ones.)
Painting the lower panels the same color as the body might make it
look
lower. They already look so good in black with those wheels and the other trim that it's hard to tell if that would be an improvement, though. These photos by
theshrewz
and
twenty
might help to visualize it, but maybe not since I think both of these cars
have
been lowered:
http://www.focusfanatics.com/forum/s...80#post4621280
The stock rocker panels look cleaner to me without that extra bulge under the front door that the ST panels have. (Cost less, too, since you already have them.) The ST panels
do
look more aggessive, though. Decisions.
http://www.focusfanatics.com/forum/s...t4706879<br />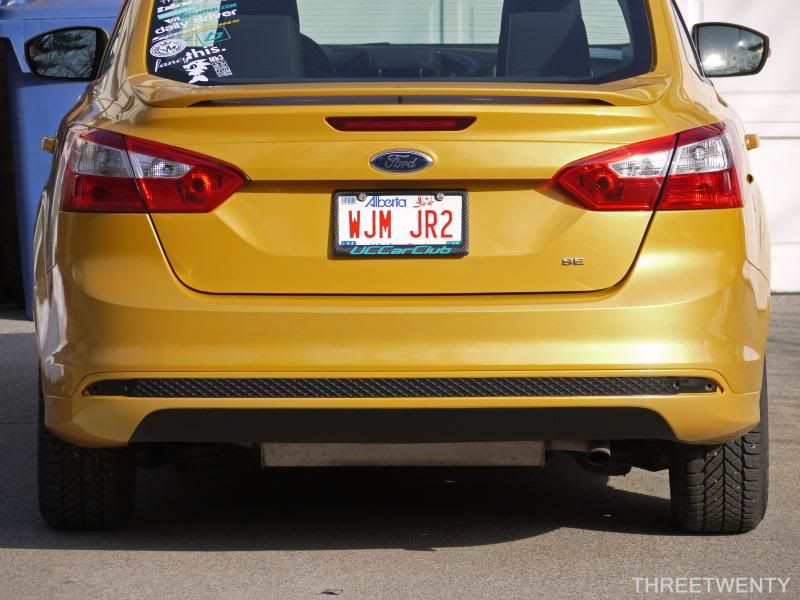 http://www.focusfanatics.com/forum/s...26#post4691626
The painted stock rear valance makes the car look a bit lower, if you don't mind cleaning off tar spots and touching up paint chips. If you keep them all black then the front splitter
twenty
installed might look good with them.
http://www.focusfanatics.com/forum/s...27#post4473227
If you add fog lights I think the all black bezels would look better than the black & chrome ones. If you do plan to add the lights, be sure to read about the factory switch not working with them here:
Focus Fanatics > Model Specific Discussions > MK3 Focus >
Fog Light Installation - S Model (with Pics)
Fog Light Installation - S Model (with Pics)