Well, its been 2 months and 4.5K miles...here she is: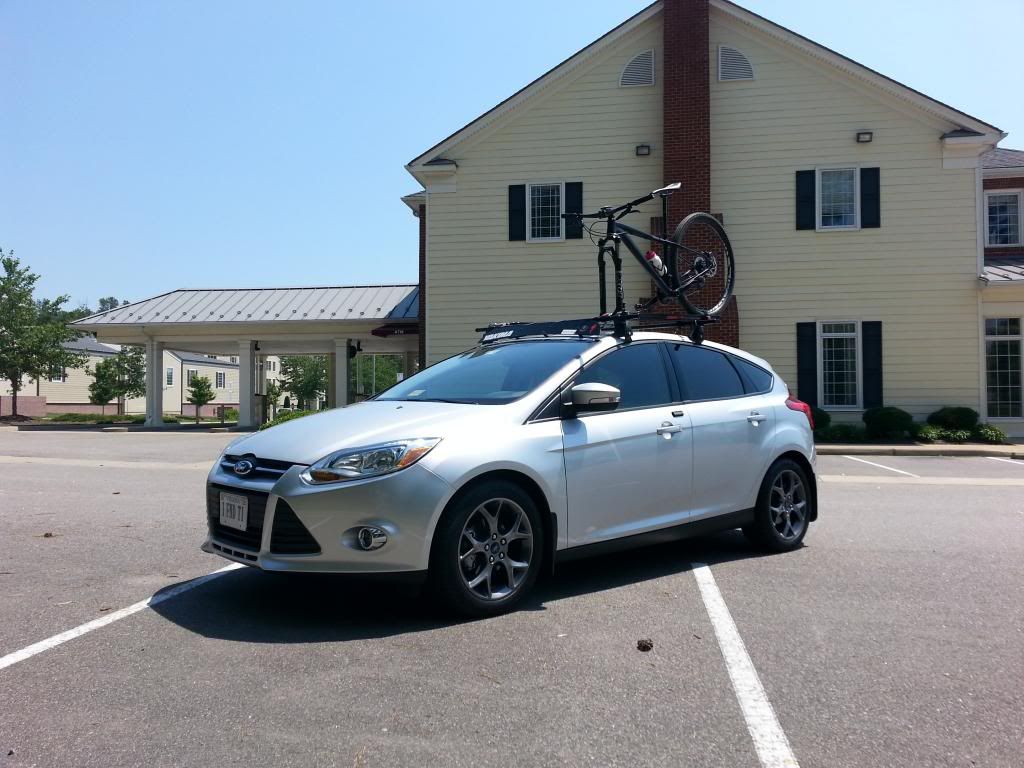 Like someone else did, I thought it would be good to put together a write-up of my impression thus far.
What I have:
2013 SE Ingot Silver HB
5-speed
PZEZ motor
201a package
Winter package
Moonroof
I paid just over $20K out the door; it was just a skosh under $19K for the actual price paid after incentives/negotiating.
I have added/done:
Splash guards (Ford).
Front door sill plates (Ford).
Cargo area protector (Ford).
Yakima roof racks (Q Towers, round bars, 2 Viper bike trays, fairing).
K&N drop-in filter.
Snorkel delete.
Lluminar window tint (35% rear, 35% rear sides, 50% front sides).
Weather Tech front all-weather floor mats (to get the dead pedal covered).
What will be added:
Llumar door sill and rear bumper protection.
ST aluminum pedals.
ST snorkel.
Overall, I love the car and couldn't be happier with my purchase. I use the car primarily for commuting 120 miles a day to work so~24k/year of which, ~75% is highway.
The only major issue to date is that my Sync crapped-out after several weeks of having my iPod plugged in and went into a constant indexing mode where I couldn't control it through Sync. I remedied this by pulling the Sync fuse (these boards are great for figuring this stuff out). I have a few minor rattles/buzzes. They are intermittent and I not going to mess with them. The dealer isn't going to be able to fix them anyway and really.what sub-$20K economy car doesn't have a few? I need to have someone else drive it so I can sit in the passenger seat and isolate it.I know it's on the passenger side door somewhere.
My mpg (as calculated by the trip computer) over the first ~4.5K miles has been 31 and change (this is close to my calculated mpg of 32)! I ran premium fuel for a chunk of this and believe it makes the car run smoother and provides slightly better mpg but I have decided to just run regular because I won't make my money back on the mpg increase vs. additional cost. I have had individual tank mpgs as high as 37 for primarily highway driving which I think is outstanding for having a roof rack. I utilize some hypermiling tricks like coasting when I can but overall, I drive "normal" and typically drive at or close to the speed limit. I use my cruise as much as possible on the highway. For mixed or mostly in-town driving, I have been in the upper 20s to around 30 mpg. The mileage definitely drops off after 70mph so I stay at or below this and this could be exaggerated from the drag the roof racks create. When I compare this to the EPA ratings (26 city/36 hwy/30 combined) for my 70% highway/30% city split, they are spot on.
Things I like:
Front seats - very comfy and great lumbar support.
Quietness..even with the racks.
Smooth but firm ride (I guess this is the "touring" suspension).
Great motor - it's not fast but it's not slow either!
Great shifting manual tranny.
Sync - what a great system!
Great stock stereo.
Overall quality of the car for what I paid.
Overall look of the car..how about those wheels!
Things that I think could be improved:
Carpet quality is low - I am curious how this will look in 5 years.
Lack of a vent feature on the HVAC - I like to be able to have fresh air come into the cabin without having to turn the fan on.
The cub holders are too far back and cause interference with the arm rest..this could be remedied by having the heated seat controls on the dash (maybe on either side of the HVAC controls?). The rubber inserts are a bit much. Is it too much to ask to have properly designed cup holders?
The traction control on/off should be a button, not a menu choice.
The menu to control your iPod should be easier to use - you have to scroll around a lot to use it.
It should have a proper dead pedal, not just carpet. Furthermore, in the absence of the dead pedal, the stock all-weather mats should cover it like the Weather Techs do.
The exhaust. A cut out in the lower valence and decent tip should come with the 201a and the Titanium.
Lack of a sixth gear for the manual - if the highway RPMs were down around 2.5K at 70mph, that would significantly improve highway mileage.
That's it. Hopefully this will continue and I will get 200K out of this car like I did my Jetta..but hopefully it will cheaper to keep it that long. I plan on following the maintenance schedule in the book and doing ~6-7K OCIs at the dealer - I like to match them to my tire rotation schedule and I had maintenance included at the dealer for 7 years. I definitely would recommend this car. I seriously considered the ST - but I think for my use (long commute), it just doesn't make sense from a comfort and cost standpoint.
Things I may do:
I have always wanted an intake on one of my vehicles but just never have done it. For now, the drop-in w/snorkel delete seems like a great budget intake mod w/actual benefits and no downsides/negatives, but I think I will get the K&N Typhoon at some point just to get something I have always wanted..if anything it sure looks cool and will give it better sound under hard acceleration. I like the looks of the K&N as it appears "stock" and seems to use the existing air entry point into the engine compartment.
This board is outstanding and I have gotten some great help/knowledge from it..thanks!