Alright, so a kind of big update. My New Car!
So I went home over the weekend and picked up my "new" car (read: new to me), a 1995 MK3 Jetta GLX with the 12V VR6 motor, 5-speed manual, 110K miles. It has brand new paint (Java Black Pearl, came on the 2004 STI I think?). There's a bunch of stuff that needs to be fixed on it, which I'm slowly going to work on until it's back to normal condition. It's lowered on Eibach springs, which will be swapped out for coilovers when the money is available.
Here's the car: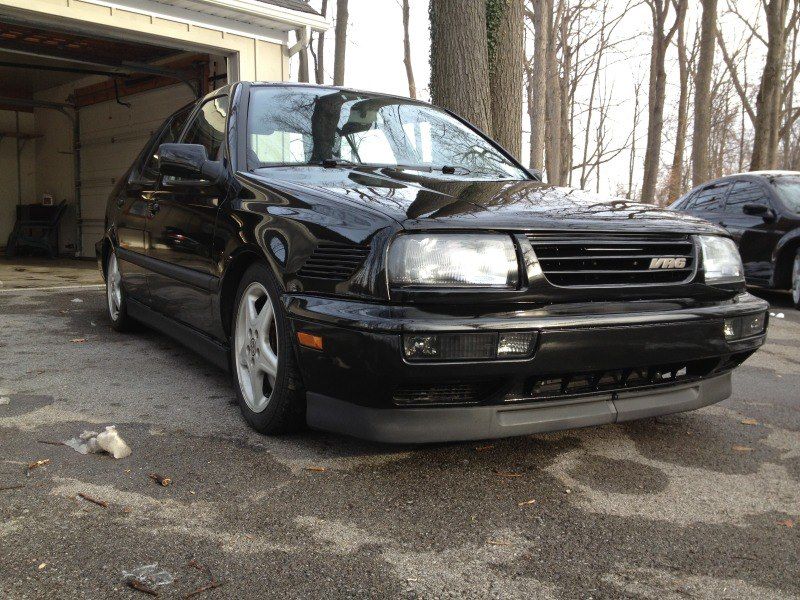 And now for the To-Do List:
Replace Timing Chain (Ordered)
Replace Head Gasket (Have It)
Replace Coolant Stuffs (Ordered)
Replace Rear Brakes (Have Them)
Grease Sunroof
[strike]New Tires[/strike]
[strike]Replace Turn Signal[/strike]
Repaint Rear Window Trim (Plasti-Dip)
Re-Wrap Subwoofer
Reinstall Front Bumper (Not Seated Correctly)
Clean Engine Bay (After/ During Timing Chain)
Fix Spark Plug Cover Thing (Glue)
Fix In-Trunk/ Gas Cap Rust (Minimal)
Cut-out and Re-weld Floor Boards (2 Quarter Sized Holes)
New Shift Boot/ Shift Boot Leather (Worn Out)
Fix Front Right Turn Signal Housing (Not Seated Correctly)
Aim Headlights
Address Squeaky Front Right Bushing?
Fix Drivers side door lock
Fix Loose Arm Rest
Replace Middle 2 Air Vents
Fix Windshield Washer Nozzles (Not Spraying)
Bolt in Rear Seatbelts
New Coil Pack (Ford V6 Mod)
Replace Front Windshield (Yay Glass Coverage!)
Fix Front Lip (My Dad Can't Drive Low)
Replace Front Left Headlight Bulb
So yeah, there's a ton of stuff to do on it, but it's good fun, especially the 2.8L VR6 engine.