So I thought I'd start my own build thread since everyone else seems to have one.
This is how she started. Completely stock ZX5 "Aqua" blue. We bought this one because she only had 45,000KM and got $5,000 of the list price. It is fully loaded and was driven by an older lady who was sick of driving standard so she traded it in.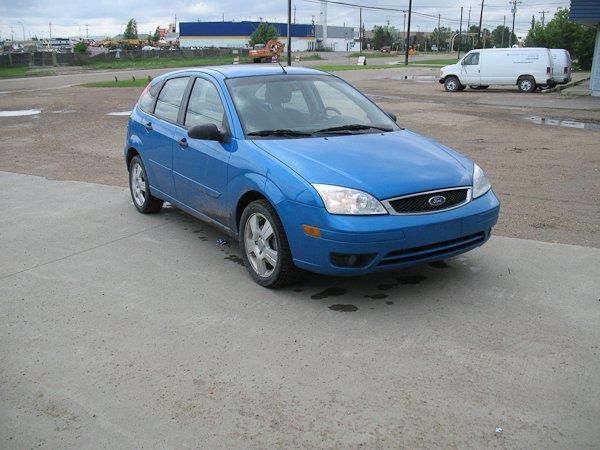 July 2011
We found a rolled focus with both SAP bumpers so we bought them for $300 of a guy - because I really wanted another focus with the SAP package that was yellow but my husband had a fit.
July 2011
We then tinted all the signals/breaks, the middle hatch break light isn't tinted because we need to replace it.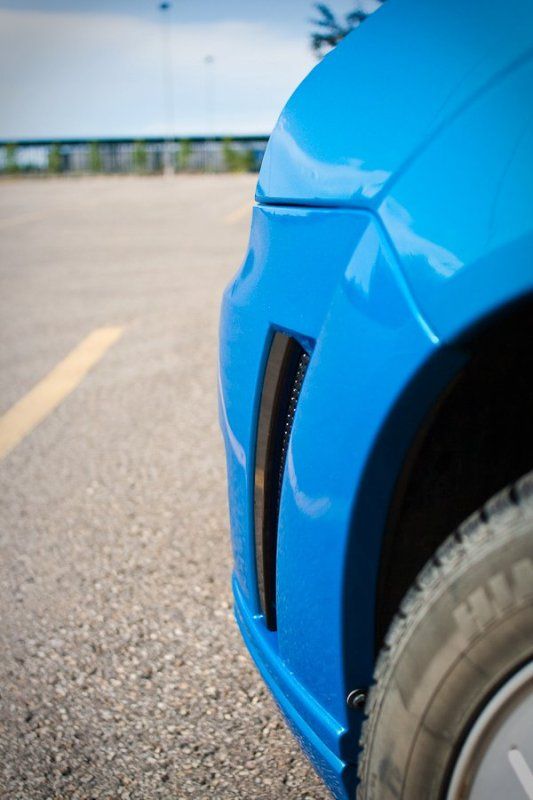 August 2011
Then the aftermarket headlights. You can see the difference in the first picture.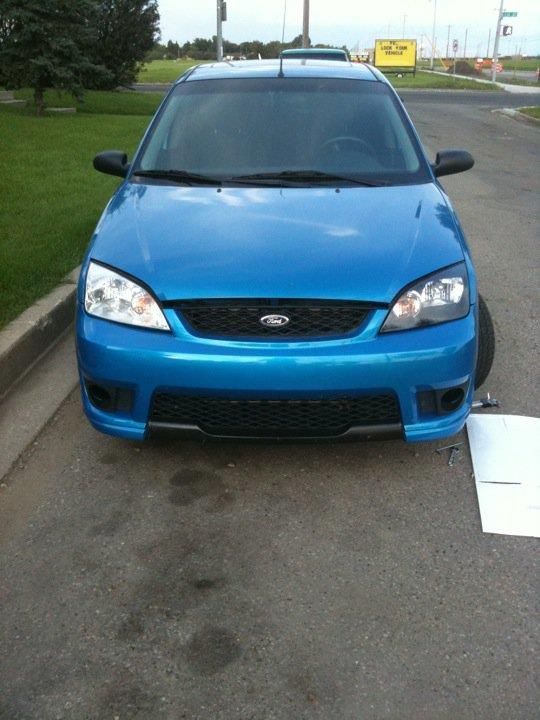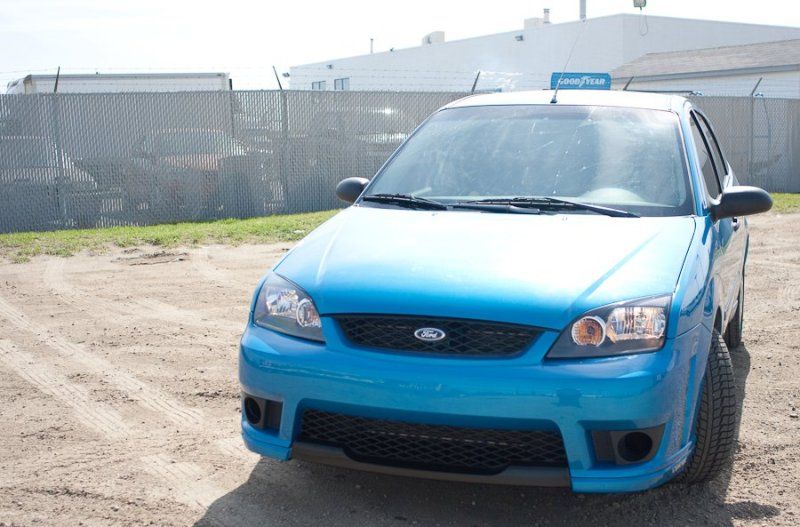 September 2011
Best find ever, my wheels. Paid $450 for all four with high end winter tires. One has some scuffs which will sand out.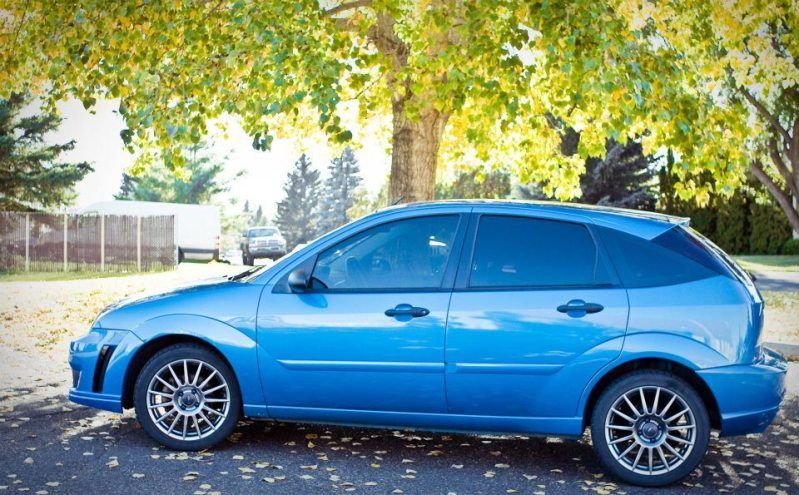 February 2012
We were in a fairly horrendous accident. I was going south on the highway when a lovely triple rigged semi pulled out, turning left, to go north on the highway. It was foggy and Icy, I had about 100m when I saw him. It was hit semi A, hit semi B siting at the t intersection or hit the ditch and hope for the best. We took the ditch.
March 2012
So while the boys were fixing $6,400 worth of damage the paint that we had been waiting for came in and my husband surprised me by two toning my car.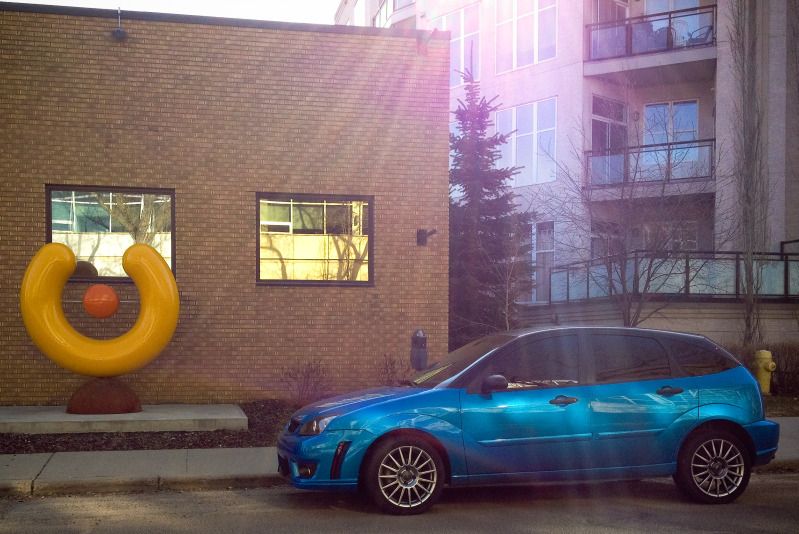 April 2012
We have since the last photo, installed the fog lights, a steed short throw shifter (LOVE), and some CFM pedals.
May
We installed the H + R Coilovers (not sure of the adjustment yet waiting for it to settle, at least 2" on front and back) an the FS Werks exhaust. More photos to come, when the rain stops.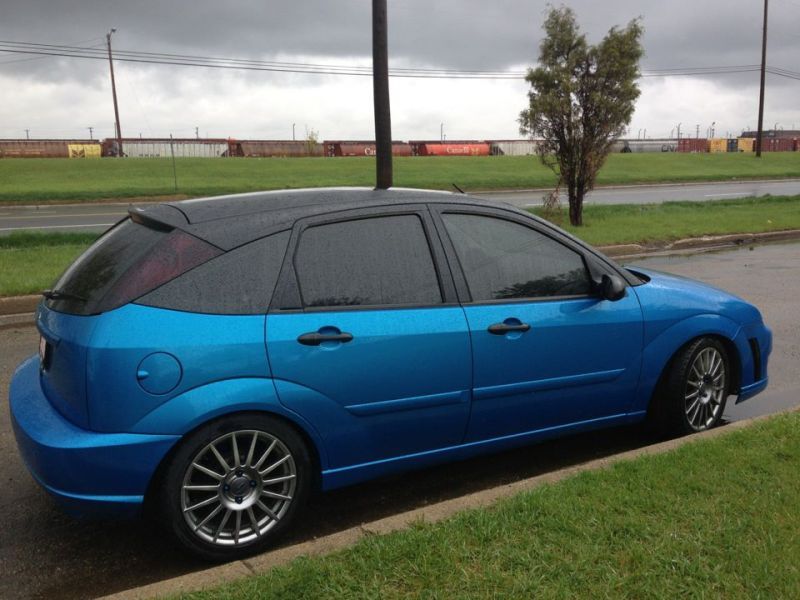 June
Painted EAPs a darker flatter charcoal + Installed the RS-styled spoiler
July

SVT Brakes, new lugs arrived too, just not on yet.
Modifications to date:
SAP Front Bumper
SAP Rear Bumper
EAP Wheels
Aftermarket headlights
CFM Pedals
Steeda Short Throw
Tinted front and rear break and signal lights
Two toned matte black
Short Antenna
H+R Coilovers
FSWerks Stealth Exhaust
Paint Wheels (a darker grey, matte)
Spoiler (RS style -
Link to buy
)
Brakes - SVT - to be painted and installed
The growing to do list, in order of what's next
SVT Side Skirts
Paint Handles?
Steeda Intake
FSWerks Turbo
If I win the lottery then we will do a turbo and/or a V8 conversion.