Like the title says, this is my "build thread." You more than likely won't see anything crazy awesome like me turboing my Focus (not yet anyways haha). I am making this thread to hopefully give people ideas of small things that can be done without having alot of time. I am currently in college, have a job, gf, and family to be with to so I dont have time to do anything major. Although when I get a real job I do plan on lowering my car, and eventually taking out the back seats and doing some custom wood paneling. None of those crazy shinanigans will be seen for awhile though.
First off, this first post will probably be pretty long. I bought my Focus in late March of 2011 (a year from now already! Wow!) and have been doing things to it ever since. I will take you month by month into what I have done to my car, and post whatever pictures I may have.
Alright so my dad and I found my 2001 ZX3 on the Cincinnatti craigslist for $4000. We drove up there and bought it for $3700. It had 91k miles on it, and was completely stock. It was a stick shift. My last car (and first car) was a 1995 Ford Probe SE and it was an auto. Here are some pics of what the car looked like the day I got it:
There wasn't really anything too wrong with it. The previous owner was an elderly lady and her son did all of the work to it. He jerry rigged everything possible. The reverse safety mechanism was bypassed, he made a normal door key work for the ignition because he lost the normal key, the speakers were all missmatched and not made for cars, and alot of the wiring for the speakers was connected by being twisted together and wrapped in tape! Oh and the AC needed charging, and there was a vibration coming from the front right of the car. I would rate the body as a 7/10 because there is dings, dents and sratches in the paint. But none of this stuff was really that bad and didnt cost much of anything to fix it.
March 2011:
I was determined not to spend any money on this car. The probe I had I had just put $1300 into it to get it running again, and felt stupid after I spent money modding it. That money could have easily paid for the repairs it needed. So I went around looking at things that could be repaired. My antenna was rusty and cut up. That was the first thing I bought! A stubby antenna off ebay for $5. I replaced the valve cover gasket I also swapped the system from the Probe that I had put in two summers before when I got my lisense. I made this box later in May but here is a pic: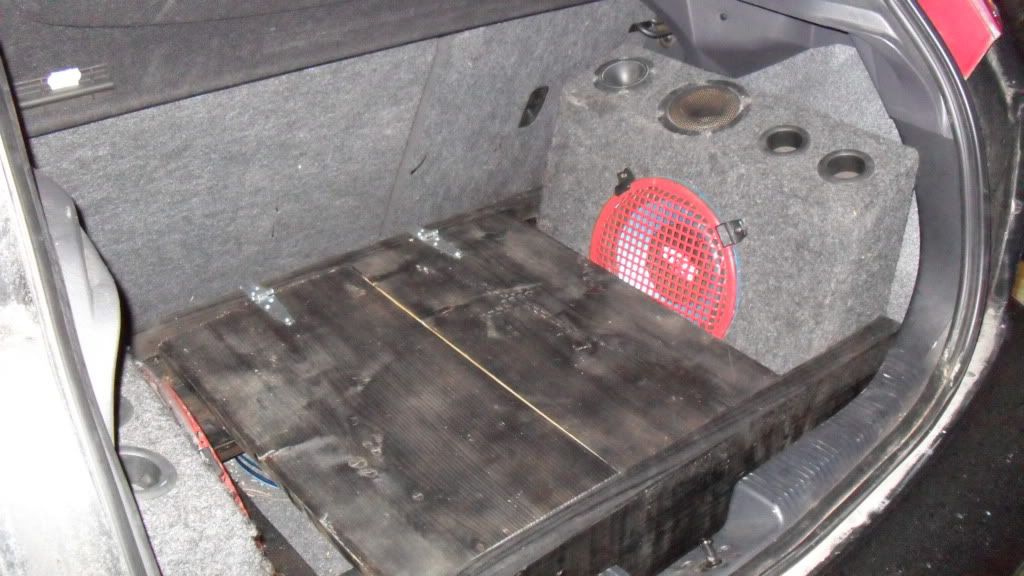 April 2011:
Shortly after putting my system in, I decided I wanted to paint my interior. I had just done this to the Probe the summer before, and I loved the way it turned out. In this car, I took out alot of little interior pieces and cleaned them. Then I painted them black with Fusion spray paint. (Made for plastic.) Then I took a red can of Fusion spray paint and held it halfway down so that it spit paint. I thought it looked sick. I know some of you probably wont like this, but I love it. (I suppose thats all that matters.
) Here are some pics: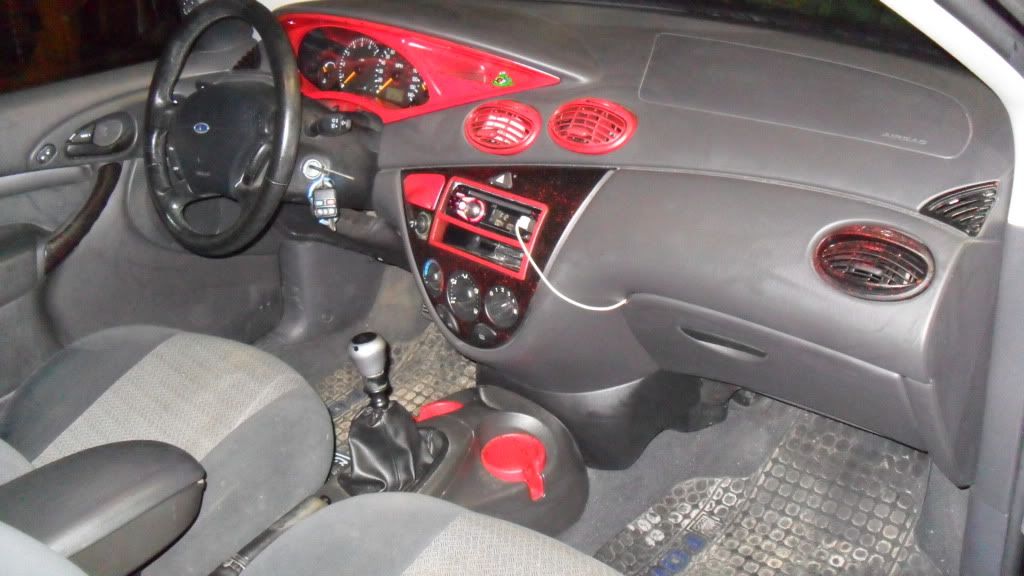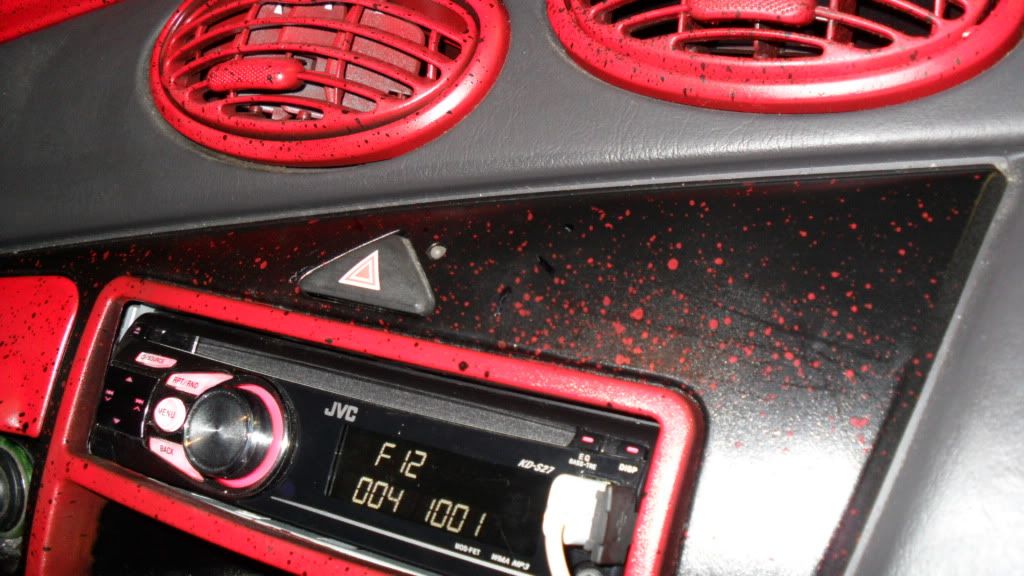 So far I was doing well, I was saving money on gas by consitantly getting 31 mpg over the Probe's 28 mpg, and I wasnt buying anything extra. Then came May....
May 2011:
I was getting obsessed with hypermiling. lol I started looking into mods to get better MPG because I drive over 400-500 miles a week. I decided I should buy a new CAI insted of a used one, so I got a FSwerks CAI for $220. I love it. But I dont think itd worth $220. its basically a piece of metal to block the heat, and a filter. This kit didnt even replace the stock plastic tubing alot of other kits replaced. But I still love it. It brought my MPG up to 36 (I also started driving like a grandpa). Here is a pic:
I made a box for my subs because I was bored and feeling crafty.
The box was really heavy, but it organized everything nicely and looked good. The box is shown in March 2011.
June 2011:
My dad got his exhaust done on his F350. He asked the guy how much it would be to have my car done, and the guy said $120 for a catback exhaust system. I felt like this was a really good deal. I didnt want to spend the money after just having bought the CAI, but I knew I should. lol So I did. I loved the way it sounded. To this day it is still my favorite 4 cylinder exhaust. Here is a video. Fast forward to a minute to hear the exhaust.
http://s1196.photobucket.com/albums/...yardTrails.mp4
I replaced my CV axle with my friend because the guy that test drove my car after he installed my car said that is what it probably was. I believed him. lol I replaced it and it took maybe a tiny bit of the vibration away, but that was it.
I was getting tired of not having AC so I tried recharging it. It somewhat works. My AC would get cold after 20 minutes or so so I think I may need a new pump or something. I hate using AC though because it sucked towards MPG.
July 2011:
(I cant remember if it was June or July) I got my windows tinted. I got all my windows done with a lifetime warranty and front window strip for $120. I felt like this was a good deal, and the people who did it did a great job. As soon as my windows were done, I knew that my car was starting to look modded and I would start to mod it more and more. lol During June I also put a "Be American Buy American" sticker on my rear window. 'Mericah FTW!
I also found out my coil springs were broke. I always wondered why my car was so slammed in the front. lol Apparntly for 2001 zx3s there was a recall for having them replaced up to 10 years of your build date. I was actually within a month or so of that 10 years! Well the dealer dragged his feet on it and after a week or 2 said he couldnt do it. So we bought some from advanced. Looking back on it now I wish I had bought a good set of lowering springs or something.
August 2011:
I was rotating the tires when I finally found the cause of the vibration! My front rim had a huge dent in it. I felt stupid not noticing it. I felt better though knowing I found a problem. I then started searching for cheap rims, preferably SVT ones.
I also went to Focusfest 2011. I bought mudflaps from a guy there and installed them. I didnt get rims like I thought (I was picturing thousands of Focuses and parts being there). My dad won subs at FF11. I wasnt surprised because he seems to always win little things at bmx races and whatnot. He said he wasnt going to use them, so he gave them to me. Thanks Dad!
After I installed the mudflaps I replaced and painted the cowl cover black because it was really faded and cracked. Then I made a second intake for my CAI. There is no noticable difference, but it looks rather sick. I would still like to wrap it in some sort of insulated tape though.
September 2011:
I got some LEDs for my interior, and my parents got me rubber Ford floor mats. The LEDs my friend bought didnt fit in the dome, so they are still to this day stuck to the headliner. I am going to figure a nicer way to mount them though because they look silly and fall down alot. Oh and the floor mats are awesome that my parents got me!
I think this was when this happened but Im not sure. I was doing something to the trans (I remember putting new tranny fluid in, but I cant remember for the life of me what I was originally doing! lol) and I went to test drive the car and the brake lines blew out. Me and my friend replaced the rear brake lines and I was good to go.
My back left tire was so dry rotted it was bulging and cracking. I got it replaced. So now all 4 tires had different tread. lol
October 2011:
I believe this is when this happened. My gf accidently shut her seatbelt in her door. The door then wouldnt open until me and my friend looked at it. this metal part broke, and I got a new one which fixed it.
I am not sure when I did this but I will put it here. I tinted my turn signals and grille lights. They turned out pretty well. But then I got stupid and tried painting eyebrows on my headlights and I got overspray on my fender. Here is what it looked like, just without the roofrack at the time:
I finally got my FF goody bag in the mail and I put my FF lisense plate frame on and a Focusfest sticker on the windshield.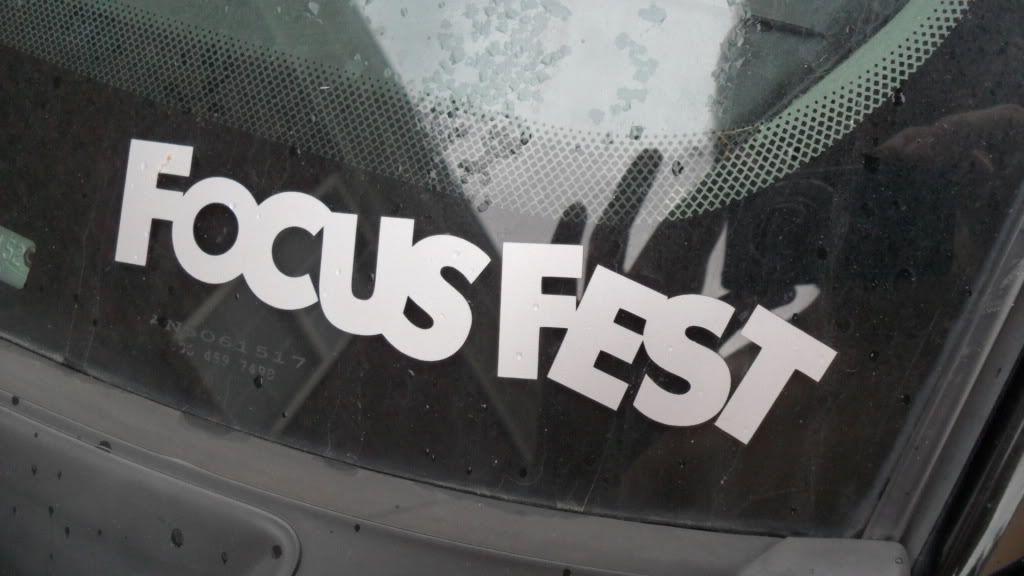 November 2011:
I bought a Kona roof rack from a member here on FX. I believe I got it for $250, but I cant remember for sure. I bought ebay bike mounts, and I liked it alot. I didnt think about the drop in MPG, so once that happened I wish I had never bought it. lol But the roofrack looks awesome, and it comes in handy.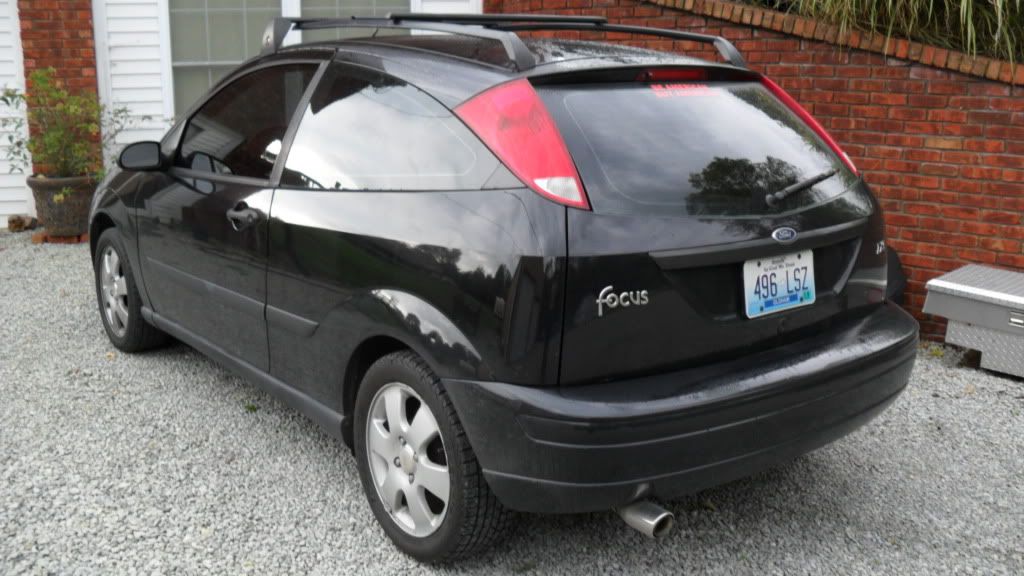 I discovered the miracle of Plastidip. I plastidipped the eyebrows on my car and they turned out much better than the tint did. I plastidipped my rims as well. I liked the way they looked alot. So happy in fact, I was going to just find a stock rim that wasnt bent and plastidip that and not look for aftermarket ones anymore. I was tired of contacting people and only seeing bent wheels, or being lied to and people claiming their bent rims were straight. lol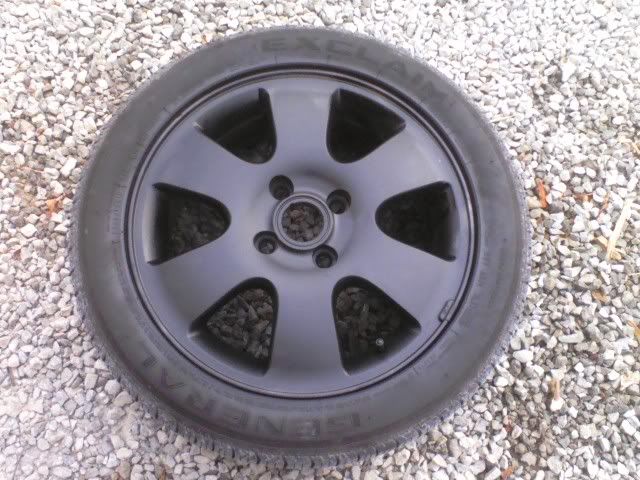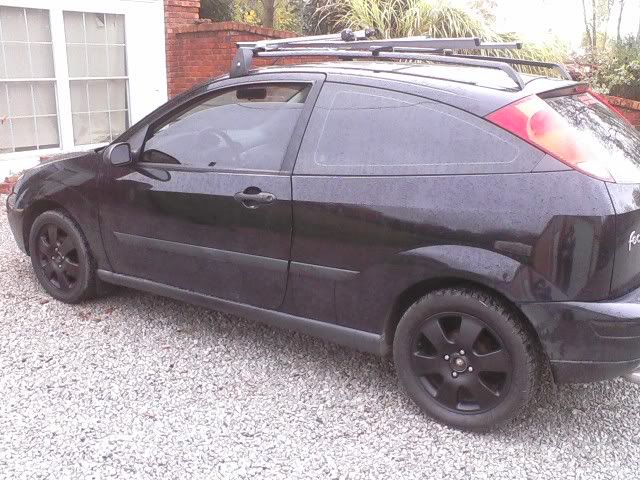 My car broke down for the first time. I was on the way home and all of my lights started going crazy and dimming. I pulled over and the car woudldnt start. I was thinking alternator but i didnt know. My dad came and picked me up and towed me car. We looked at it later. I was starting to tear the car down to get the alternator out when I noticed the wires leading from a wiring harness were snapped. I replaced it and tha fixed it! So if your car has this problem check their first.
The last week of November I won Ford Racing Fiesta EAP rims! the bolt patern is the same, and they are basically the same as Focus EAP rims. They
are a bit darker in color, and the inside of the rim is all black insted of gray. I like them better. I got them for $450 brand new shipped to my door, which I thought was a seal because they are $170 a piece on Ford racing's website without shipping. I wasnt going to put them on until the Spring.
December 2011:
I ordered stickers for my fairing. I was planning on getting one with Christmas money. I also ordered my amp for the subs my dad won at FF!
My car turned over 100k already.
January 2012:
I installed the subs and amp with my friend. They were actually only a tiny but better than my old ones, but I was happy with them. They were in a bigger box as well. My parents totaled their 2006 ZXW. This came as a shock, but here is the thread I made about that:
My Parents Totaled Their 2006 ZXW :(
I test fitted my EAPs. I was pretty nervous because they looked like they were going to rub.
Right before my parents totaled their car I bumped into it in the driveway and did this:
February 2012:
I ordered the Yakima fairing I wanted off of amazon. I went to install it out and found it wouldnt work without some modding. So I just drilled it into my Kona rack and that worked. lol I then put my stickers on a week later. Here is a pic:
I also bought a fancy shmancy shift knob from a member in canada for $25. Its weighted and I love it.
Oh and my parents got a new Focus. 2010 SES.
It sure is nice!
I fixed my seatbelts finally. They never retracted fully. Turns out when I put my system in originally when I first got the car I never put the panel back on right. lol
March 2012:
Wow an hour and a half of typing and I caught up already! lol Yesterday I got my EAPs on!
This was my most noticable mod by far. I am actually waiting for the pics to upload for the thread of showing pics of my new rims and my parents new focus. So here is some pics of all of that: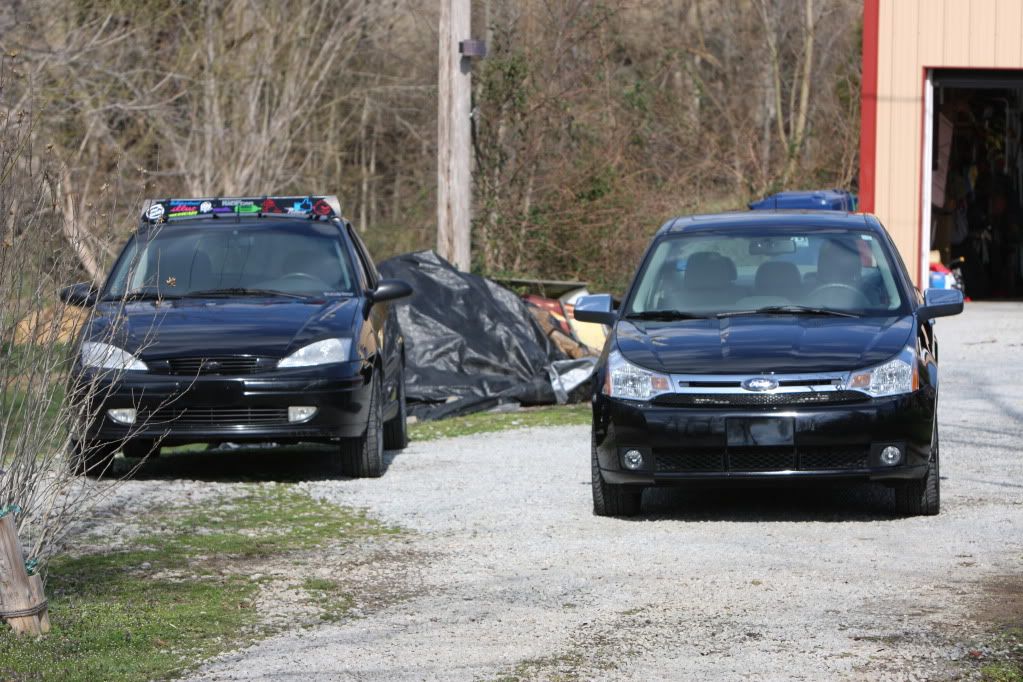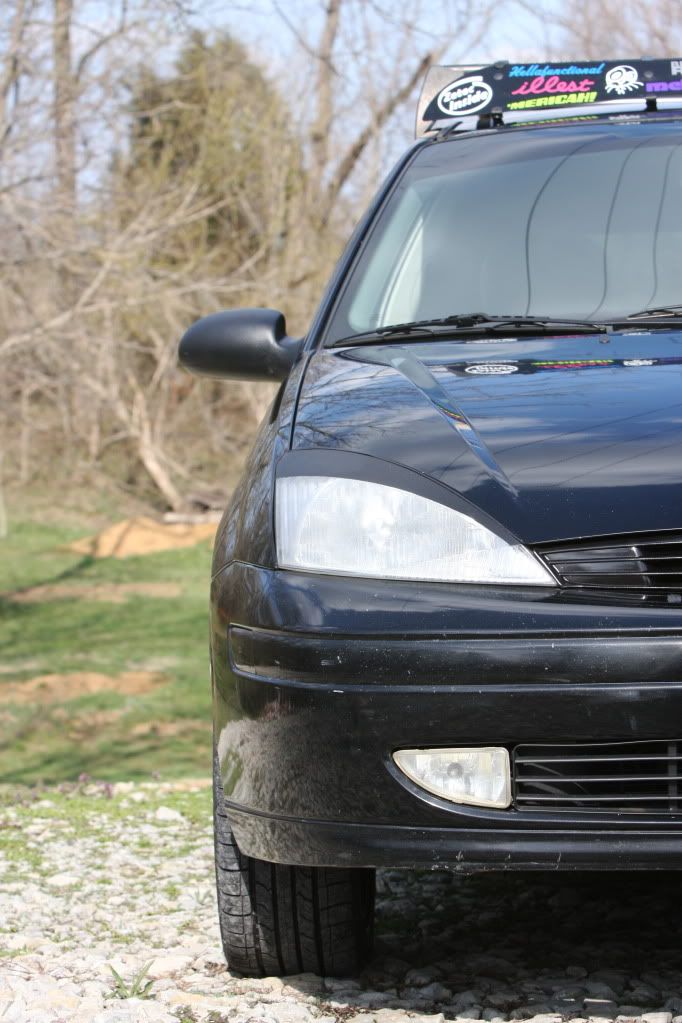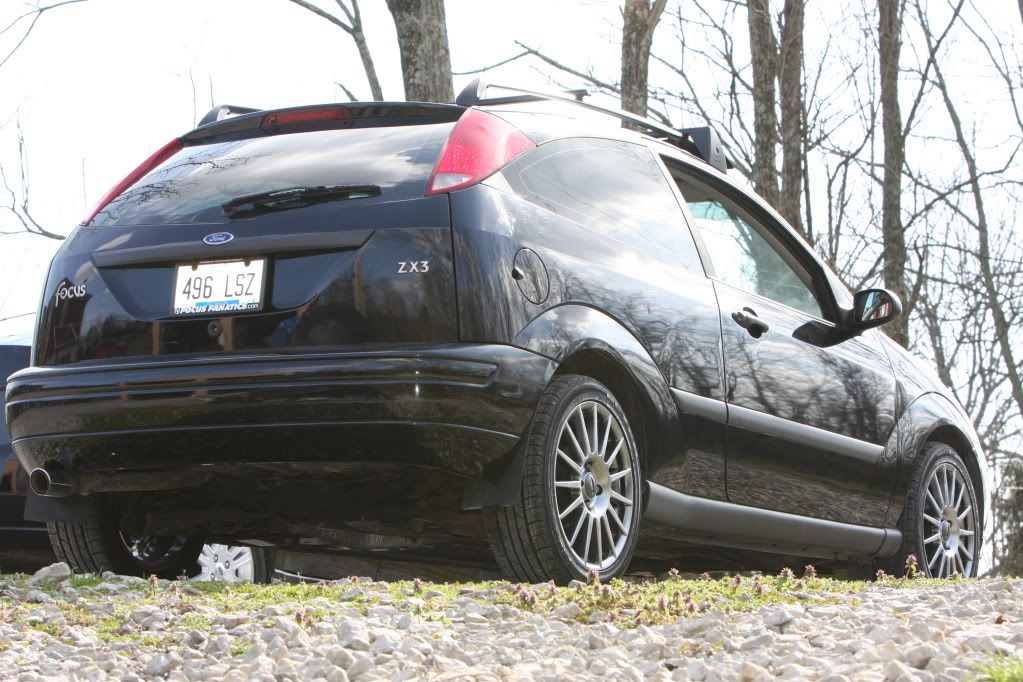 Here is the thread for more pics and info:
Photo Updates: My Car for ROTM and My Parent's New Focus!
I tinted my new grille I bought (old one was really messed up) and did some stuff to my emblem to make it my own. Here is a how-to thread I made for it last night:
How To: Paint Chrome Ring Around Emblem and Tint Emblem
I took an hour or so to get all the overspray off from the eyebrows and scrape marks off my car from hitting my moms car. Before: (See the other pic of hitting my moms car as well)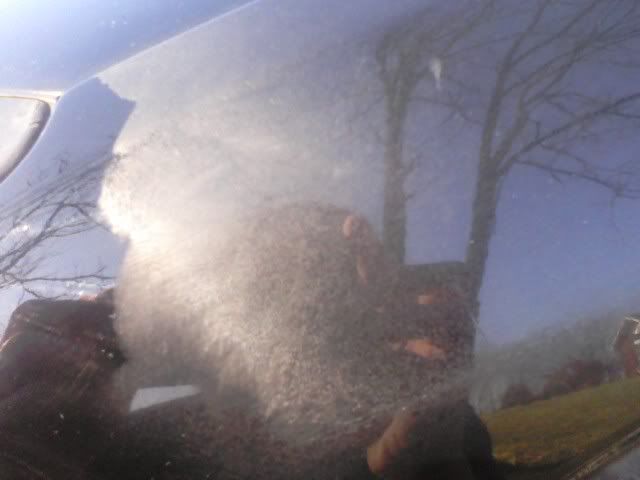 After:
So basically I just have a really clean dent. lol
I was nominated for ROTM for April! I was kinda surprised other people nominated me. I believe they were being nice because I nominated them. lol I know I wont win but it feels good to be noticed. Feel free to vote for me! haha
Here is the thread for noms:
**Nominations for April ROTM-HATCH NATION**
I have to say something. Often when I say I, me, or we, I forget to mention my family and friends that help. My dad always helps me with stuff when I need help. We always mess around with our cars because we joke around saying whos car is better. lol He has an escort with the same motor as me. (He could probably win though.) My best friend Ryan and his dad Bob help me alot as well. Thanks guys!!
Check back often for more updates! Feel free to leave comments, questions, etc. about anything I have done.
I have talked to alot of you on your build threads and always enjoy the convo.
Cheers!