An important note for Mk3 owners with intakes:
As my last post showed, I swapped in a new K&N filter a few days ago. Well, the next evening trouble popped up. I noticed when driving that night that the engine note was a little different. It wasn't by much, but I was able to pick up on it. Shortly after, the CEL suddenly came on. I was just coming up on a gas station so I pulled in and popped the hood. The problem was easy to spot; the filter had fallen off!
I reinstalled it and finished the short drive back to my house, after which I promptly swapped back to the ITG filter. I figured the K&N just wasn't gripping the MAF sensor housing enough and wiggled loose. I left the car like that to come back later and check for dirt in the intake tract.
This morning I pulled it apart to check inside the intake pipe and throttle body, hoping that the dislodged filter hadn't allowed anything troublesome in. That all looked good fortunately, but I found the potential culprit for the issue.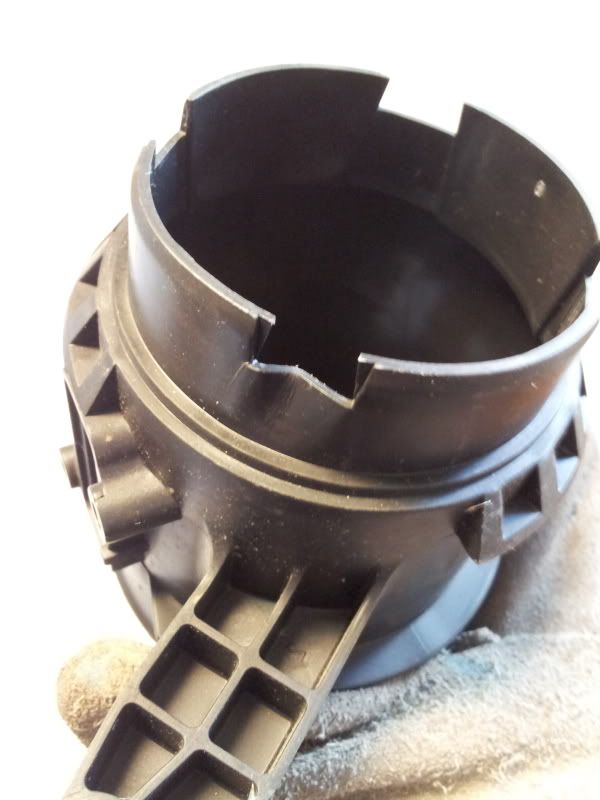 That is the OEM MAF sensor housing, which the FSWERKS intake uses. Note the nice bend in the foreground; it would seem that using a clamp on this can cause the plastic to crush slightly under the pressure. It's relatively thin and from the factory the filter merely sits on it without being tightened down.
For the time being the filter still seals and the Focus is back together; the CEL has to be cleared still though. A replacement housing will be on its way soon.
If there is good news to come out of this, it's that there's potential for a machined metal sleeve to be made, to fit inside the plastic housing and prevent this from happening with aftermarket filters; Sonic's Mk3 Crew is always looking to stay one step ahead.