OEM trunk lid liner:
Yesterday I received the liner that I'd ordered.
I discovered that while the S and SE sedans are left with bare trunk lids the higher SEL and Titanium examples receive liners from the factory. I felt that the exposed trunk lid looked a little unfinished so I did some searching for part numbers and ordered the pieces. This week they (Well, most of them) arrived. Two bags of clips are on their way, as I only have one so far. For the time being my liner is held in with just the four, the rest will be put in as soon as possible.
Here is the shopping list, should you wish to retrofit this to your S/SE sedan: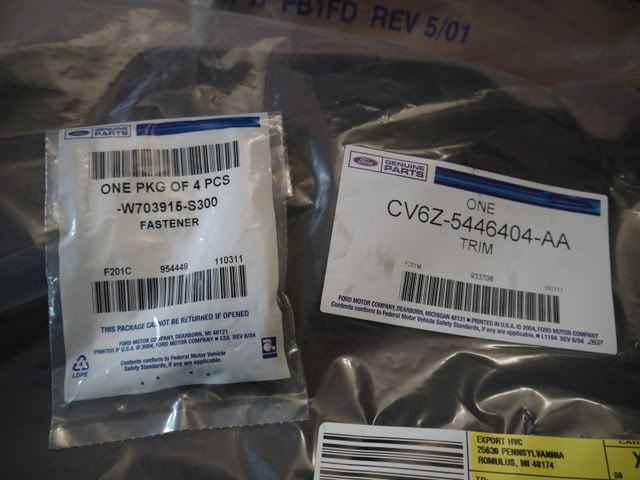 1 x Trunk lid liner: CV6Z-5446404-AA
3 x Fasteners: W703915-S300
(4 clips per bag)
Ultimately you should have one trunk lid liner (That part's kind of obvious) and 12 fasteners. A few will be left over.
This is the naked trunk lid, soon to be....clothed?
Putting the liner in couldn't be any easier. The hardest part of the whole process is feeding the trunk release handle through the slot, unless of course you want to lock someone in, in which case you should leave it hidden.
You'll notice the holes for the fasteners around the outer edge. Screw them in and you're done. Piece of cake.
The final picture for tonight is a full view of the partially debadged trunk. I'm thinking the 'SE' badge might look better in black.