More winter prep:
Today as planned, I brought the Focus with me to work so that a couple of coworkers and I could wrap some more of it in 3M to protect it over the coming months.
Bouncing ideas back and forth with my manager and coworkers, we ultimately did more than just the lip. I was also wanting to get the door handle cups and possibly headlights done, but the final list was much bigger:
Original 3M:
-Front bumper
-Partial hood
-Partial fenders
-Partial mirrors
New 3M:
-Downforce lip
-Door handle cups
-Headlights
-Front Ford emblem
-Front license plate recess
-A pillars
-Leading edge of roof
-Full mirrors, replacing original 3M
I showed up at 9 this morning, and left at 4:30. It was a long, productive day. Thanks to my coworkers Mike and Ryan, who were the trained installers doing most of the work. I was in more of a support role for the day.
Start of the day: I washed the lip again (the car was washed Wednesday so it was pretty clean overall) and drove it downstairs.
This was the old 3M on the mirror, only covering the front face and not the top.
You'll see in the finished picture that the whole painted cap is now covered.
Everything but the lip was done downstairs. Due to the low height, I brought the Focus upstairs to Mike's bay and put it on his hoist so he could raise it up. Amazingly, he did the whole lip in ONE PIECE of 3M, for an almost seamless install. The only relief cuts were at the very ends of the lip, by the wheels.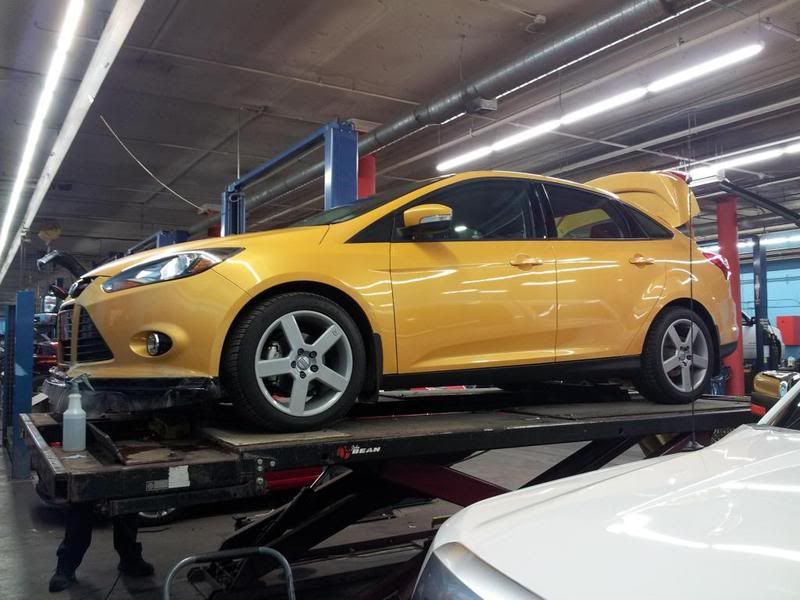 Here's the new mirror cap wrap, now the only uncovered portion is the inside (facing the door) but that's out of the line of fire.
The first rock chip I picked up from driving was on the roof, directly above my head. Now the leading edge is protected, as are the A-pillars.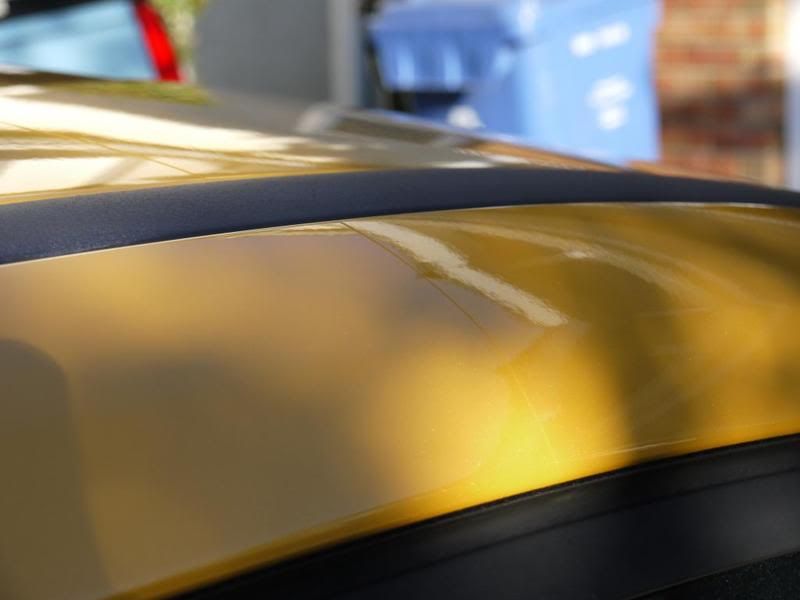 The fragile emblem is covered.
All four door handle cups are safe from fingernails now. I was cleaning a Shelby last week when I noticed it had these, and I knew I had to get them too. For some reason it never occurred to me before.
That wraps up the 3M, but that's not all for today. I also picked up my Mazdaspeed 3 rear motor mount and bolt on my way home, as it arrived today. The install will have to wait until I can spend a lunch hour at work and borrow a bay.