Quote:
Originally Posted by
Some Guy From NY
I am interested in that front splitter, but tell me, how is the ground clearance with it? Do you notice it rubbing or being really close to rubbing when entering/exiting parking lots/curbs?

I see that you mentioned that your driveway is steep and you needed to approach at an angle..is it just your driveway in particular?
Ground clearance is great, it doesn't really sit lower than stock at all, but it's because it extends out that care needs to be taken at times. The decrease in clearance is when you're approacing sharp changes in the ground's incline, such as my driveway.
Re: my driveway, it's stupid. Our Suburban is the only vehicle we have that can't scrape, the Grand Prix can drive in straight but not at speed, and the three others all have to go at angles.
This was when I was testing backing in, at an angle. Note how close the lip is already, and I had barely started; my driveway is just annoying.
Daily-driving wise, it's fine. Speedbumps are no concern, and I haven't really modified routes or anything. In local parking lots the entrances are often sharply angled compared to the road though, so I start turning in a little more sideways than before just to be extra careful. So far I have not once hit the lip on anything. Even small parking blocks will clear, though I don't pull over them.
Looking at pictures of the other lips (Bojix, 3D Carbon) there is NO WAY I'd be able to get into my driveway with one of those, period. Point for Downforce.
To close, one more picture for tonight. Last night was another weekly meet and pictures went up shortly after. It was nice to see one of the Focus.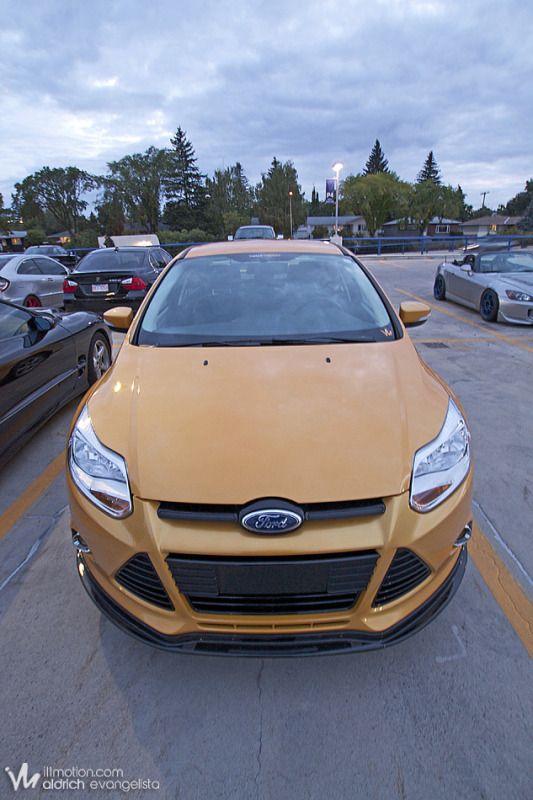 http://illmotion.com/im-event-covera...tember-5-2012/