Downforce carbon fiber front lip: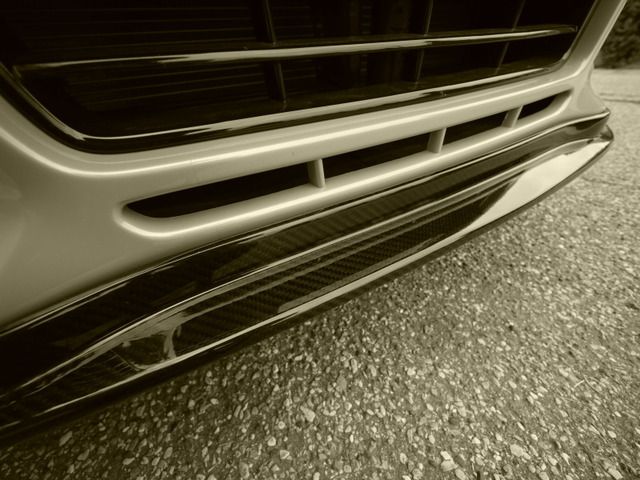 Today finally arrived, and right on schedule a very large box showed up at my door. This is one piece I've waited months for.
I don't normally keep parts in transit a secret, but for this one I really wanted to. This was a special case, and I didn't want any word of what was coming to get out. Only on Instagram did I share any information about this, in fact.
As the title says, it's the new front lip from Downforce.
The reason I wanted to wait for this to arrive before revealing it, was because
this is the first production copy of this lip. I am the first person in North America to have it.
Aside from my Focus, you'll also see this lip on the Sema show car, and that's it.
That's why.
Since November when I first saw this piece on the ID Agency Focus, I wanted it. I finally had enough waiting and got in contact with Downforce directly, asking when it would be available. Through a running conversation back and forth, I ultimately was able to purchase a lip ahead of anyone else; ahead of it even being advertised for sale. I also had options in the lip's construction, opting for a full carbon fiber piece in a 2x2 weave.
Last night I sent off a text to my friend Terence asking if he'd be willing to lend a hand getting this thing installed. He was happy to help, and I promptly sent him another this afternoon after the lip arrived. After work I picked up some 3M automotive tape, grabbed some dinner for the two of us, and went home to unwrap my prize. Terence showed up shortly after and we got right to work. BIG thanks to him for setting aside his evening on such short notice.
With the 3M tape along the upper edge and either end, the lip was put in place. It utilizes the 6 factory clip locations under the front bumper. We ended up replacing four with tiny bolts and nuts, but kept two of the OEM clips, one on each end of the lip. The other four refused to stay in place and kept popping out, so we had to work around that.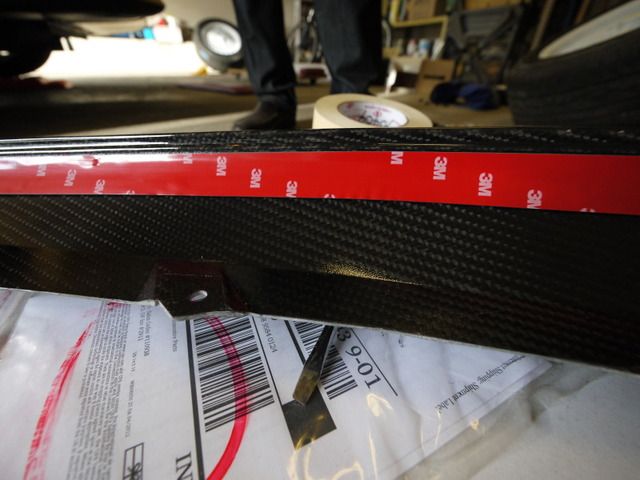 Of course, the best part was after we were done; picture time!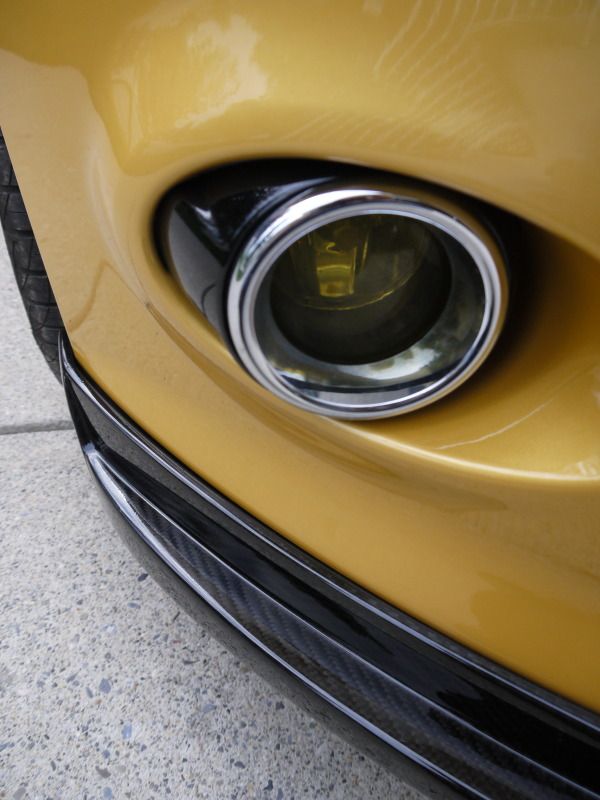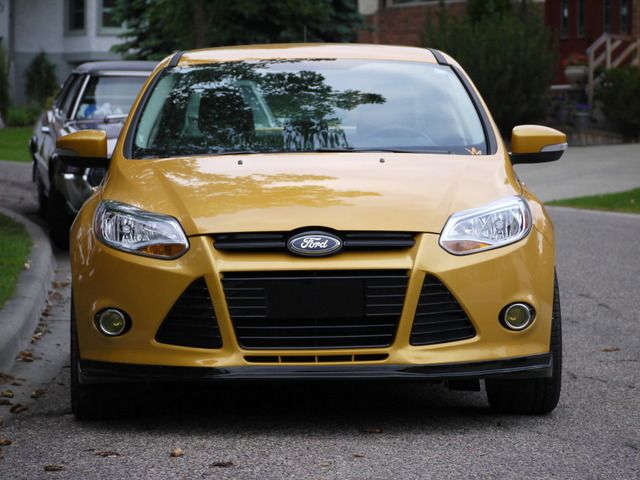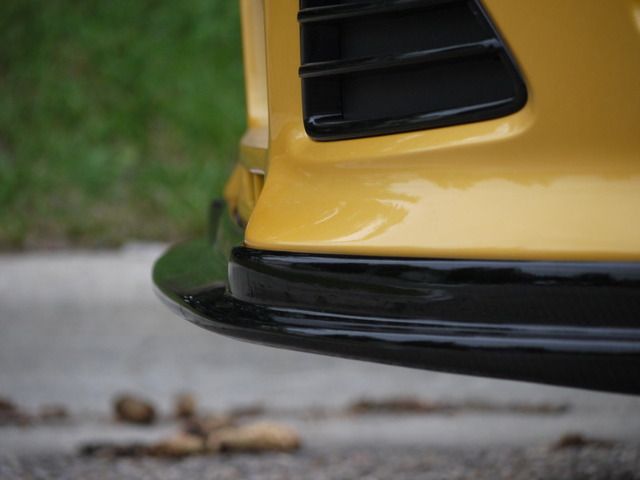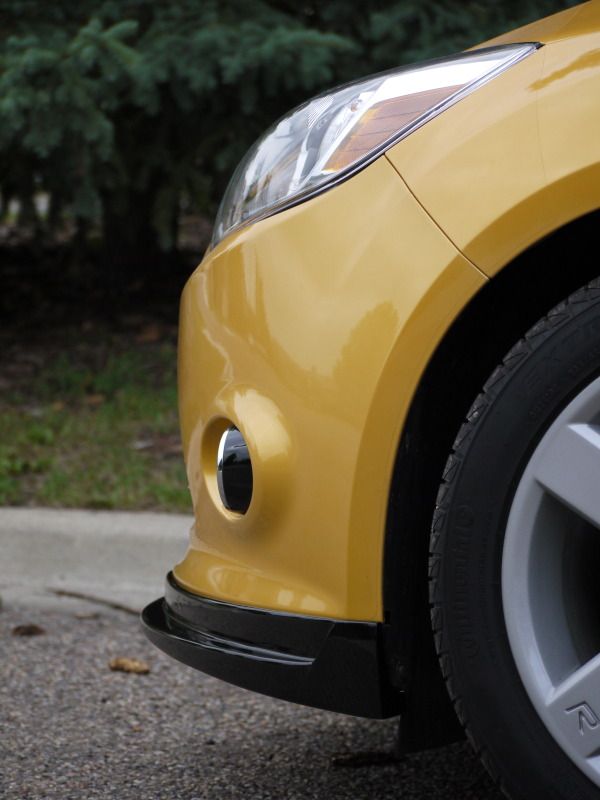 With the shiny new lip in place, I made sure to carefully check clearances entering and exiting my driveway, and later on drove around my neighbourhood to test speedbumps as well. All is good, though I do have to pull in at an angle now, since my driveway's so steep. Also, I can't really back in any more.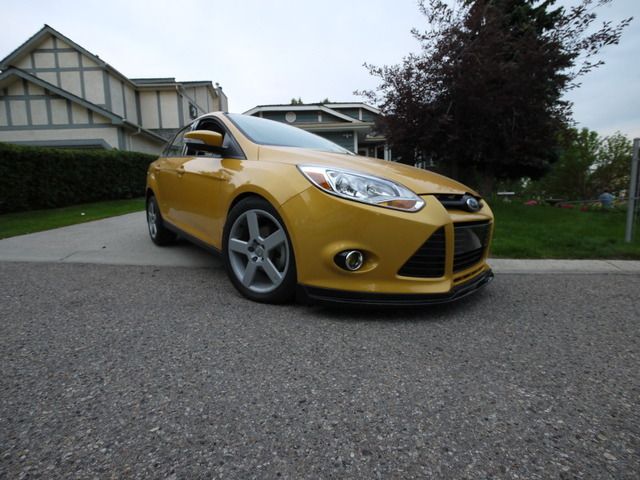 But I don't care. I have my Downforce lip. I'm happy.