Started White Plasti Dipping the Euros. These wheels are definitely 2 cans per wheel...and thats before doing a gloss clear coat.
In short...2 wheels done with three cans for a first coat. Like a woman and a few beers....they look great from afar...but when you get close....they look far from good lol.
You can see when the spray begins to dry; where it wasnt evenly applied or not enough applied. Looks pitted like...surprise....plastic lol. So I am thining this last can I have, the fourth can, will be used to apply another thinner coat to fill in these spots.
The pitting is on the inside of the spokes where its really hard to get that nice even coat, without have runs from too much spray. It's a little bit of a pain in the a$$ with these spokes so close.
But overall; thinking about 8-9 cans for the four euro wheels. Then probably about the half of that amount for a good couple coats of clear on each wheel. So figure about ~$150 to do some Euro's correct; possibly $180 if you need more clear. At this point...I'd rather go spend 50-75 with someone that clear coats wheels for you....thats if you have a "friend" in that business.
I do have an extra wheel that I can do some tests on. Going to see how the bronze and metal flake clears look against white. So I have to order some more cans before I can do all that.
Should I start a new thread with the results on painting Euro's with White Plasti Dip as well as the variations of clear on that spare wheel?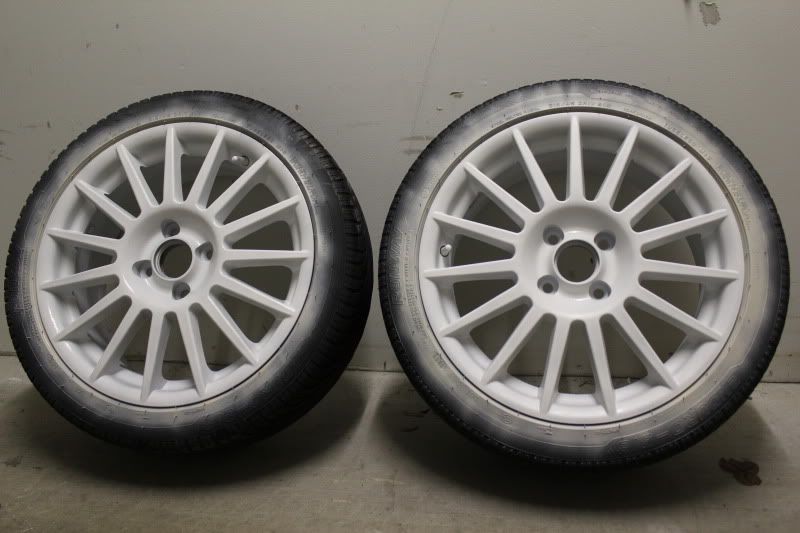 Really looking forward to having the Euros finished and having both sets of white wheels. But who knows...maybe the bronze or metallic clear flake will make me have something different with the Euros...
mmmmm....white shoes on sonic blue.
White Wheels
by
TCP Tim Connolly Photography
, on Flickr
Camera Phone pic taken today while hunting for clear dip on a retail shelf....yea I was dreaming lol.